Newbreed Guide for Applicants.
Newbreed programme
Programme: Doctoral
Phased Start date: 1 April – 1 September, 2018
Duration: 4 years (full time)
Location: Örebro, Sweden
Programme description
Background
Ageing, one of Europe's great challenges for the future, has been studied in great deal but often independently from a point of view of almost unrelated areas, such as medical, societal, active living etc. Ageing is often considered as a problem to society; a more balanced view is that with a more successful ageing process throughout the life course, the benefits of this segment of the population can be brought to bear.
The research programme will focus on developing:
a better understanding of an active and successful ageing process, from all perspectives with focus on its building blocks and underlying mechanisms,
concrete methods, innovations and products to support this active and successful ageing process from an individual, organisational, societal, and life course perspective.
In Newbreed, we define the term "successful ageing" as an overall description of the various processes that work towards supporting a meaningful and (inter-)active life throughout the lifespan. As such, successful ageing is, for us, an umbrella term that encompasses biological, psychological, social, societal and technological processes, and importantly their interaction and intersections, as well as questions of ageism, age relations and intergenerational relations. The Newbreed doctoral programme also covers the differences of emphasis between, inter alia, successful, active, positive and model ageing; the critiques of such concepts and traditions; and their practical and policy implications.
To this end, we require a new breed of researcher approaching these challenges and opportunities related to ageing from various angles and disciplines (i.e. the interdisciplinary perspective) – humanities, economics, medicine/nursing, informatics, robotics etc. This interdisciplinary perspective is already applied at the early phase of the identification of the research problem, not only in the executive phase of a research project (i.e. multidisciplinary).
Research themes
The programme is divided into four thematic areas:
1. Ageing and psychosocial adjustment (Thematic Lead, Professor Henrik Andershed)
There is a great need to better understand how psychosocial adjustment develops with age and not the least what kind of factors and interactions of factors that are associated with positive and negative psychosocial adjustment.
For more information, see the theme website.
2. Ageing from a societal perspective (Thematic Lead, Professor Jeff Hearn)
This theme examines ageing processes within and across societies, how ageing intersects with class, gender, generation and further social divisions, and how this knowledge can be applied beneficially in policy and other contexts.
For more information, see the theme website.
3. Ageing and the fourth industrial revolution (Thematic Lead, Professor Amy Loutfi)
This theme studies how the technologies in the fourth industrial revolution can be developed and applied to ageing, to bring about empowerment, independent living, a greater understanding of age-related diseases as well as incapacities, and not least to raise the quality of life. Of equal importance will be also to study and understand the aspects that are related to the ethical and societal impacts of such technologies.
For more information, see the theme website.
4. The biology of ageing (Thematic Lead, Professor Fawzi Kadi)
This theme addresses the topic of age-related decline in physiological function, one of the most important determinants of chronic diseases and disability among the elderly through a broad approach including research into the influence of socio-demographic, psychological, environmental, dietary and biological factors.
For more information, see the theme website.
Who can apply?
Newbreed invites applicants worldwide within the following disciplines, see link.
Applicants must comply with the following requirements:
The applicant may not have resided or carried out their main activity (work, studies, etc.) in Sweden for more than 12 months (365 days) in the three years immediately prior to 30 September 2017.
Applicants must at the 30 September 2017 be in the first four years of their research careers (full-time equivalent research experience) and not yet have been awarded a doctoral degree.
Research experience includes all professional experience of research, e.g. working as research assistant in a research project, undergoing PhD training, or working as a researcher in a company.
In practice, you are eligible to apply:
If you have less than four years of full-time research experience.
If you have more than four years of part-time research experience, you are eligible to apply subject that your research experience does not exceed the equivalent of four years full-time.
You are not eligible to apply:
If you have already amassed four years of full-time research experience.
If you have already been awarded a doctoral degree.
Full-time equivalent research experience is measured from the date of obtaining the degree entitling the person to embark on a doctorate.
Accepted applicants must be dedicated full time to the research training activities unless duly justified for personal or family reasons. The research training activities cannot be combined with other activities (such as teaching, other employment or other schooling).
Accepted applicants cannot benefit from another Marie Skłodowska-Curie Action (MSCA) at the same time as they are enrolled as PhD students in Newbreed.
General and Specific entry requirements:
Applicants must also comply with the general entry requirements of Örebro University as well as the specific requirements of the discipline to which they are applying.
1. General entry requirements
has been awarded a second-cycle qualification
or has satisfied the requirements for courses comprising at least 240 credits, of which at least 60 credits were awarded in the second cycle
or has acquired substantially equivalent knowledge in some other way
2. Specific entry requirements
When assessing higher education credentials from abroad, Örebro University follows the principles for validation applied by the Swedish Council for Higher Education (UHR). Applicants with higher education qualifications from other countries, and specifically from non-EU-countries, can contact UHR (https://www.uhr.se/en/start/) to have their qualifications assessed.
In order to get an estimation as to how your course credits and degree can be expressed using the ECTS system, use the information found on this site http://newbreed-cofund.eu/credits
To help find out if you are eligible, please complete our pre-application eligibility quiz. This will give you an indication as to whether or not you are eligible to apply.

If you have any questions about eligibility please contact:
Why apply?
Appointment conditions
Successful applicants, known as PhD students or early-stage researchers (ESRs), will be employed at Örebro University (ORU) with standard employment contracts. This means that ESRs are eligible for paid holiday allowances (ranging from 28 to 35 days/yr depending on age), and benefits including healthcare, sick-leave remuneration, parental leave etc. During the period of employment, ESRs will accrue pension benefits, both on a state level and on an employer level.
The salaries offered to ESRs at ORU start at around 25,800 SEK/month before tax. During the four-year studentship, the salaries increase to about 30,100 SEK/month before tax. The increases are based on a four-tier structure after the ESR achieves various numbers of credits for courses successfully attended as well as achieving milestones regarding stages in thesis production.
In addition the employment package also includes a personal mobility allowance and family allowance for ESRs.
Personal Mobility Allowance: successful candidates can be reimbursed for costs associated with moving to Sweden up to a maximum of 500 € (against receipts).
Family Allowance: an ESR who has a family at the time of recruitment can be reimbursed for family costs associated with moving to Sweden up to a maximum of 500 € (against receipts). For this purpose, family is defined as persons linked to the researcher through (i) marriage, or (ii) a relationship with equivalent status to a marriage; or (iii) dependent children who are actually being supported by the researcher.
Please refer to the following link for further details about employee benefits at ORU https://www.oru.se/english/working-at-orebro-university/employee-benefits/
Career development opportunities
Newbreed will maximise the career development of the next generation of researchers working in the field of successful ageing. To support career progression and research leadership, ESRs will be trained both in science and in complementary areas such as project management, media training, leadership and Intellectual Property Rights (IPR) management. Furthermore, the programme will support future leadership in ageing research by collaborating with established European networks.
Newbreed will enable the development of a new generation of researchers to approach the challenges of ageing from interdisciplinary, intersectoral and life-course perspectives.
The programme will provide ESRs with the necessary support, training, mentoring and intersectoral experience to ensure the best career opportunities, not only within academia but crucially also within non-academic organisations.
Supervision, support and training
Each ESR will receive supervision and support from a team of supervisors and other supporting functions. The main supervisor at ORU will have the major responsibility for the daily work and the short- and long-term planning for the 4-year PhD period.
The ESR will also be assigned at least one co-supervisor to complement interdisciplinary and intersectoral dimensions; co-supervisors can come from an academic as well as a non-academic partner. Their roles are to mentor and guide in the research but also in the non-academic area and show the possibilities for careers outside academia. The main supervisors are appointed by ORU and are the university's representatives in relation to the ESRs and their studies.
There will also be an opportunity for the ESR to team up with another doctoral student who has been at ORU for a longer period, in order to provide practical advice and comradeship, a PhD mentor. Such a person might come from within the same or a different discipline or from a parallel doctoral programme already running at ORU.
The Individual Study Plan (ISP) is drawn up for each ESR during the first two months and includes:
the obligations of ORU and the ESR respectively
a time plan for the ESR's studies
information about the organisation of the ESR's supervision
what is otherwise necessary for studies to be conducted as efficiently as possible.
The ISP is adopted after consultation between the ESR and their supervisor and is regularly followed up – at least once each year – and amended as required.
Each ESR will have a Personal Career Development Plan (PCDP) that will provide a framework for career development and tutoring. The plan can be seen as a roadmap for both parties; creating the plan will be a joint effort between the ESR and supervisor(s). The plan will help the ESR enhance their knowledge, skills and abilities. A plan for supervision is included in the PCDP as well as a record of number of supervisory contact/supervision hours (minimum 80 hours per year) and an assessment of the supervision from both the ESR and the supervisor(s). The PCDP is revised annually and goals adjusted or revised as well as timelines and actions.
Training programme
The programme will provide each ESR with a combination of possibilities to deepen and broaden many different skills. A variety of courses will be made available through the programme to offer the ESRs the best possible opportunities.
Successful interdisciplinary and intersectoral doctoral training requires a wide range of knowledge and skills. ORU will offer a broad range of theoretical and practical training consisting of research skills, generic skills and non-research skills. Along with partner organisations, the programme comprises experts in all these areas and will provide comprehensive training in an interdisciplinary and intersectoral manner. The programme comprises both individually tailored activities and network-wide activities. The former are tailored to fit the needs of each ESR while the latter are standardised. The training programme is organised in tasks and responsibilities.
ESRs will participate in an introduction programme designed to inform the ESRs about research, roles and responsibilities (ESRs/ORU/Hosts) as well as general information about the Newbreed doctoral training programme.
Each ESR will be part of a research environment and admitted at one of the schools at ORU (https://www.oru.se/english/about-us/organisation-and-governance/schools/). The individual training of each ESR is planned in detail in the ISP. This training includes regular academic courses, courses in transferable skills and supervision of the individual research programme. The amount of mandatory courses depends on the subject in which the ESR is working and varies between 12-18 months out of the total 48 months as specified in the general syllabus. In addition, there are a number of subject-specific or general courses to take within the university.

The Newbreed programme will provide a platform for interdisciplinary training as outlined in the table below
| | |
| --- | --- |
| Title | Content examples |
| Successful Ageing | Seminar series on the concept of Successful ageing. Forum for cross-disciplinary and intersectoral scientific discussions. |
| Ethics | Research ethics and good research practice. |
| Innovation and Utilisation | Methods to turn research results into impact on society, business and academia (incl. IPR). This is a national doctoral course on utilisation. |
| Seminars on inter-disciplinarity | Seminar series on the need for interdisciplinary approach when dealing with phenomenon caused by a multiplicity of causes, cases that requires genuinely synthetic interdisciplinary work, involving epistemic integration of the knowledges of the different mechanisms. |
| Academic writing | Course on how to increase knowledge on the scientific publishing process, exercise and practical training on writing and analysing scientific texts. |
| Practical research work | Course on how to analyse, plan and conduct research applications; to scrutinise scientific texts in the review processes; and to actively participate in the implementation of scientific events. |
| Learning and Teaching in Higher Education | Course on how to develop a reflective understanding of the aims of higher education, what it means to be a university teacher, and learning and teaching in practice. |
In addition, ESRs will also benefit from a comprehensive programme of transferable skills training, comprising of courses and work experience. It is essential to ensure that tomorrow's researchers have the skills demanded by the knowledge-based economy, such as communication, teamwork, entrepreneurship, project management, IPR, ethics, standardisation, pedagogical skills etc. There will be courses offered for the ESRs in media training by the ORU Communications Office and courses in teaching skills by the pedagogic unit PIL (the ORU Centre for Academic Development) who provides training in academic development including pedagogics.
Secondments and International Mobility
Mobility will be an essential part of Newbreed in the form of secondments considering the "triple I" perspective – international networking, intersectoral exposure, and interdisciplinarity.
During the course of the doctoral programme, each ESR is expected to carry out a minimum of four secondments (90 days) of which at least one should be interdisciplinary (e.g. within or between different disciplines within academia) and at least one intersectoral (e.g. within or between academia and business). A minimum of two secondments per ESR must be international.
The planning and choice of secondments is planned together with the supervisor in order to best suit the specific project and the ESR's needs to develop certain skills and knowledge. The secondments can be short (at least one week) or long (a number of months) and must be planned and documented in the ESR's Personal Career Development Plan (PCDP) and Individual Study Plan (ISP)
As a result, ESRs will have access to:
International networks comprising of industry, Non-Governmental Organisations (NGOs) and leading practitioners
Infrastructure and resources
Expertise within various disciplines
External peer support and mentoring network groups
Leading thematic practitioners and policymakers
Career advice support in non-academic research and development.
When on secondments, ESRs will receive reimbursement for local accommodation and any additional costs for living for the country of the secondment.
Life in Örebro & Sweden
The city of Örebro is situated in the heart of Sweden, about halfway between Stockholm and Gothenburg. It is easily accessible by major roads, railways and by air. From the Örebro region, everything that Scandinavia has to offer is within easy reach.
Sweden is large in terms of geographic area, about 450,000 km2 (174,000 square miles), which ranks it among the five largest countries in Europe. Sweden is "long" country; the distance from its southernmost to its northernmost point is nearly 1,600 km (1,000 miles). Sweden borders Norway to the west and Finland to the east. A bridge connecting Sweden to its south-western neighbour, Denmark, was opened in the summer of 2000.
Despite its large area, Sweden has a population of only ten million. The three largest cities are: Stockholm with 881,000 inhabitants, Gothenburg with 526,000 and Malmö with 308,000. Örebro is Sweden's seventh largest city with 146,000 inhabitants.
For more practical information about moving to and living in Sweden, including visas and accommodation, please refer to https://www.oru.se/english/working-at-orebro-university/guide-for-international-staff/
You can also find out more about Sweden at https://www.oru.se/english/about-us/life-in-orebro-and-sweden/
Örebro University
Örebro University is a modern university with a broad scientific base and the ambition of building research and education for the future. It is one of Sweden's most expansive universities with 17,000 students and 1,300 staff. 60 undergraduate programmes, 30 postgraduate programmes as well as 800 courses in about 50 subjects are offered.
Örebro University offers an attractive range of training opportunities within fields such as medicine, law, psychology, business and economics, education, social work, nursing sciences and engineering. Investments made into professional degree programmes have doubled the number of applicants seeking to obtain a professional degree.
The success of our courses and degree programmes emanates from the internationally renowned research pursued at the university. Among the strongest research areas are robotics, environmental science, youth and developmental studies, medical science and disability science. Measures are being put in place to safeguard the quality of research results, and the establishment and maintenance of active and long-term international collaborations with international research environments are considered a priority.
Örebro University is an important driving force for development as well as for growth through its active collaboration with a range of businesses and organisations. The research pursued at the university is often employed on the local, national and international level.
The university's role in society is to provide development and innovation by pursuing interaction with trade and industry, various organisations and the public sector. With dedication and cooperation, Örebro University is building strong and community-based operations that contribute to growth and a favourable development of society.
Application Process
Before beginning the application process please complete our pre-application eligibility quiz. This will give you an indication as to whether or not you might be eligible to apply.
Also, before entering your application in the application system, carefully read through this guide for applicants and this presentation of the application questions.
Please note, applicants can only apply under one thematic area and one research discipline.
How to apply
---
Step 1 – Sign in or create account
Find the call for the Newbreed MSCA COFUND doctoral programme on www.newbreed-cofund.eu
To proceed, press the Apply button and sign in or create a new user account.
---
Step 2 – Personal information
Fill in all the required fields regarding personal information.
We recommend that you prepare your answers offline (e.g. in a word document) and then transfer the information in the requested fields of the application system.
---
Step 3 – Answer questions
Complete all of the required fields.
In this section, you will need to insert your project description. We recommend that you prepare your project description offline (e.g. in a word document) and then transfer the information in the requested fields of the application system.
Note: your project description must be anonymised. Please follow the guidelines for writing your project description below, including anonymisation.
---
Step 4 – Attach documents
Attach all the documents requested.
Documents requested are:
Proof of completed higher education (if applicable, degree certificates)
Independent project thesis (degree project)
---
Step 5 – Register application
Accept the stated terms.
Check the box next to "I accept the stated terms*", press Register to submit your application.
---
Please note, you can only apply under one theme and one discipline.
The project description must be anonymised (as stated in the guidelines for writing your project description).
At all times, you can save the information entered and continue at a later stage. To do this, press Save and continue later.
Note: pressing this button will NOT submit your application.
Once your application has been submitted you will receive a confirmation e-mail message. Should you not receive such a message, please contact
---
Guidelines for writing your project description
The Newbreed doctoral programme utilises a bottom-up principle for recruitment. This means that applicants apply with prospective projects. Your project description is therefore very important for the selection process and will be reviewed by external evaluators who are experts within the thematic areas of the Newbreed programme. The project descriptions will be reviewed based on their quality as well as relevance within the thematic area (see Selection Process & Evaluation Criteria below for more information).
Review of the project descriptions is anonymised. Therefore, applicants are required not to disclose any personal information in their project descriptions in accordance with the guidelines for anonymisation below.
Project descriptions must be written/pasted into the application system and not submitted as a separate document. However, we recommend that you prepare your project description offline (e.g. in a word document) and then transfer the information in the requested fields of the application system.
The structure of project descriptions is as follows:
Provisional project title (max 10 words)
Research focus and project aim (max 400 words)
Explain the issue you are examining and why it is significant for the overall area of "Successful ageing" as well as for the thematic area within Newbreed to which you are applying.
Overview of the research field (max 200 words)
Briefly summarise what is already known about the field and what research gap your project is addressing.
Research design & methodology (max 300 words)
Explain briefly how you plan to pursue this project in terms of research design and methodology. You are welcome to also include possible alternative designs and methodologies.
Reference list (max 20 references)
All project descriptions must be anonymised in order to reduce the risk of biases and predispositions among reviewers influencing the evaluation of the applicants.
Project descriptions must not include any of the following information:
Personal information related to the applicant
Geographic information related to the applicant
Information regarding sex, transgender identity or expression, ethnicity, religion or other belief, functional impairment, sexual orientation or age, in accordance to the Swedish Discrimination Act
Please ensure that your CV contains at least the following information:
Contact information for work experience referees
Information that qualifies the information entered in the application system, e.g. work and educational experiences abroad
Detailed description of your educational background.
Selection Process & Evaluation criteria
The selection process will take into consideration the whole range of experience of the individual candidate. While focusing on their overall potential as researchers, their creativity and level of independence will also be considered. This means that merit will be judged qualitatively as well as quantitatively.
The evaluation criteria and thresholds will be:
Excellent academic record (0-35 points, threshold: 20)
Evaluation based on the applicant's academic record (undergraduate and postgraduate if any); academic progress, years of schooling, the relevance of the academic education for the theme of the doctoral programme, awards and prizes received.
Experience and skills (0-20 points, threshold: 10)


Mobility (stay in another country/region or in another research setting (public or private) or a change from one discipline or sector to another)

Relevance of research project within the chosen theme (0-10 points, threshold: 5)
Quality of the research project (0-25 points, threshold: 15)
Interdisciplinarity, method, originality, innovativeness, impact.
Motivation, leadership and communication skills (0-10 points, threshold: 5)
In the case that two applications receive an equal total score, the applicants' scores on the evaluation criteria related to the applicants' proposed research projects (criteria 3 and 4) will be taken into account. If this does not results in a resolution, the selection committee will consider the gender ratio in the research group. Lastly, the selection will consider the applicant's contribution of skills and experiences to the doctoral programme as a whole.
Key stages in the selection and evaluation process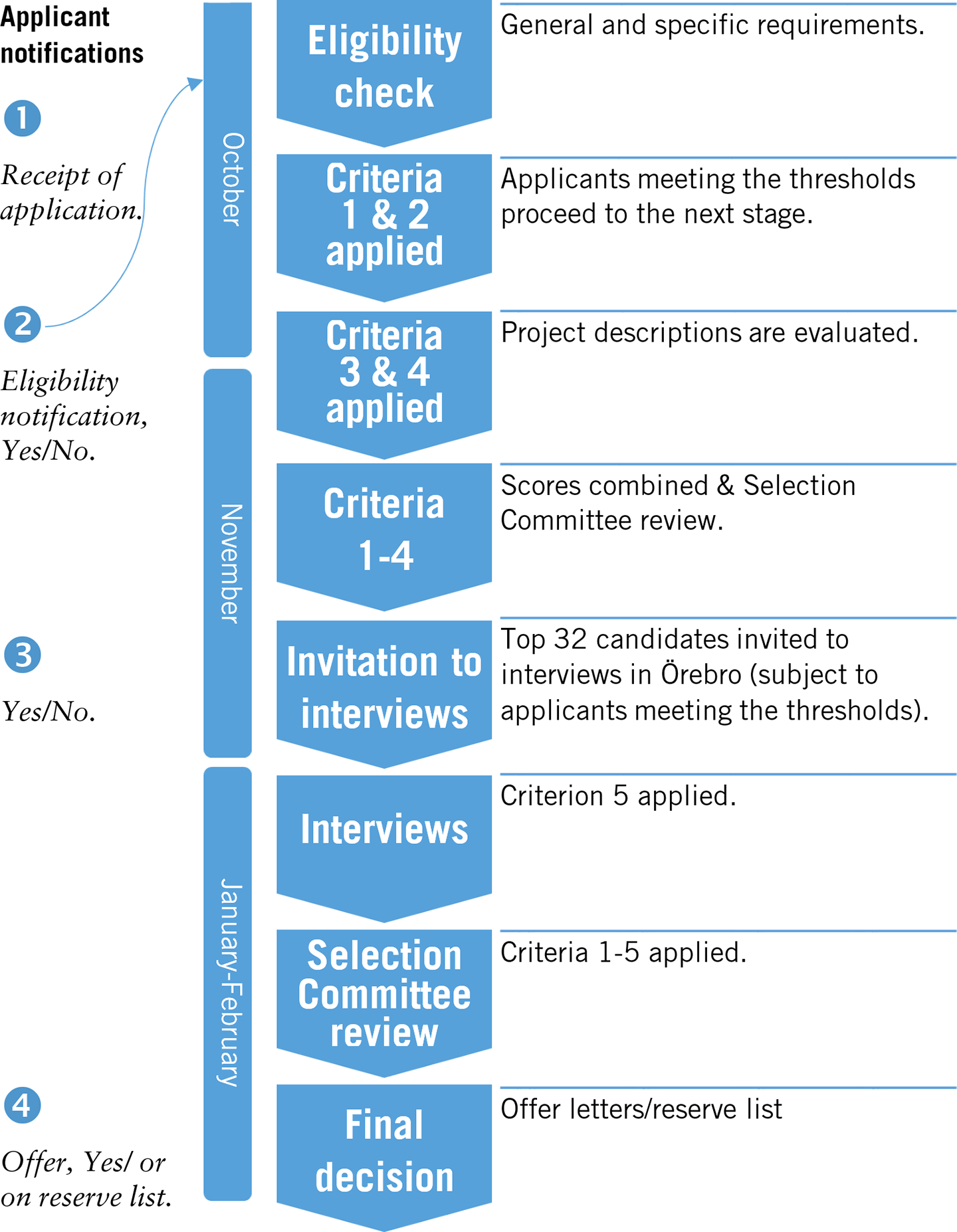 All applications will be anonymised in order to reduce the risk of biases and predispositions among reviewers influencing the evaluation of the applicants. Anonymisation will be lifted after the evaluation of criteria 1-4. Please follow carefully the anonymisation guidance in the 'How to apply' section.
Any appeal of a decision connected to the enrolment of ESRs is prohibited by law. Hence introducing any redress procedure through which applicants could challenge aspects of the recruitment process is not possible for a Swedish university. Since the Newbreed doctoral programme cannot introduce ex-post redress measures against discrimination and wrong-doing in the recruitment process, robust proactive measures are in place to safeguard against discrimination in the recruitment and selection process. First, dedicated members responsible for equality issues are included in the steering committee and the selection committee. These members will be responsible for overseeing, reviewing and steering the recruitment and selection process in order to alleviate any risks of discrimination. In addition, Örebro Rättighetscenter, an anti-discrimination agency located in Örebro, will be consulted throughout the recruitment process and will review all information to the reviewers as well as the applicants including the call text, the instructions for reviewers and the Guide for Applicants.
Members of the steering committee as well as the selection committee responsible for equality issues will oversee the process to make sure that all applicants are given a fair and equal treatment.
If you have any specific questions about the Newbreed programme and the recruitment process, please send an email to
.
Key dates
| | |
| --- | --- |
| Call for Applicants (opens) | 1 August 2017 |
| Call for Applicants (closes) | 16 October 2017** |
| Invitation to interviews | As soon as possible after above |
| Interviews in Örebro | To be advised, likely mid-January to late February |
| Notification of final decision | As soon as possible after above |
| Newbreed start date* | 1 September 2018 |
* ESRs can start their doctoral training between 1 April and 1 September 2018.
** The call deadline has been extended from 30 September.
Frequently Asked Questions (FAQs)
FAQs will be updated regularly on the Newbreed website. Please visit www.newbreed-cofund.eu
You can also send a question to
.