21 tips for better virtual meetings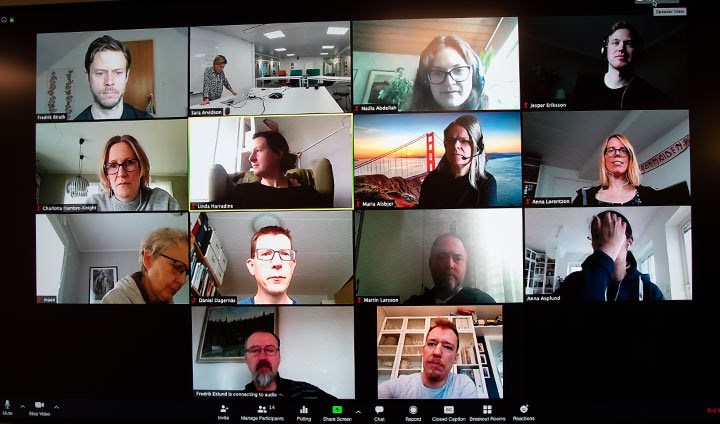 Use simple methods, you can make virtual meeting significantly better.
Today, with many of us working at home, virtual meetings have made their big breakthrough. Here are 21 tips for better virtual meetings – and how to easily freshen up your profile picture and hold more productive meetings with a few simple tricks.
Tips for you participating in a meeting
1) Turn off your microphone when you are not talking.
In a virtual meeting, it is courteous to minimise background noise. Turning your microphone off when you are not talking is recommended. Luckily there is an easy way to it turn on and off. After turning your mic off, hold down the spacebar to talk and release to mute. Works in both Zoom and Teams.
2) Use the right equipment.
Get a good headset with a microphone, so that everyone hears what you are saying.
3) Polish your lens.
Dust and dirt can easily cause a blurry picture. Make it a habit to carefully clean your camera lens on your laptop every now and then. A polishing cloth for eyeglasses will do the trick nicely.
4) Books will improve your image.
Few of us benefit from being photographed from below with a wide-angle lens.
That is what happens when your laptop is on a table with the screen tilted upwards.
Using a stack of books to improve your image is a simple trick. Place your laptop on the stack, adding as many books as needed to bring your camera up to eye level. This makes for a much more flattering picture.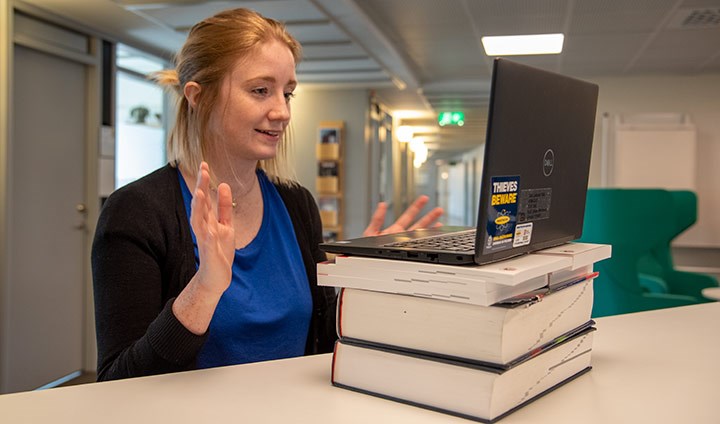 5) The sun is your friend – and your enemy.
Your camera automatically adjusts the exposure based an average amount of light in your room. If you sit with the sun shining from a window behind you, the camera compensates for the bright window, making it difficult to see your face.
Sit instead a bit away, with the window out of view. Your picture will often improve considerably with the sun shining from the side.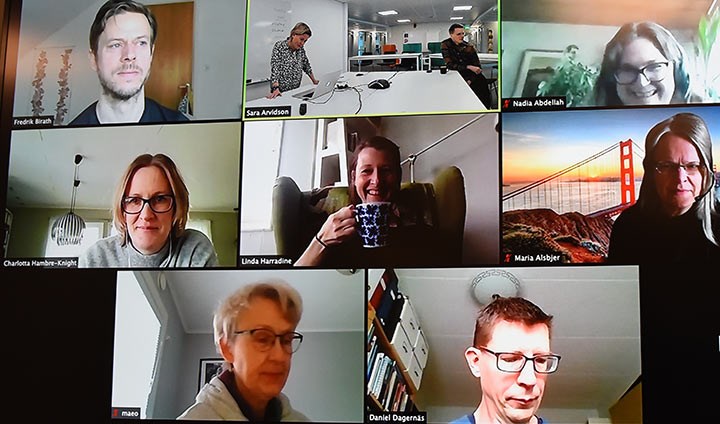 6) It is wonderful to see who is talking.
You would never go to a meeting with a paper bag over your head, would you? Most of us like seeing who we are talking to.
So, when in a virtual meeting, remember to have both video and sound on. It is also pleasant to see everyone at the beginning of the meeting. However, in a video conference with many participants, it might be a good idea to turn off video to save bandwidth.
7) Use body language.
If you are in view, then show it. Give a wave if you would like to speak and a thumbs up when someone says something brilliant.
8) Chat is practical.
Chat can be quite practical for things like sharing a link to a webpage with the group.
9) There is a dress code – if needed.
As you have probably seen on TV, particular patterns do not work well when filmed. Especially thin-striped shirts and blouses as well as fishbone-patterned garments will appear to flicker. The same thing happens in a virtual meeting. If you want everyone to pay attention to what you are saying, you may want to avoid these sorts of patterns.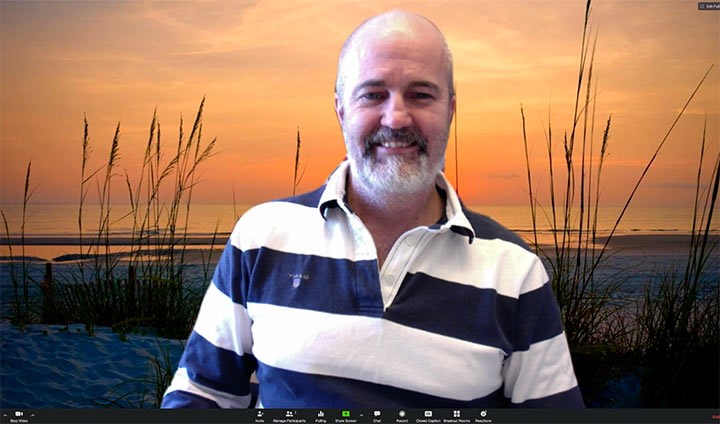 10) Join your next virtual meeting from your favourite beach.
Zoom has a function that lets your change to a virtual background. This is particularly useful if you are tired of how your office looks or if the kitchen is a mess. It is easy to change the background to a gorgeous beach or the deepness of outer space. Or a neutral background, if the meeting is more formal.
Learn how to change to a virtual background in Zoom here.
If you are organising a large virtual meeting
11) Decide who does what.
Prepare for a well-structured meeting with clearly defined roles.
12) Assign a chat organiser.
In a large group meeting, it is not enough to have a meeting chair and secretary. If technical problems occur, then the group chat will soon be overrun with comments. Assign someone to read the chat and bring feedback to the meeting's attention.
13) Always do an equipment check.
Test all necessary equipment – sound and video – 15 minutes before the meeting starts, to avoid wasting everyone's time.
For all virtual meetings:
14) Create a friendly virtual atmosphere.
Welcome everyone and state when the meeting has begun. If participants do not know one another, start with a brief round of introduction.
15) Turn-taking.
In a virtual meeting, it is common that participants may talk at the same time, especially if not everyone sees each other. It may be a good idea to assign a discussion leader[JG1] so that everyone gets a say. In a meeting where only a few are participating by link, those sitting in the room may easily forget them.
16) Have an agenda.
Send out the meeting agenda ahead of time, so that everyone understands the reason for the meeting.
17) Explain how to join the meeting.
In the meeting invitation, it is a good idea to explain how to join the meeting. Often all that is needed is "click on this link at 13:00 on Thursday."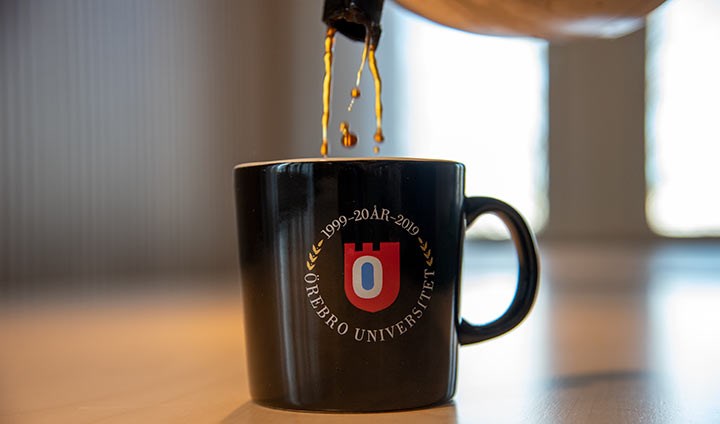 18) Remember to take breaks.
It is just as important to take breaks in virtual meetings as with a regular meeting. Participants may need to go to the restroom, get a cup of coffee etc.
19) Use your presentation skills.
Virtual meetings are more interesting if you use a presentation and pictures instead of just you talking. Do your presentation as you usually would – and have fun!.
20) Choose the program that is best for your virtual meeting.
If Zoom is overloaded, then switch to Teams.
21) Be a virtual meeting whiz!
For those wanting to know more about virtual meetings using Zoom, there are more tips and practical advice on Inforum. (for employees only)
• Learn more about virtual meetings in public agencies here.
Text and photo: Jesper Mattsson
Translation: Jerry Gray