This page in Swedish
Top student Chamika Porage this year's Global Swede
Chamika Porage, student on the Master's Programme in Applied Statistics at Örebro University, has been given the Global Swede Award 2021. The award was presented today by the Minister for Foreign Trade and Nordic Affairs, Anna Hallberg, in an online ceremony.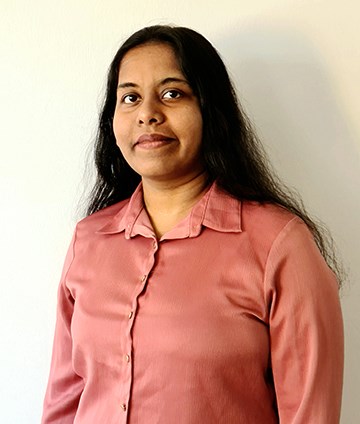 "It's a great honour for me to receive this award. I'm so pleased and grateful, and it is also an acknowledgement that hard work pays off," says Chamika Porage.
Awarded by the Ministry of Foreign Affairs and the Swedish Institute – this year for the 11th year running – the Global Swede Award is presented to international top students who have distinguished themselves as good representatives of both Sweden and their home country. This year's Global Swede at Örebro University is Chamika Porage from Sri Lanka.
"I am very happy with my training at Örebro University, it has provided me with a solid foundation for the future. I got more than I expected out of my time in Örebro. I like the town, and both my teachers and other staff at the university have been so helpful," she says.
Passionate about teaching
Chamika Porage is currently on her final semester on the Master's Programme in Applied Statistics. She also has a bachelor in statistics and master in financial mathematics from University of Colombo in Sri Lanka and in the autumn, new challenges await – doctoral studies at Uppsala University.
"Studying in Sweden differs slightly from studying in Sri Lanka. In Sri Lanka, focus is very much on exams, whereas in Sweden, I have had the opportunity to read more scientific articles and work with various projects as part of my courses. For me, it has been very rewarding."
Her nomination highlights her excellent academic results and how she has been a well-liked teaching assistant. In Sri Lanka, Chamika Porage has been volunteering in both teaching and producing study material for disadvantaged youths in rural areas.
"Already as a child, I enjoyed playing with numbers, and teaching is something that I am really passionate about. And it's something I would like to pursue in the future," she says.
Online ceremony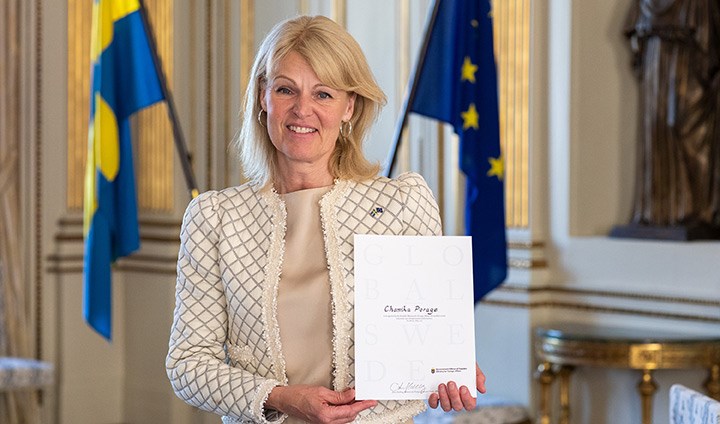 In today's online ceremony, Chamika Porage was presented the Global Swede Award from the Minister for Foreign Trade and Nordic Affairs, Anna Hallberg. Award certificates were presented to 25 international students from 17 countries, all of whom have studied in Sweden.
Text: Jasenka Dobric
Translation: Charlotta Hambre-Knight
Photo: Private and Ninni Andersson/Regeringskansliet