This page in Swedish
Agitators caused her to trade disciplines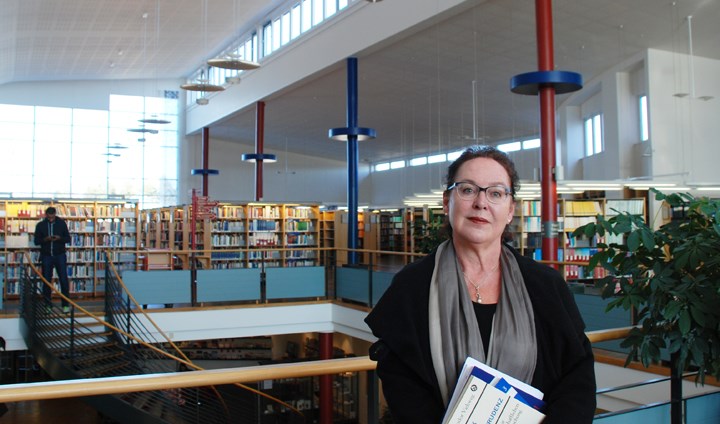 Brigitte Mral
Brigitte Mral is the literary scholar who traded disciplines – a result of external circumstances and a very personal eye-opener. It was her studies on women agitators that led her to rhetoric, which was also to become her new domain. Now, Brigitte Mral is in the process of establishing a new research field – peace rhetoric
"Yes, research has been done into the communicative aspects of peace negotiations, but peace rhetoric as such is not an established concept or research field," says Brigitte Mral, Professor of Rhetoric at Örebro University since 2002.
Ideally, she would have wanted to build her studies around international heavyweights like Aung San Suu Kyi and Angela Merkel. Instead, focus is now on experienced diplomats engaged in peace negotiations. Brigitte Mral shares the planning of the research with Cheryl Glenn, professor at Penn State University, USA, and visiting professor at Örebro University.
The only women among 13 men
The gender perspective is very much present in the planned research on peace rhetoric. And it was gender that led Brigitte Mral from literary studies to rhetoric. After she obtained her PhD, she joined a project about the working-class movement and language, as the only woman among 13 men.
"After a while I realised that our research only covered men. I then proposed that we also include women. The answer was: 'You do it!'. I really did not want to since I had other projects in the making. But in the end, I was persuaded."
The Swedish agitator Kata Dalström led the way into this world of women which was unknown to Brigitte Mral.
"I discovered many women who had fought for temperance, for women's suffrage, and within the free-church movement. All of a sudden, everything attracted my interest and a whole new field opened up to me."
It was at this time that the literary scholar Brigitte Mral swapped allegiance to rhetoric. And she has remained true to her choice. She has her reasons:
"Rhetoric is a democratic way of looking at communication. There are always opposing views in a society and that is when you have to negotiate. Rhetoric provides adequate means for positive argumentation, it is not aiming to put anyone down but to reach agreement or at least a mutual understanding."
Privilege to be in teaching
According to Brigitte Mral, there is yet another democratic dimension to rhetoric:
"Ever since antiquity there has been this notion that everyone should be able to make their voices heard. Many do not possess the skills for this. Therefore, it is a privilege to be in a teaching position where I am able to see how students develop their abilities."
Viewed from this perspective, rhetoric may well be a supporting science for other disciplines. At Örebro University, it is part of the law and social work programmes and as from this autumn, there will also be rhetoric components on the MSc in Engineering.
"Students learn to communicate better depending on the situation. Today, these are skills that really are crucial in any profession."
Brigitte Mral came to Örebro University and the media and communications department in 1987. During the 90s, she began to establish rhetoric as an independent discipline and research field.
"Part and parcel of the scheme of transforming the University College of Örebro to a university was the desire to profile ourselves as a higher education institution; to break new ground. At the time, rhetoric was only offered in Uppsala, and to a limited extent in Gothenburg, so it was, and still is, a highly interesting research profile.
Beneficial to society
The nuclear disaster in Chernobyl in 1986 basically established crisis communication as a research field at Örebro University. Since then, Brigitte Mral and her fellow scholars within media and communication studies have collaborated with what is now the Swedish Civil Contingencies Agency, to evaluate communications efforts in the face of dramatic events and crises in society. Rhetoric is an integral part in this context.
"It has always been important to me to pursue research that has the ability to influence and contribute to society. Crisis communication is most definitely beneficial to society."
Ten years ago, Brigitte Mral chose to set out on a research journey very personal to her.
"As a German, I had to work out for myself how a psychopath, Adolf Hitler, was able to convince a large proportion of a reasonably gifted people."
Study of Hitler's radio recordnings
She chose to study radio recordings with Hitler, which had not been done before. They were mostly recordings of public rallies, but there were also some speeches recorded in a studio.
"Hitler was very aware of group dynamics and drama, and he knew how to use radio to his advantage. At first I could not fathom how he was able to stand there and shout for two hours, nobody can pull that off. That is indeed how we perceive him in the film clips. But I discovered that the speeches contain a certain amount of dynamics: he is speaking in a low voice, which is then gaining in strength and then he goes back to more low-voiced elements."
"I was able to understand why it worked. Rhetorically speaking, these speeches were far from perfect, among other things they were too long. But Hitler used the special tone of his voice and the technology of that time to his advantage, and he did have a sense of rhythm and of pausing."
After the paper concluding the study was published in 2006, Brigitte Mral says she was done with that which "had been hanging over me all my life".
Exploring culture that comes from below and stemming from the interests of ordinary people, is a recurring theme all through Brigitte Mral's research. This curiosity has caused a number of temporary relapses into the field of literary studies, as in the case of a magazine in Örebro from 1700s based on letters to the editor. Or the study of bandit novels published in Örebro in the early 1900s.
"The publishing house Lindhska in Örebro was at the time the largest publishing house in Sweden, publishing a lot of religious literature, but also many translated novels, since it was cheaper, about bandits and love.
Discovered an early Ninja feminist
One example is Koronato Den Förskräcklige, hufwudman för Banditerne i Venedig (Koronato the frightful – leader of the bandits of Venice). Koronato is a masked avenger seeing it as his duty to take the life of men who have abused women. In the end it turns out that the ring leader is – a woman. An early Ninja feminist," says Brigitte Mral.
Thus, her current research concerns peace rhetoric – and women. Brigitte Mral refers to the gender theme as her "darling". 15 years ago, she published the book Talande kvinnor – kvinnliga retoriker från Aspasia till Ellen Key (Speaking women – women rhetorics from Aspasia to Ellen Key) – a book she hopes to be able to follow up with a new one.
"It was my belief then that more researchers would jump on the women-and-rhetoric bandwagon, but that has not been the case. Internationally, there is a lot of this kind of research, particularly in the USA. But not really in Sweden. One reason might be that it is not winning you many points academically. The research community is male dominated," she says.
Text and photo: Maria Elisson
Translation: Charlotta Hambre-Knight