This page in Swedish
New research: It may take 20 years for businesses to adopt AI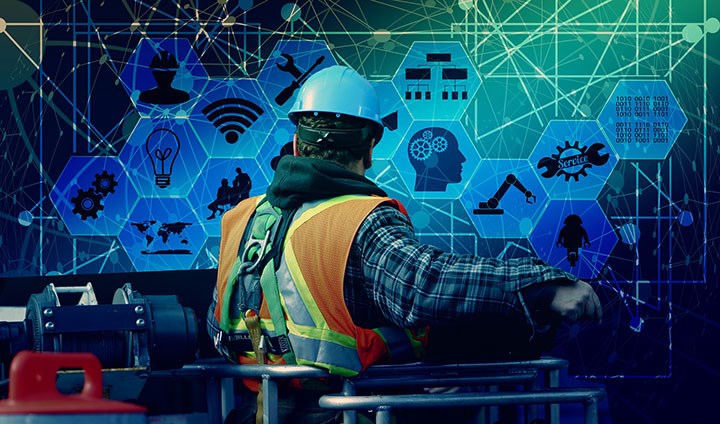 It will take a long time, closer to 20 years, before today's AI technology will be in full use within businesses.
New data simulation developed by researchers at Örebro University shows that this lengthy process will result in many of the companies marketing AI services will be driven out of business.
Smart machines will also lead to massive changes in the labour market – but not necessarily to fewer jobs.
Facts: This is AI
Artificial intelligence, AI, is when machines solve problems that previously only the human brain has been able to deal with.
Many tasks that would take a human too long to complete can now be solved in a flash. AI can for instance help make decisions on difficult and complex problems, plan ahead – and learn from the tasks it performs.
AI is used notably in self-driving cars, robots, search engines, image recognition software, and machine translation. Already today, many AI solutions have been adopted in a wide range of industries, such as within transport, health and medical care, and agriculture.
History tells us that the adoption of new technology and new ideas does not happen overnight.
A new model, designed by Franziska Klügl, professor of information technology, and Hildegunn Kyvik Nordås, adjunct professor of economics, shows that it will be long before businesses will be able to benefit from the possibilities offered by artificial intelligence.
"We are looking at existing technology, such as language and image recognition. How long will it take before most companies have adopted this technology? Our best guess is 17-20 years," says Hildegunn Kyvik Nordås.
Even though there are a range of AI solutions available that could be useful to businesses, few are actually using them. When Statistics Sweden last year surveyed how many Swedish businesses had adopted various types of artificial intelligence, the result pointed to a very low uptake. Only 5.4 per cent of businesses had started to use AI in different ways. Within the public sector, the figure was somewhat higher, 10.2 per cent. Many saw obstacles, such as high costs or a skills gap among staff.
An American survey has previously generated similar results. Management teams are sitting tight, throwing glances at their competitors, and holding off with any investments of their own.
"Of course you can't just buy some software or devices and believe that's it. You have to hire new staff with different skills, and you need to make changes to your production. The outcome of such changes is uncertain, so you wait and see how it works out for other companies," says Hildegunn Kyvik Nordås.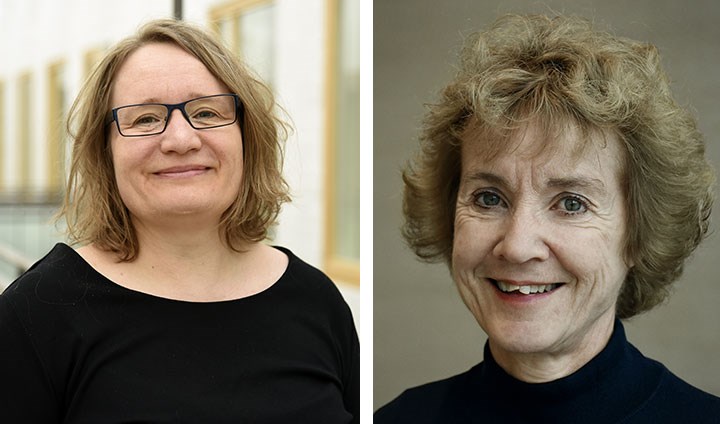 Experts from different fields
In the scientific article now published in the journal Frontiers in Robotics and AI, the two professors present the result of a data simulation of an agent-based model. This means that by simulating behaviours and individual choices made at micro level, you can then study what happens in a larger perspective – at macro level. So, what takes place between individual companies ultimately impacts entire sectors, countries – and the world economy.
This particular study, none of the researchers could have conducted on their own. Combining experiences from two research fields, however, made it possible.
"It is very exciting to see how we can combine our expertise," says Franziska Klügl.
An agent-based model requires the user to carefully enter all the data available on who does what and when, for a true and fair end result. When one of the first graphs showing the development over the next few decades appeared on the screen, it looked completely different from what they normally look like. One curve moved slowly, while the other made sudden jumps up and down.
"When I saw that curve, I thought that there was something wrong. I tried to find the bug in the software," says Franziska Klügl and laughs.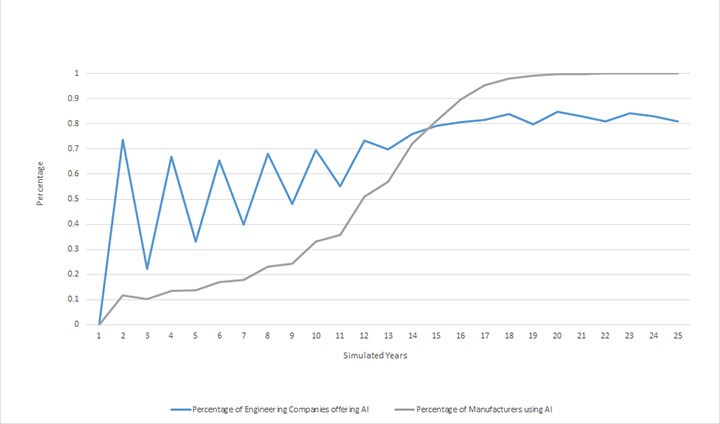 Dramatic years ahead
What the curve shows is in fact how dramatic the next ten-year period will be for businesses selling AI solutions. The curve makes drastic jumps up and down – as businesses drop out of the market, new hopeful entrepreneurs show up, a lot of which will also have to shut down. Calm in the markets will not be restored until buyers have faith in the technology, know how it should be used, and reach a critical mass.
This is a trend that we have seen in various types of market bubbles, such as the IT bubble.
"What happened then was that there was huge optimism, many businesses entered the market with new technology – and most of them failed. That's exactly what came out of our abstract model. That was exciting," says Hildegunn Kyvik Nordås.
Investing millions in the right place
The model makes it clear that what is crucial and driving development is the demand for AI. A country that wants to be at the forefront within AI should therefore give some thought as to how they will invest their money. Initially, it may be essential not only to develop new AI solutions, but also to make sure that companies adopt them.
"You need to get industries to actually use the technology. There's not much point in spending millions of kronor or dollars on something that nobody is using," says Hildegunn Kyvik Nordås.
Also the labour market can expect to see major changes in the next two decades. But the researchers' results do not point to any major impact on the total number of job opportunities. The big change is that more will be asked of workers.
"What we find is that there will be much more demand for highly skilled workers. Not only in professions such as engineering, but also in manufacturing. If you adopt more advanced technology, you also need workers with more advanced skills," says Hildegunn Kyvik Nordås.
Text: Jesper Mattsson
Photo: Örebro university and Pixabay
Translation: Charlotta Hambre-Knight