This page in Swedish
Örebro University climbs in international ranking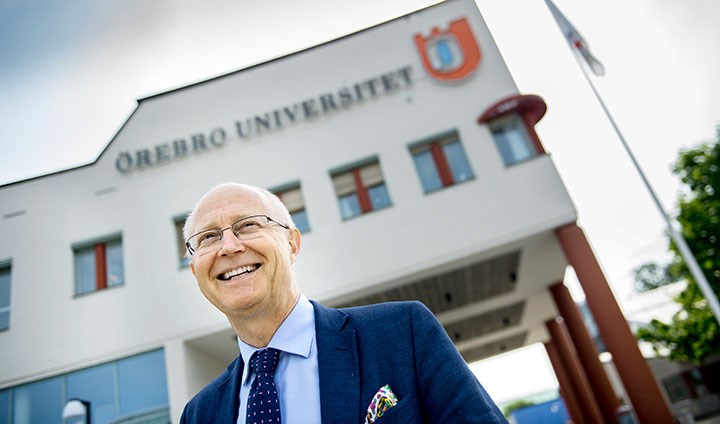 Good news for Vice-Chancellor Johan Schnürer
Örebro University climbs to place 385 in Times Higher Education's ranking of the world's best universities. Once again, it is high quality research, made visible through many scientific citations, that is the key.
Higher education institutions are ranked according to different criteria and weighting within the following areas: education (30 per cent), research (30 per cent), citations (30 per cent), international outlook (7.5 per cent) and industry income (2.5 per cent).

To be included in this ranking, two basic criteria must be met. The higher education institution must offer courses and programmes at the undergraduate level, and its researchers must have published at least 1,000 scientific papers in the past five years leading up to the ranking.

The ranking is based on higher education institutions' self-reporting, researchers' questionnaire answers, and a citations analysis performed by an international publishing company.
"For the fifth year running, this is an acknowledgment of the fact that our research has an impact internationally and that our researchers are frequently cited," says Vice-Chancellor Johan Schnürer, who this week is in Italy to discuss possible partnerships with the universities in Padua and Parma.
A citation is when another researcher refers to a scientific publication written by, for example, an Örebro University researcher. If you look solely at citations, Örebro comes in at number 136 on the world ranking.
Third place in Sweden for citations
In Sweden, only Karolinska Institutet and University of Gothenburg ranks higher in this category. That means that Örebro University takes a third place among Swedish universities when it comes to citations.
"This very respectable place is the result of dedicated and innovative research efforts by the university's researchers and doctoral students," says Johan Schnürer.
In addition to citations, the ranking compares education, research, international outlook and industry income. In the bigger picture, when comparing Swedish higher education institutions, Örebro University comes in at number ten out of the twelve Swedish universities that are included in the world ranking.
Linköping University is in place eleven, in the 401-500 band, while Karlstad University makes its debut on the list, finding itself in the 801-1000 band.
Consistently improving our scores
Times Higher Education is one of the most highly regarded university rankings in the world. There are some 20,000 higher education institutions globally and of these, 1,396 made this year's list. The number of universities included in the ranking have increased over time, but despite this, Örebro University has now climbed from place 405 to place 385.
Örebro University was included in the ranking for the first time in 2015. In June 2019, Örebro University came in at place 74 on the list of the world's best young universities. That ranking only looks at universities that are 50 years or younger.
"We have consistently improved our scores, but at the same time, we are well aware that we have to keep working hard to build awareness of our university internationally. That is one of the reasons why I am currently visiting a university in Italy – one which, just like Örebro, is host to strong research in artificial intelligence and is investing in the field of food and health," concludes Johan Schnürer.
Text: Linda Harradine
Photo: Kicki Nilsson, ICON
Translation: Charlotta Hambre-Knight