About this team
About this team
Team information
Contact
Research Subject
Research environments
Anaesthesia care is complex when it comes to patients' comfort, wellbeing and physical conditions, treatment and specific circumstances in the anaesthesia environment. Anaesthesia is carried out in a high-tech milieu in which urgent, complex, important decisions to be dealt with. In anaesthesia, airway management is of central importance and airway evaluation is essential for patient safety. Patients often experience that they have little or limited influence on their anaesthesia care. It has also been established that many patients are very fearful of their anaesthesia, the operation, pain and unconsciousness increased preoperative anxiety are associated with increased intraoperative anaesthetic requirement. It has also been noticed in children undergoing surgery that there is an association between preoperative anxiety and postoperative behavioural problems.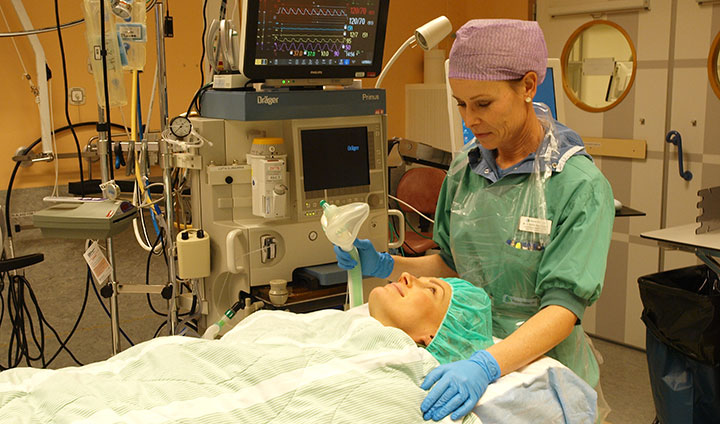 Anaesthetic nursing focus on both the patient's perspective (children and adults) as well as the nurse anaesthetist's perspective. Focus of the research from the patients' perspective is to describe patient's preoperative anxiety and/or wellbeing, to develop and validate instruments to assess and evaluate children's anxiety and behavior during the preoperative period as well as to evaluate educational interventions. Furthermore, to identify guidelines for airway assessment and guidelines, to study sore throat and hoarseness after intubation and to find guidelines for an easy airway as opposed to a difficult airway. From the nurse anaesthetist's perspective focus is to describe advocacy in anaesthesia care during the perioperative phase.
The goal of the anaesthesia nursing research is to minimize the anxiety, increase patient safety and to enable new interventions in order to improve person-centered perioperativa care. The research includes psychometric, exploratory, qualitative and clinical trial studies.
Researchers
Research Projects