Anna-Karin Andershed new deputy vice-chancellor at Örebro University
Anna-Karin Andershed is appointed the new deputy vice-chancellor at Örebro University. The decision was taken by the University Board in their meeting on Wednesday.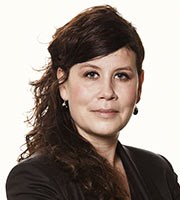 "Anna-Karin Andershed is an experienced leader and will contribute to Örebro University further enhancing the attractiveness of its courses and study programmes. She is also strongly committed to the development of the University as a whole," says Olivia Wigzell, Chair of the University Board.
Anna-Karin Andershed is today professor of psychology at Örebro University.
"I am very pleased that the board has appointed Anna-Karin Andershed deputy vice-chancellor. Her qualifications and experience complement very well the other members of the management team. Her dedication to quality of education will have a great impact on the continued progress of our University," comments Vice-Chancellor Johan Schnürer.
Anna-Karin Andershed is looking forward to her new assignment:
"I am of course both happy and honoured to have been appointed deputy vice-chancellor. It is a vote of confidence and a great responsibility that I have been entrusted with and I look forward to continuing working for the University's positive development together with university management."
As the title says, the deputy vice-chancellor is the vice-chancellor's deputy. At Örebro University, the title pro-vice-chancellor is also used, and it is a title given to a senior university officer with a specific assignment or responsibility within university management.