Grand inauguration ceremony for the new Vice-Chancellor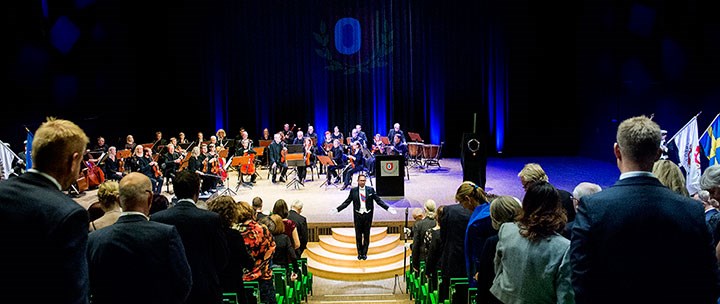 Magnus Hansson, the Master of Ceremonies, extends a welcome to the Vice-Chancellor's inauguration ceremony. On stage is the Swedish Chamber Orchestra led by Katarina Andreasson.
Being the Vice-Chancellor of a university is an adventure – an enjoyable adventure. With these words, Jens Schollin handed over the vice-chancellor's chain to Johan Schnürer. Johan Schnürer takes the helm of a university described by many of the speakers as an unruly teenager who is standing tall when the wind is blowing.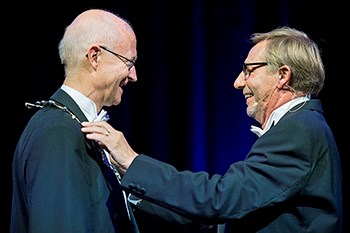 "Vigour, enthusiasm and knowledge are words that describe the new Vice-Chancellor," said Johan Schnürer's predecessor Jens Schollin.
Characteristics which may well come in handy if the picture painted by Deputy Vice-Chancellor Anna-Karin Andershed of running a university is true. She compared it to leading a jazz orchestra – no conductor, and no symphonies.
With a reference to her own research, she added that Örebro University is a 17-year-old with a good measure of self-confidence, and, she claimed, it is at that age that adolescents are most likely to break rules and regulations. But for the University, that may in fact be a good thing: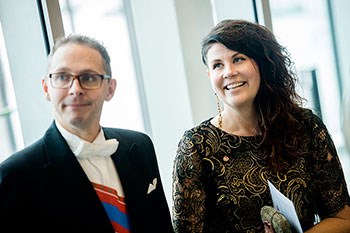 "Breaking norms may be to your advantage – not breaking rules or regulations – but breaking free and thinking again. A brave teenager is standing tall even if the wind is blowing," said Anna-Karin Andershed.
Johan Schnürer spoke of his delight to be inaugurated as the Vice-Chancellor at a young university with so many dedicated employees and students and where there is so much optimism. He described three particular focus areas which he will pursue while serving as Vice-Chancellor.
First on his to-do list is the introduction of what he calls external collaboration specialists – intended to enhance Örebro University's relations with the manufacturing and IT industries in the region. His second focus is the setup of a research profile within food and health which goes hand-in-hand with the Government's efforts to prepare a national food strategy.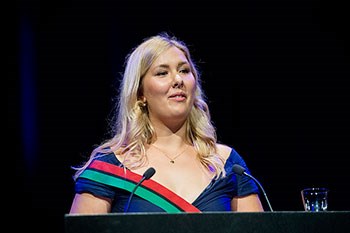 "My third focus area will be to rally the troops to bring about a range of really high-quality teacher education programmes at Örebro University. We must continue to build on existing good initiatives and put quality before quantity," said Johan Schnürer.
Students presented the new Vice-Chancellor with a gift – a pair of walkie talkies. One was given to the Vice-Chancellor while the Chair of Örebro Student Union, Elin Dankvardt, kept the other. After the ceremony, the guests headed out for refreshments, accompanied by the harmonious sounds of the Swedish Chamber Orchestra.
Text: Linda Harradine
Foto: Kicki Nilsson, Icon
Translation: Charlotta Hambre-Knight