This page in Swedish
Örebro University 75th on young university ranking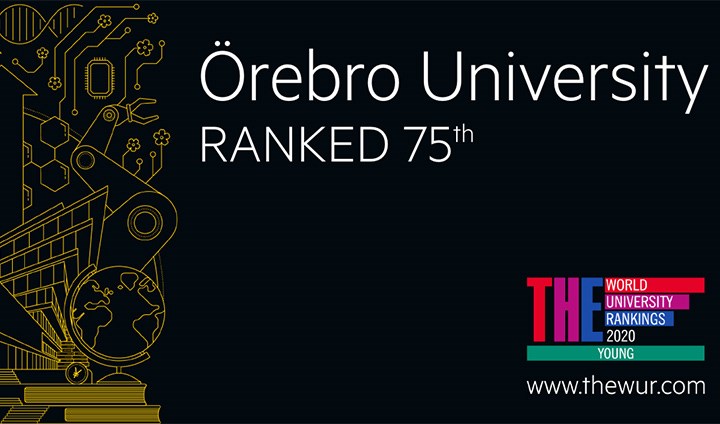 Örebro University comes in at place 75 when Times Higher Education ranks the young universities in the world.
"It is good news that the university retains its place despite further increased competition," says Örebro University's vice-chancellor Johan Schnürer.
To THE Young University Rankings 2020
To be included in this ranking, two basic criteria must be met. The higher education institution must offer courses and study programmes at the undergraduate level, and its researchers must have published at least 1,000 scientific papers in the past five years leading up to the ranking.
The ranking is based on higher education institutions' self-reporting, researchers' questionnaire answers, and a citations analysis performed by an international publishing company.
Every year, Times Higher Education (THE) ranks the best universities in the world and publishes a separate table of universities that are 50 years or younger. Among 414 young universities globally, Örebro University comes in at place 75.
"Once again, it is the high-quality research at our university that contributes to this very respectable place," says Johan Schnürer.
Higher education institutions receive scores based on five parameters – teaching, research, citations, international outlook and industry income. Örebro University is particularly prominent within citations – a measure of the extent to which researchers from around the world in their research papers refer to research conducted at Örebro University.
"Looking at the citations indicator alone, the university comes in at number 30 among the young universities in the world, which is a very good outcome," says Johan Schnürer.
Increased competition
This year, the table features a total of 414 young universities. Last year, the number was 351 and Örebro University then claimed 74th place.
Other Swedish universities on the list are the Swedish University of Agricultural Sciences (SLU) in place 45, Linköping University in place 81, and Karlstad University, finding itself in the 201–250 band.
Place 385 in the total ranking of the world's best universities
Times Higher Education is one of the most highly regarded university rankings in the world. On the ranking, which includes all higher education institutions, Örebro University is in place 385. Of the some 20,000 universities globally, 1,396 made that list.
Text: Jasenka Dobric
Translation: Charlotta Hambre-Knight