This page in Swedish
Örebro University School of Business ranked top 1,000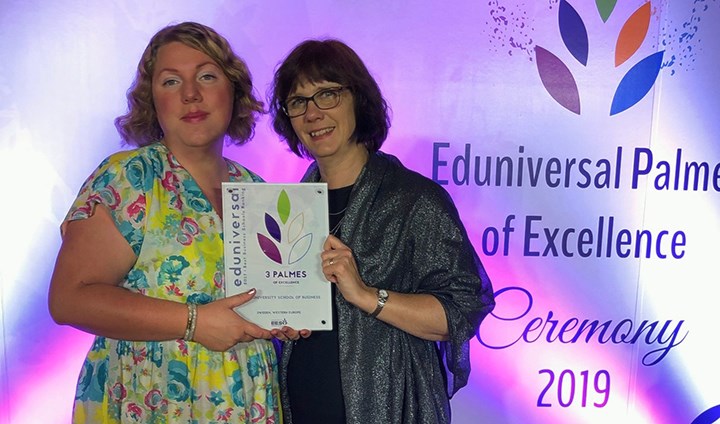 Ida Andersson-Norrie and Pia Bro-Nygårdhs, here receiving Örebro's recognition during the awards ceremony, along with representatives from over 50 of the world's best business schools. The annual Eduniversal World Convention was this year held in Bangkok.
Örebro University School of Business is once again recognised as one of the world's best business schools by the renowned ranking and rating agency, Eduniversal.

"We are delighted to again be among the top 1,000 of more than 16,000 business schools worldwide," says Pia Bro-Nygårdhs, responsible for internationalisation at Örebro University School of Business.
How the ranking is done
• Eduniversal in Paris is an internationally recognised ranking and rating agency that ranks the top 1,000 business schools in the world since 2007.
• 100 universities receive the most prestigious award, five palms.
• 200 receive four palms, 400 three palms, 200 two palms and 100 receive one palm.
• Örebro received three palms, which signifies "Excellent Business Schools with reinforcing international influence".
• Stockholm School of Economics tops the nine Swedish universities included on the ranking.
Örebro University School of Business first qualified on the ranking in 2016 and received two "Palms of Excellence". Last year, the university advanced to three palms, a strong ranking which Örebro retains this year. The highest ranking is five palms.
"This is confirmation that our courses and study programmes are of very high quality. It puts us in a strong position to bring about valuable international partnerships, which is important as it opens opportunities for our students to visit cooperating universities of guaranteed quality around the world," explains Pia Bro-Nygårdhs.
Ranking 154 countries
Eduniversal in Paris began by evaluating academic institutions in France. Since 2007, Eduniversal has issued an international ranking of the world's best business schools. There are 154 countries included in the evaluation. The university's recognised accreditations along with its level of internationalisation and position on other ranking lists are among the decisive criteria for the Eduniversal ranking.
"A strong international player"
"Örebro University School of Business's Eduniversal ranking is a testimony to the quality enhancement activities that Örebro University is engaged in," says Ida Andersson-Norrie, International Strategy Officer.
Örebro University was recently ranked 385 among all universities worldwide, according to Times Higher Education, one of the world's most valued university rankings.
These acknowledgements demonstrate that Örebro University's journey over the past decade to become a strong player in the Swedish and international market is on the right track.
Text: Jesper Mattsson
Translation: Jerry Gray