This page in Swedish
Nursing Science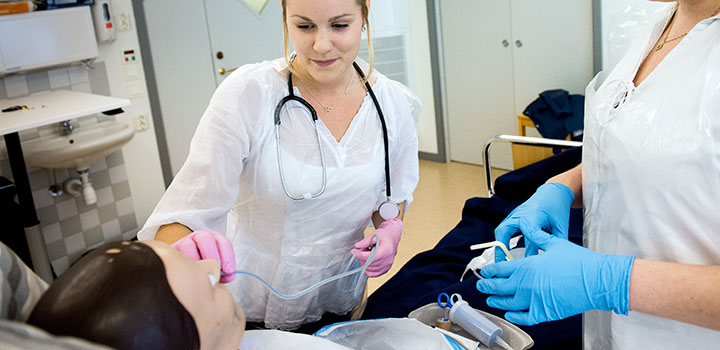 Nursing Science is based on people's needs and problems related to health and illness, and to their daily lives, but also their resources and ability to handle problems. Family, relatives, neighbourhood and environment are included in the subject.
The foundation in the subject is humanism where all people are treated equally regardless of age, gender, sexual orientation, socio-cultural identity, beliefs and level of functioning. In order to exercise nursing in a holistic view and with an ethical approach require knowledge of the academic subject of nursing and also from other academic subjects, as well as the ability to integrate this knowledge into nursing actions.
Nursing Science is the main topic in education programs at the undergraduate and graduate levels for nurses as well as a support topic in other programs. In research, the purpose of nursing science is to build knowledge in practice and theory with the aim to develop health care and structures that promote health and wellness in all stages of life, as well as a secure and democratic health care organization.
Professors in Nursing Sciences

Dimitri Beeckman
Dimitri Beeckman is an expert in skin integrity research and clinical nursing. He is a professor at Ghent University (Belgium), the University of Surrey (Guilford, UK), the Royal College of Surgeons in Ireland (Dublin, Ireland), and Örebro University (Sweden). His research focuses on pressure ulcers, incontinence-associated dermatitis, skin tears, clinical trials and instrument development and validation.



Karin Blomberg
Karin Blombergs research focuses on interventions for relation-centred care and the conditions for such care i.e professional development and learning. Another area for interest is
methodological development. Karin has also extensive competence in palliative care. She is deputy dean of the Faculty of Medicine and Health.



Annica Kihlgren
Annica Kihlgrens research focuses on older peoples health and living conditions linked to person-centered care. An interdisciplinary perspective in the research is important as well as developing methods for an evidence-based care within the elderly care. Annica attaches great importance of implementing new knowledge in close cooperation with the various stake holders in the care of older persons. Annica also has a great interest in participating and developing the education.

Elisabet Welin
Elisabet Welins research field is centred around patients' experiences and nursing aspects of living with rheumatic disease. She is involved in several projects addressing issues as fatigue, health related quality of life as well as patient-oriented organization of care. Elisabet Welin is also engaged in educational projects exploring learning processes and clinical reasoning using virtual patients and the development of clinical scenarios and examinations for nursing students.

Mats Eriksson
Mats Erikssons research focuses on stress and pain in early life. He is also responsible for the main field of study nursing sciences on advanced level and specialization coordinator for third cycle studies in health caring sciences.