A strategic initiative for external collaboration
Örebro University is the first Swedish university to recruit senior lecturers for external collaboration in engineering, four at the present time. There is a particular focus on collaboration with the business and industry, primarily in manufacturing, logistics and IT.
Senior lecturers for external collaboration will divide their time between collaboration, research and teaching.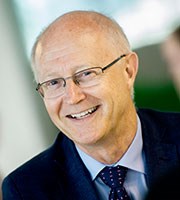 "Örebro University already has very well-developed collaboration with the public sector in health care, welfare and education. I am very excited that the University will now be increasing collaboration with a specific focus on the business sector by developing senior lecturers responsible for external collaboration within the area of engineering," says Vice-Chancellor Johan Schnürer.
The model is patterned after the Swedish University of Agricultural Sciences, SLU, where in his role as Pro-Vice-Chancellor for External Research Collaboration, Johan Schnürer was responsible for developing this unique academic form of employment at SLU, aimed at the green industries and the environmental sector.
In the autumn 2016, Örebro University started two engineering programmes, in industrial and management engineering and computer science. Within the scope of the engineering programmes generally, the University already has close collaboration with industry. For example, within mechanical engineering, around fifty companies are involved with the programme, with several research projects currently under way. Senior lecturers for external collaboration will further strengthen and broaden these contacts.
The role of senior lecturer for external collaboration is to participate in collaboration with the surrounding community fifty per cent of the time. One third of the position includes conducting self-initiated research – which may also involve collaboration with industry. The remaining twenty per cent is linked to undergraduate education.
"They will also receive specific funds to quickly get started with various forms of collaboration. Senior lecturers for external collaboration qualified for appointment as docents can also have a doctoral student assigned to them to increase the long-term commitment," says Johan Schnürer, who designated the "collaboration in technology development" initiative as one of his three focus areas, along with teacher education and food and health.
Åke Strid, Professor and Dean of the Faculty Board of Business, Science and Engineering, leads the work with "collaboration in technology development":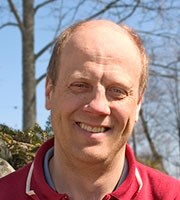 "We look forward to working with the business community concerning both our study programmes and joint research. The approach of the senior lecturers for external collaboration provides us with a unique opportunity to achieve far-reaching cooperation in the technology sector that will benefit all those involved, companies, researchers and students alike," says Åke Strid.
Other keypersons involved in the initiative are Amy Loutfi, Achim Lilienthal, Alessandro Saffiotti, Frans Prenkert and Sören Hilmerby.
Brief presentation:
Amy Loutfi is Professor at the School of Science and Technology and leads the research within the Centre for Applied Autonomous Sensor Systems (AASS). Recently, she and her research team at AASS received a grant from the Knowledge Foundation (KK-stiftelsen) to develop methods for communication between man and machine.
Achim Lilienthal is Professor of computer science and head of the Mobile Robotics and Olfaction (MRO) Lab, a research group at the AASS Research Centre. The latest grant for his research group is for seven million euros from the European Commission. In this project, Örebro University is the coordinator of several European universities and companies in research on autonomous robots in warehouses.
Alessandro Saffiotti is Professor of computer science and has long been involved in integrating artificial intelligence, AI, with robotics. He leads a research group within AASS who are studying cognitive robot systems. He has participated in a number of EU projects using AI technology in various robot applications.
Frans Prenkert is Professor of business administration and leads research in logistics and supply chain management (SCM) at the Centre for Inter-Organizational Network Research, (INTERORG). Among the grants he has received, is one from the Knowledge Foundation (KK-stiftelsen) for the development of efficient and climate-friendly rail transport for the research project "Future Rail".
Sören Hilmerby is Head of Division for mechanical engineering and Programme Coordinator for the Master of Science in Industrial and Management Engineering. The research in mechanical engineering focuses on digitised and sustainable product and production development. In recent years, the established engineering programmes have been enhanced with research and the recruitment of, for instance, a number of professors.