This page in Swedish
Food systems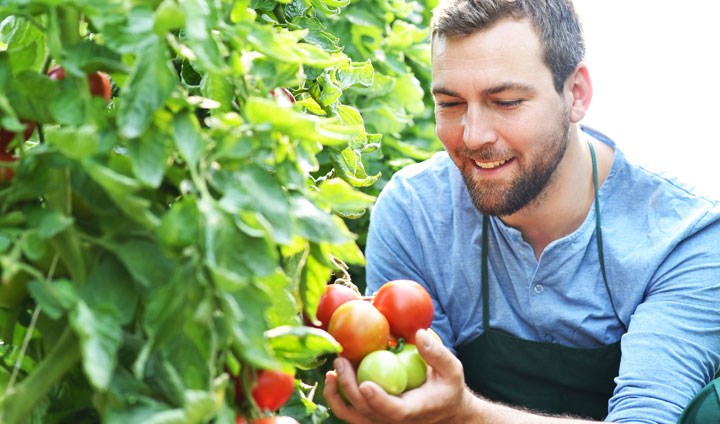 The National Food Strategy for Sweden emphasises that the food supply chain – from production to consumer – must be globally competitive, innovative, sustainable and attractive to operate within.
Food systems are made up of complex interactions between people, goods and the environment. Our research therefore concerns the whole food system, extending from primary producers, manufacturers, retailers, schools, restaurants, nursing homes, consumers, government agencies and more. What we study is the interaction between the different parts of the system.
With major trends such as population growth, migration, urbanisation and consumption habits as starting points, we apply a multidisciplinary perspective to investigate and describe various driving forces for sustainable food production and consumption.
Our research contributes to the development of a sustainable food system that enables sustainable and safe food supply to provide good meals for everyone.
Researchers involved with this theme are investigating, for example:
sustainable production methods
the role of public meals in the sustainability transition
new gastronomic innovations
ways to rethink consumption habits
Our strength is that we work with the entire food system with an emphasis on both ends of the scale. Within agroecology, the aim is to study and develop sustainable production systems as well as to understand the entire food system. At the other end, there is the meal and the consumers, where the role of food and drink in the sustainable transformation is to be a driving force for change in human consumption habits.
Within the theme, researchers conduct several joint research projects, for example:
Rewiners who investigate the reuse, recycling and destruction of wine to save the earth's resources.
The project How Can Gastronomic Research Contribute to a Sustainable Development of the Swedish Food Chain describes gastronomy as a link between food production and the consumer.
Sustainable Food Production in Sweden – the Potential of Agroforestry Systems is a participatory action research project with farmers and researchers in collaboration, focusing on the development of agroforestry systems in Swedish conditions.
Within the projects The School Meal in Educational Activities and Food in Learning, the role of school meals in learning for sustainable development is explored. The projects are part of the Nordic initiative LEARNFOOD.
The Loma cultivation test bed project involves everything from biodiversity to consumption – including product development.
Elderly meal experiences in hospitals – an exploratory study focusing on the sensory aspects of the meal
Development of gastronomic design based on cultivated diversity
Sommeliers competition practices in regards to restaurant industry development