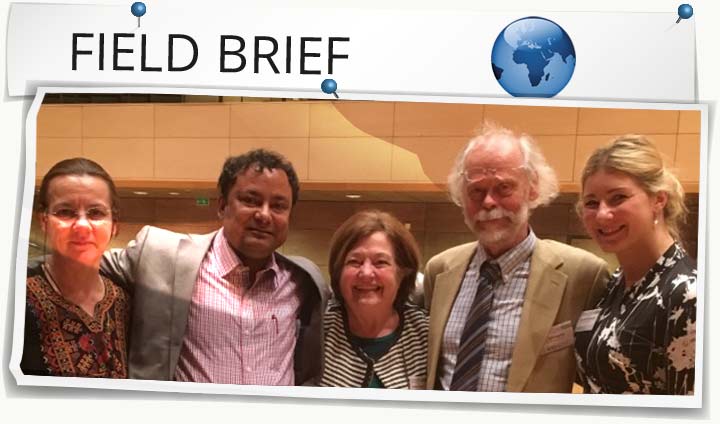 Koustuv Dalal var nyligen inbjuden till en konferens i Vasa, Finland, tillsammans med bland andra Máiread Maguire, 1976 års fredspristagare. Ämnet var fred och hållbarhet.
"I was invited by the Center for Global Nonkilling under the leadership of Nobel Laureates to deliver a Keynote speech at a conference in Vasa Finland, with the theme Peaceful, Killing-free Societies as a Sustainable Development Goal (15–16 March 2016).
The Welcome speech was delivered by Máiread Maguire, 1976 Nobel Peace Laureate, peace activist and member of the Nobel Women's Initiative. Mairead spoke on "Working together towards a just, killing free world". She reminded us that humanity, reconciliation and kindness are the first values to consider when working towards peaceful and inclusive societies.
The first scientific speech was delivered by myself, "The Economic Costs of Violence: Why We Need to Act Now". The current cost of violence for the whole world is almost 158 billion USD, which is more than four times higher than the total foreign aid from USA and almost three times higher than total foreign aid to Africa. The homicide rate is almost 13 times higher than the terrorism rate. Inter-personal violence including domestic violence needs more focus. Controlling homicides needs be prioritised. A better Democratic index, human development index and higher income level are strong protecting factors against homicide.
For the past eight years I have been an Invited Expert at the WHO Milestones of a Global Campaign for Violence Prevention Meeting, Geneva. The current invitation in Vasa came to me in relation to the WHO milestone meetings and as a health economist in the "injury and violence" research team in the Global Burden of Disease and Disabilities (GBD) studies.
In Vasa we have also developed the "Vasa declaration" on Peaceful, Killing-free Societies as a Sustainable Development Goal, which will be part UN SDG agenda."