Making cultural heritage accessible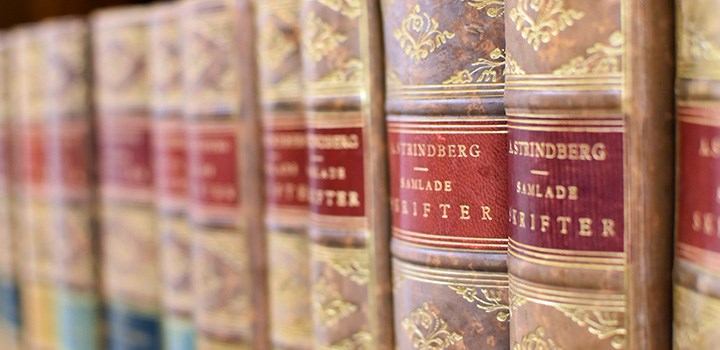 During recent years, important work has been ongoing behind the curtains at the University Library. A small working group has slowly but surely developed a process for the digitalisation of the older materials in the Library's special collections. Thanks to collaboration with the Alvin platform, Örebro University Library also has the opportunity to show its collections to online visitors across the world.
- Before, only the archive inventories of our collections could be viewed online, so nobody could see the material in detail without visiting us. This changed when we became part of Alvin, and now we can showcase our collections in a completely different way, says Camilla Nilsson, librarian at Örebro University Library and part of the working group.
Camilla continues:
- This is about making cultural heritage accessible. We have large volumes of material that may interest students as well as researchers, and thanks to the Alvin platform we can display this at just a few clicks.
Birger Mörner was at the centre of the intellectual and artistic circles of his time and much of the treasure can be found in the Mörner Archive. The archive includes manuscripts, correspondence, images, drawings and much more involving leading contemporary figures such as Gustaf Fröding, August Strindberg, Selma Lagerlöf and Verner von Heidenstam. Potentially interesting source material, such as older literature in several different subjects, can also be found. You can read more about the different collections on the University Library's website.
- We try to base our work on demand. If we receive a query about material, we frequently also take the opportunity to scan it and make it accessible via Alvin. But we also work according to the principle of interest, so we plan to make material accessible that could be of general interest, says Camilla Nilsson.
Most of the special collection materials cannot be borrowed and must be read at the Main Library. This means that you are not allowed to leave the Library with the material and must return it by closing time. Special arrangements can be made with researchers, depending on the type of material in question. Some of the materials are so fragile or valuable that they can only be read under supervision, meaning that a librarian will accompany you during the time you borrow the material to ensure that it is treated appropriately.
-This is an enormous project that cannot be completed swiftly, but our long-term ambition is to give our visitors the opportunity to access our interesting, beautiful collections, says Camilla Nilsson
Follow Camilla through the university's tunnels to see the trip made to reach some of these special collections.