This page in Swedish
Journals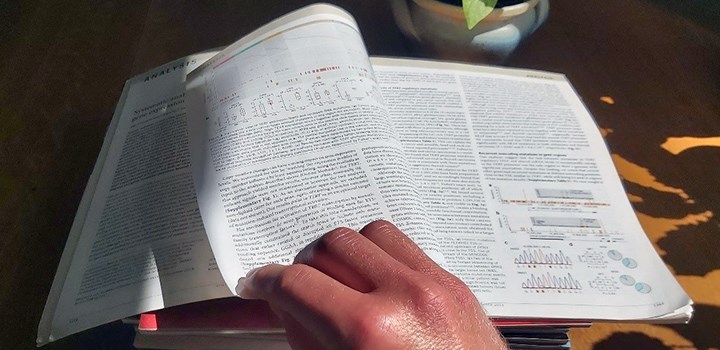 All journals that the university library subscribes to can be found via Primo on our webpage. Click on the journal title to view detailed information on accessibility. Our journals may be available physically and/or electronically.
Physical journals
All three open libraries hold various subject-specific, scholarly and popular-scientific journals as hard copies.
Numbers of journals we currently subscribe to can be found on the shelves for up to 5 years, but these cannot be borrowed.
Earlier numbers can be ordered from the stacks. Log into Primo to order journal numbers. At "Location", click on the linked text "Don't see what you need? Request anyway". Complete as many details as possible in the form. The ordered journal number can later be collected from the help desk.
Electronic journals
Click on "Open fulltext" from the result list, or on the link displayed after "Full text available at" in the detailed description.
You have automatic access to articles and journals when using the university's network (via network cable or Eduroam). Otherwise, you will be asked to log in using your ORU account. Also see our information on Connecting to electronic resources from off-campus.
Region Örebro County staff should please visit the Medical e-library to access electronic journals (website in Swedish).
Fulltext links with LibKey Nomad
Libkey is a browser extension that links to fulltext articles that the library has access to or have open access. When using the extension, you do not need to go via Primo to access articles when using the university's network.
Install the extension in your browser, and select "Örebro universitetsbibliotek" as organisation. If prompted, log in with your ORU account/student account.
Monitor topics and journals using Browzine
With Browzine you can monitor journals and topics by receiving alerts when new articles are published. The service is available as a website and an app, and can also be used to browse the library's journals. Select "Örebro universitetsbibliotek" if prompted, and log in with your ORU account.
You need a free Browzine account to activate alerts or save articles or journals to your bookshelf.
Articles not accessible through the library
Articles that are not accessible through the university library can be requested as interlibrary loans by Örebro University students and staff, and Region Örebro County employees. Use the form available on our Interlibrary Loans webpage.