This page in Swedish
He's biking ten days and 1,200 km – to study in Örebro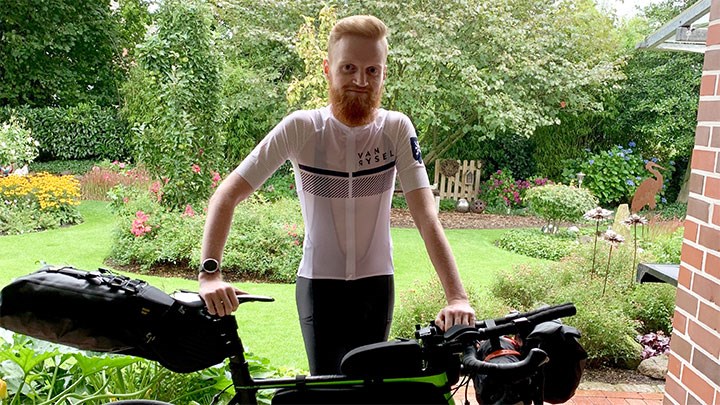 Traveling light. Everything he needs for his trip is packed away on Frederik's bike.
Frederik Kuper, a soon-to-be exchange student at Örebro University, has chosen an out-of-the-ordinary way to get to his studies this autumn: endurance biking the 1,200 kilometres journey from Germany to Örebro, Sweden. "I love a challenge, and it's good for the environment," he says.
Embarking on a journey from his small home town of Emsbüren in north-western Germany, Frederik Kuper expects to bike some 120 kilometres daily. His goal is to arrive in Örebro after ten days and begin studying computer science during the autumn semester.
"I'm a biking enthusiast. I've spent my entire holidays biking around Germany three times with my brothers. I love a challenge – and I've always dreamed of biking to Sweden. At first, I thought about flying or taking the train, but biking is cool and more environmentally friendly," he says.
The itinerary is not entirely decided and may depend on the weather – and Frederik's shape. His packing includes a tent, sleeping bag and mattress, a few changes of clothes and tools for bike repairs, just in case.
"Luckily, my brothers will visit me in Sweden on my day of arrival, so they'll bring what I'll need during my studies in Örebro."
What will be your trip's hardest and most fun part?
"Well, perhaps the biggest challenge is that this is my first time doing this solo, so seeing how I do will be fun. The most fun part will be taking in the varying countryside along the way! And knowing that I've peddled the whole way with only the power of my own two legs," says Frederik Kuper.
Reactions from the family have been varied.
"At first, my parents thought I was crazy. And even my brothers were a bit worried. But now that they know more about my plans, they're behind me all the way. I'm very thankful for that."
What are your expectations for studying in Örebro?
"I'm really looking forward to discovering and experiencing Örebro and Sweden and studying computer science at Örebro University. Hopefully, I will make lots of new friends, learn a new language and get to know a new culture," says Frederik Kuper.
Text: Anna Lorentzon
Photo: Private
Translation: Jerry Gray