"NEOLAiA is a new opportunity for students"
"This will provide new opportunities for students from Örebro University to broaden their knowledge and skills," says Aleksander Berger, vice president of Örebro Student Union.
Representatives of Örebro University and regional stakeholders such as Region Örebro County and Statistics Sweden, have come together to mark the start of the collaboration within the new European Universities alliance, NEOLAiA.

One focus area for NEOLAiA is to establish joint programmes, courses and summer schools – expanding the opportunities available to Örebro students to gain international experience.
In July, the European Commission awarded the NEOLAiA alliance status as a 'European University', an initiative intended to increase the competitiveness of European higher education globally. Among the purposes is for these university alliances to drive long-term regional development in cooperation with the business sector, public actors and civil society. Participating in NEOLAiA are universities from nine countries, including Germany, France, Italy and Spain.
Key area for NEOLAiA
The development of higher education is a key area for NEOLAiA. Today, students at Örebro University can take courses at higher education institutions abroad thanks to exchange agreements with some 160 partner universities around the world.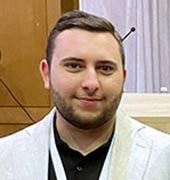 NEOLAiA will serve to enhance this kind of collaboration. So far, Örebro University has, for instance, taken the lead in setting up a network for students at the alliance's partner universities.
"A lot of exciting ideas were put forward when students came together at University of Bielefeld earlier this year. Pods, workshops and language cafés are some of the ways in which we as students can engage," says Aleksander Berger.
Different networks
In the spring 2024, two courses will be offered at Örebro University, especially created for students from the universities with the NEOLAiA alliance – one in history and one in special education.
"We've already seen diverse types of collaborations within NEOLAiA. For example, there are networks for researchers and staff within various fields and we've had many incoming and outgoing colleagues – which has led to research collaborations being initiated, new ways of sharing experience across national borders, and creative ideas as to how we can boost access to mobility in order to promote inclusion and widening participation," says Ida Andersson-Norrie, international strategy officer.
Translation: Charlotta Hambre-Knight
The NEOLAiA partner universities have collaborated for a few years and in the summer, the alliance was recognised as a 'European University' within the European Universities Alliance (EUI) initiative by the European Commission.
The goal set by the European Commission is to award status as a 'European University' to around 60 alliances, gathering some 500 higher education institutions in total, by mid-2024.
The other universities in NEOLAiA are the universities of Bielefeld, Germany; Ostrava, Czech Republic; Tours, France; Jaen, Spain; Salerno, Italy; Suceava, Romania; Nicosia, Cyprus; and Siauliai, Lithuania