Funding for international research on spinal cord injuries
The Swedish Research Council has awarded Koustuv Dalal, senior public health science researcher at Örebro University, a three-year research grant of 750,000 SEK to develop a prevention programme for sufferers of spinal cord injuries in Bangladesh. A major health problem across the globe, spinal cord injuries are however hitting the population in poorer countries particularly hard.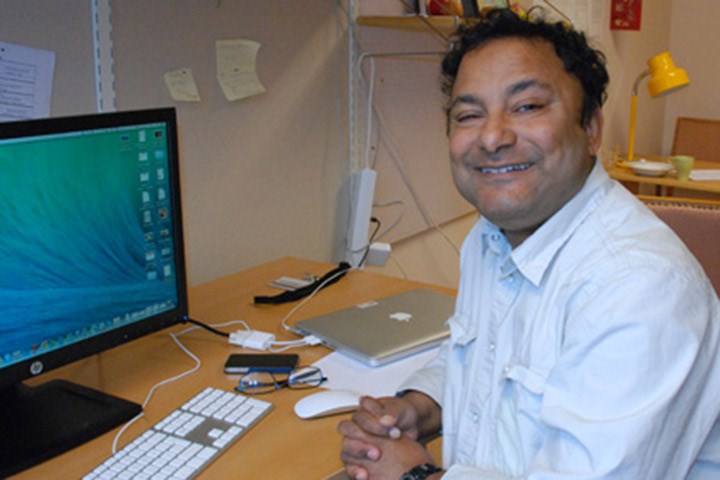 The project now underway in cooperation with the Centre for Injury Prevention and Research in Bangladesh aims at surveying living conditions for those suffering from spinal cord injuries. Researchers are hoping that the study in Bangladesh will lead to an injury prevention programme which can be used also in other low-income countries.
This project is a good illustration of the work of Koustuv Dalal, who for the last few years has been based at Örebro University in Sweden. His work involves finding different ways of preventing injuries and ill-health. Just under two years ago, the university became part of WHO's network for injury prevention and safety promotion, of which Koustuv Dalal is the senior advisor.
Among other things, Koustuv has developed international programmes for safe hospitals and safe schools under the auspices of WHO Collaborating Centre on Community Safety Promotion, CCCSP.
Grew up in Kolkata
Fervently committed to injury prevention, Koustuv Dalal can in some respects be described as an apostle within this field.
– Seeing the joy in the eyes of a child in Taiwan who has just learnt what to do if one of his friends is injured is my greatest reward, he says.
Koustuv grew up in Kolkata, India, where his father was a professor of mathematics. Koustuv himself started out reading economics and in connection with a conference in Delhi in 2000 on injury prevention he met Professor Leif Svanström from Karolinska institutet (KI), Sweden. Svanström is a leading figure within the Safe Community-movement which certifies, within a range of areas, communities that are taking active measures for the safety of its citizens. These measures may be related to traffic, health, healthcare or other areas. KI is also host to WHO CCCSP, which is the European centre for certification of safe communities.
Prize-winning work
Koustuv's contacts with Leif Svanström and KI resulted in him doing his PhD in social medicine and public health economics at KI. His thesis discussed the costs incurred by violence in society and one of the papers in the thesis won him the Best Scientific Paper Award at a WHO event in competition with 3,000 submitted articles.
His work within this field has placed him in the role as WHO's expert in various violence prevention contexts and he travels around the world in this capacity. He is also a health-economic expert within Global Burden of Disease (GBD), a WHO project funded by the World Bank and Harvard University. GBD studies the consequences of and costs for diseases and injuries, what causes them and what can be done to prevent them.
A recurring theme in many of the over 60 articles he has published in various international research journals is domestic violence and the social-economic costs it brings. Economic analyses of the costs incurred by traffic accidents, child abuse and neglect, fall accidents among the elderly, bullying prevention, and the benefits of making communities safer, and many other issues including maternal and child health are also recurring topics.
– Improving safety for citizens and thereby preventing different injuries brings great benefit to a society. With my research, I am able to demonstrate how much an investment into safety actually gives back to society in terms of reduced costs, he explains.
Bottom-up approach
He emphasises that the work to create safe communities must build on knowledge and awareness among citizens. Therefore, the focus is on creating conditions for disseminating knowledge among those that are directly involved by means of different types of agreements with community leaders and organisations.
– Everyone wants their family to be safe, we do not want our work colleagues to suffer injuries, or for our children to get hurt at school. But different environments bring different problems. Politicians making decisions about safety it not enough. It is those immediately affected that can come up with the solutions and if you can gain support for these solutions where they are most needed, the impact will be so much greater. It is a bottom-up strategy. That is why it is so important to get children and youths on board.
International network
Koustuv's research and involvement within WHO has provided him with an extensive international network and taken him to over 40 countries and meetings with ministers of health, decision-makers and other key players. Among other things he has developed international programmes for safe hospitals and safe schools under the auspices of WHO CCCSP.
He is the editor-in-chief of the monthly newsletter from WHO CCCSP with more than 13,000 subscribers worldwide. He is also an editor of Plos One – a highly ranked public health resource – as well as co-editor of a number of other research journals.
In addition to his teaching on the Master's and Bachelor's levels in public health, he is preparing for a number of new research projects in 15 countries across Asia and Africa, but also in the US.
– It is nice to come from Örebro University and meet representatives from leading universities in Taiwan, Japan, India, Kazakhstan and Bangladesh that are leading within medicine and other disciplines, he says hoping that his international contacts will prove to be a great asset also here at home. The significant international elements of his work mean that his working days are often very long.
– I work 18 (!) hours a day. It's a necessity in view of the time differences around the globe, says Koustuv Dalal.
Current research
In addition to the project on spinal cord injuries recently awarded research funding, he is involved in a number of other ongoing research projects. These concern injury prevention for children, analysis of policy and costs for traffic-related injuries, and how to prevent cancer among betel nut addicts. A number of the research projects deal with intimate partner violence, violence against women, and child abuse. Systems for improved new mother and newborn care as well as systems for surveying new mother and newborn deaths are examples of PhD projects undertaken in collaboration with researchers in Bangladesh. Another project is studying health- and injury-related problems among child workers.
Text and photo: Lars Westberg