New global association of leading centres of advanced gender studies
"This is an important step that widens the international platform of gender studies", says Örebro Professor Liisa Husu on the new association the International Research Association of Institutions of Advanced Gender Studies, RINGS. It was formally founded last Friday in Örebro. Twenty-one research centres from 14 countries were represented.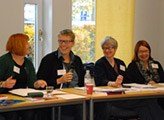 RINGS connects leading research institutes and centres from Africa, Australia, Europe, and North and Central America and aims to facilitate collaboration and contacts within gender studies across the world.
"GEXcel and Örebro play a key role in guiding the association ahead in the opening phase with Professor Jeff Hearn elected as chair of the Interim Executive Committee", says Liisa Husu.
The interim Executive Committee consists of representatives of seven research centres: GEXcel collegium, which is a research collaboration between universities of Örebro, Karlstad and Linköping, Humboldt University Berlin, University of Iceland, Utrecht University, University of Western Cape, University of West Indies and University of York.
Grew out of international collaborations
Jeff Hearn
RINGS grew out of international collaborations of research centres that GEXcel, the Swedish Research Council funded excellence centre, and its follow-up GEXcel International Collegium for Advanced Transdisciplinary Gender Studies has been engaged in, including the Fay Gale Centre at the University of Adelaide in Australia, the University of York in the United Kingdom, Humboldt University Berlin in Germany, and many others.
"The initiative goes back over three years. It is inspiring to be a part of the process as the global collaboration within gender studies enters a new dynamic phase ", says Jeff Hearn, guest professor at Örebro University. He has been the principal scholar from GEXcel and Örebro in the preparations for the establishment of RINGS.
"Planned activities include joint research projects, facilitating researcher mobility between centres, joint publications, conferences and other initiatives. The first large-scale conference of the association will take place in 2016."


RINGS was formally founded last Friday in Örebro. Twenty-one research centres from 14 countries were represented.