Dance shown to be a buffer against ill-health in girls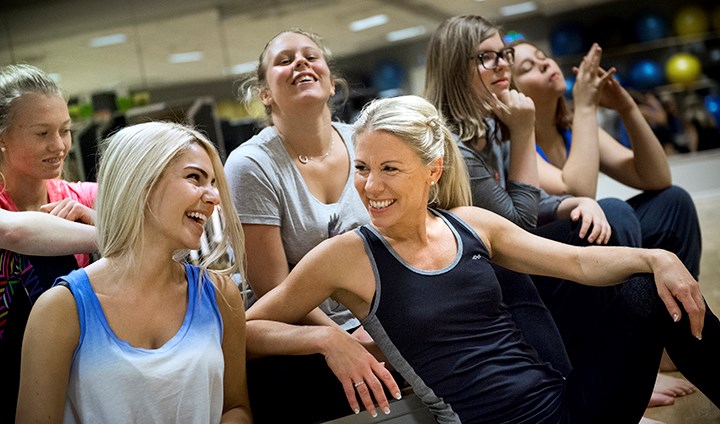 In her doctoral thesis, Anna Duberg shows how dancing makes teenage girls feel better.
Stress, anxiety, headaches and stomach aches decreased in teenage girls dancing without the pressure of achievement. In her doctoral thesis at Örebro University, Anna Duberg shows that dance is an effective buffer against ill-health in girls.
"My focus was to emphasise the girls' own resources by encouraging enjoyment rather than demanding achievement; basically offering them an opportunity to experience their bodies in a positive way. A non-judgemental atmosphere, togetherness, creativity, and a chance to have a say were important building stones," says Anna Duberg, physiotherapist at the Child and Adolescent Psychiatry Department at Örebro University Hospital, Sweden.
Her findings show that dancing brought evident physical and mental health benefits to a group of teenage girls suffering from mental ill-health. Attendance in the dance group was generally at a high level and 92 percent of the participants rated dancing as a positive experience. The results also showed a considerable increase in the self-rated health scores in the dance group compared to a control group. There was also a decrease in physical conditions such as headaches and stomach aches, stress-related mental ill-health, as well as the use of painkillers in the dance group.
Record-high level of ill-health
Participating in the study were girls aged 13-18, frequently visiting the school nurse for recurring problems with headaches, stomach aches, emotional distress, anxiety, worry and stress. Over the course of eight months, the dance group met twice a week.
It was the increasing rates of mental ill‑health in adolescent girls that provided the backdrop for Anna Duberg's research.
"The number of girls suffering from mental health problems is at a record high since the Public Health Agency in Sweden began to survey school children's health behaviour in the 1980s. In comparison to boys, girls are more sensitive to expectations, from school but also from within themselves. This may involve everything from being successful and the way you look, to who you are on social media and worrying about school work," says Anna Duberg.
Free from expectations
The non-judgemental environment and supportive togetherness in the project proved particularly significant for these girls. Dancing became a place of refuge from stress and perceived expectations. Movements and music provide a break from negative thought patterns since there is a shift in focus from thoughts to experience.
"The body should be a source of joy. There is something more than the outside perspective that a lot revolves around today. Dance and movement can help these girls shift their focus to the inside perspective instead. Teenage girls need to experience their bodies from within. That perspective can be a source of immense joy. The first may result in health problems whereas the second may lead to improved health, positive habits, and help taking care of oneself through physical activity," says Anna Duberg.
In addition to the physiological effects, physical activity that is tailored to the individual may increase self-esteem and the confidence that one is able to master a variety of situations. To achieve health benefits it is important that the activity is performed regularly. Basically, it has to be fun, says Anna Duberg. The study also showed that the dance intervention was cost-effective from a health-economic perspective, bringing savings to the school health services and an increase in quality of life.
Implemented around Sweden
Her hope is that dance will become a natural therapy option for adolescent girls suffering from mental health problems. Anna Duberg has trained 60 dance instructors around the country and new dance projects have been launched from Malmö in the south to Haparanda in the north. In Örebro, the research has been turned into practice with the programme Bara dansa (Just dance), providing girls within the target group with a possibility to attend after-school dance sessions in a centrally located dance studio.
Anna Duberg's doctoral thesis in medical science with a specialisation in healthcare sciences will be presented on Friday 20 May at 09:00 in Wilandersalen at Örebro University Hospital. Professor Margareta Möller has been Anna Duberg's principal supervisor and the external reviewer is Professor Töres Theorell.
Text: Elin Abelson
Translation: Charlotta Hambre-Knight
Photo: Kicki Nilsson/Icon