With a unique education in her back pocket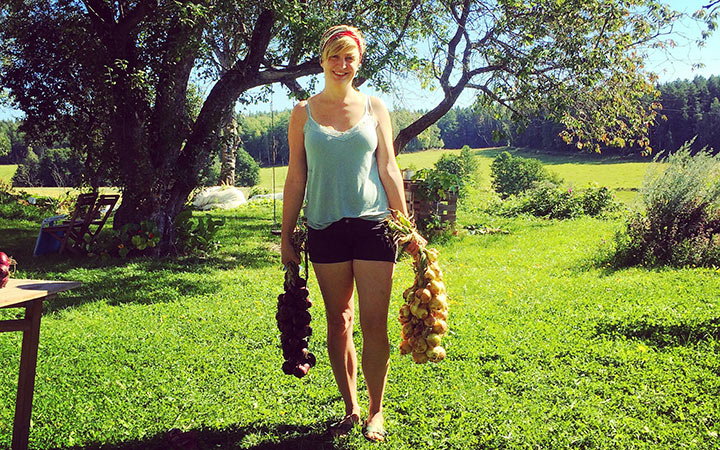 Elin with onions harvested from her own garden at her childhood farm.
With a unique education in her back pocket, Elin is striving to increase respect and understanding for raw materials, food and production.
She grew up on an ecological farm outside of Köping in Sweden, worked as a restaurant manager in Ireland and did her field studies on cocoa bean farms in Colombia. Now that Elin Pettersson has graduated from the culinary arts and ecology programme, she wants to continue studying agroecology, sustainable agricultural practices, or perhaps work on developing meals for the public sector.
"An advantage of the culinary arts and ecology programme is that I can go into the kitchen and talk about quality, technology and food, but I could just as well discuss production methods, soil texture and crops with a farmer. We contribute to society in a new way, because we have the big picture when it comes to food and meals, and how they affect the environment and climate", says Elin Pettersson.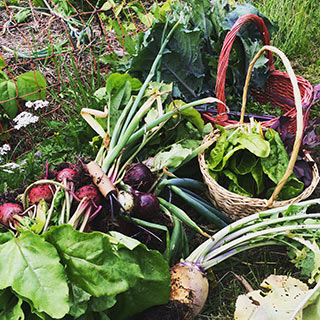 She was brought up on an ecological farm outside of Köping, but left to work in the hospitality industry in Ireland. There she started out as a waitress, later as a sommelier, until she worked her way up to restaurant manager. She was however annoyed by the disrespect for raw materials, food and its production.
Respect for food
"Large amounts of food were just thrown away and there was no adaptation to the local seasons or consideration of the impact on the environment. All raw materials were to be available virtually year round. In order to influence things, I felt that I should educate myself", says Elin Pettersson.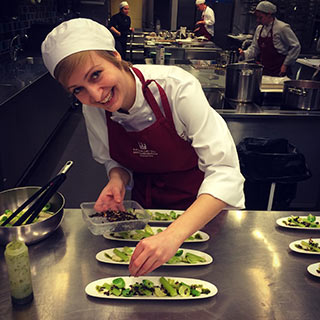 She was accepted to the culinary arts and ecology programme at Örebro University on three separate occasions, but it was first after the fourth time, that she finally resigned her working position and travelled home to Sweden and Örebro.
"The programme was precisely what I was seeking, comprising the entire food chain, from farm to table and table to farm."
"We have not only studied food production, but also traditional cooking techniques, refinement and the social dimension, as related to food and meals. All the while with a focus on the climate and environmental impact, both nationally and globally, because even Swedish food consumption affects people far beyond our borders."
Scholarship in Colombia
After graduation, Elin Pettersson is now considering the alternative of continued studies in sustainable farming practices. Which is not just about the farm to table chain, but also on how nutrients will return to earth again. Something that became apparent during her time in Colombia.
"I received a minor field study scholarship and studied sustainability at some small-scale cocoa bean plantations in southern Colombia. The small farms mixed shrubs, trees and crops, in so-called agroforestry. These farms not only contribute with income from cocoa beans, but also support families with food. Compare this to plantations in West Africa, where they often have monocultures, large plantations of only cocoa trees."
"In West Africa, cocoa is often grown until the soil is totally depleted. A method that is cheapest and requires the least amount of work, only felling trees when new farmland is needed. Cocoa thereby contributes to deforestation and the loss of biodiversity. Whereas the small agroforestry plantations in Colombia contribute to biodiversity."
Developing small farms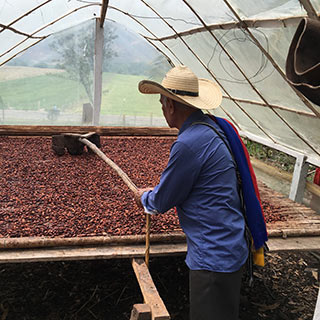 Today, a greater portion of Colombia's cocoa is consumed domestically, but the country seeks to increase production, allowing for export gains due to great demand and high prices. Their climate is also well suited for cocoa, but Elin Pettersson hopes that they continue to develop their small farms rather than going over to the large scale production like those found in West Africa.
"An increase in cocoa production could contribute to a better economic situation for Colombian cocoa bean farmers, but will require both public assistance and modernization to be achieved. Meanwhile, there are major problems in the country due to corruption, in addition to conflicts over the water use at cocoa plantations because of ever increasing climate change."
At the same time, she wishes like to paint a different picture of Colombia, than one of corruption and conflict.
"I felt so welcome. Despite all the problems and conflicts within the country, there exists a positive outlook for the future. The people of Colombia are very hospitable and take great pride in their work. However, in the media, we only see a negative image of Colombia, so I would like to spread the overwhelmingly positive image I had during my trip."
Highly recommended programme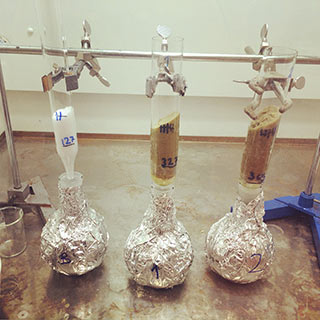 "As far my education, I have learned a lot about methodology in the field, even though two months is a short time. I have learned to be flexible when planning my work and have probably written about the project plan ten times already. To young people who may be considering the culinary arts and ecology programme, I have just one thing to say – just do it!" Adding, "but read through the course descriptions well, so that you get a good overall picture of programme."
"It is important to understand that it is not just about the meal itself. You will need to bring your wellies along, because you will be out on farms and in fields, and you will be working in a laboratory as much as in a kitchen."
"That is what is unique about the culinary arts and ecology programme, it binds together the meal and food production, with a sustainable perspective. A programme that has come along at just the right time."
Text: Linda Harradine
Translation: Jerry Gray
Photo: Private