Örebro students for Musikhjälpen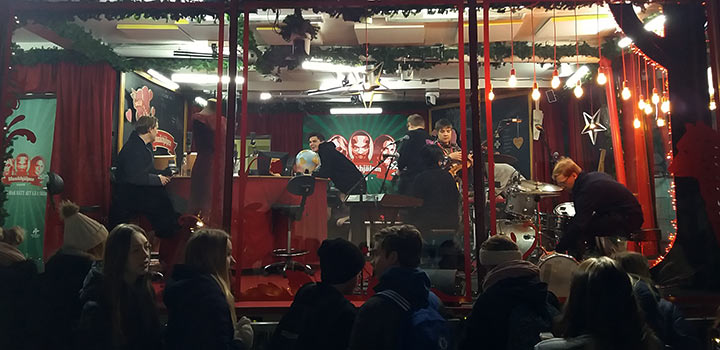 The glass studio on Stortorget in Örebro.
The week-long benefit event Musikhjälpen is now underway on Stortorget in Örebro. In the coming week, students at Örebro University invite you to join them in a jam-packed schedule of activities with the sole aim of raising money for this year's theme: children in war have the right to go to school.
Every year in mid-December, Musikhjälpen is broadcast live on Swedish radio and TV. The aim is to help raise money for a humanitarian cause and the project is a collaboration between the Swedish public service radio and television companies and the aid organisation Radiohjälpen. This year, Örebro is hosting the event for the first time.
The heart of the project is a glass studio set up on Stortorget in Örebro. From here, 144 hours will be broadcast in the next week, around the clock, by three hosts and their guests. Those tuning in can request songs to be played, donating money while doing so. In addition, a vast number of activities, challenges, auctions and other events take place around town, each one with the mission to raise funds for the benefit.
Great student response
Manja Bååt and Anders Wahlström are Örebro Student Union's project managers for Musikhjälpen. As such, they are coordinating all student initiatives in aid of the event.
"Student response has been great and a lot of fun ideas have been put into practice. How about the student baker selling homemade bread and pizzas, music students setting up gigs, and the very timely Lucia procession aiming to be the longest in Örebro, and perhaps Sweden, has seen so far?" says Anders Wahlström. Together, students have already raised over 40,000 SEK and the week has only just begun.
On Tuesday, students on the Culinary Arts and Ecology Programme will set up on Stortorget to cook their take on "junk food" – food cooked from produce that will not sell in supermarkets because it may have passed its sell by-date. Tuesday is also when Lucia is celebrated in Sweden, and Örebro students are encouraging people to join what they hope will be Örebro's longest ever Lucia procession, with Stortorget as their final destination.
Activities have also been planned on campus. A Ninja Warrior event will take place. There will also be a kickbike race and a superman challenge. And Örebro Studentsångare are inviting you to send singing telegrams.
Music production students in the studio
Four students on the Music Production Programme at Örebro University will visit the glass studio and offer what they call "songwriting on the spot". Listeners and viewers will be able to send in anything from a word or a concept, a riff or a melodic line, from which they would like a song written. The students will then process, compose, arrange and perform the completed song, live.
"This is an excellent student initiative – it is in line with our ambition to bring the School of Music and the community closer together," says Jan Sparby, programme director of the Music Production Programme.
Dancing to raise funds
Staff at Örebro University have also set up various fund-raising initiatives in aid of Musikhjälpen. One of them is researcher Anna Duberg from the FAMN research team. She will lead a dance session, Dance Beats, where donations will go exclusively to Musikhjälpen.
"I think Musikhjälpen has such an important theme this year. It feels good to be able to contribute. It is important that all children – especially those who are in vulnerable positions – are allowed to be part of something that improves their quality of life and acts as a buffer against poor health. Dance Beats is but one example that proves the power of social belonging; even as little as 60 minutes can generate an incredible sense of enjoyment as a result of movement, fellowship and music," says Anna Duberg.
Monday saw the kick-off of Musikhjälpen and the broadcast will conclude on Sunday 18 December.