"A friendly campus close to nature"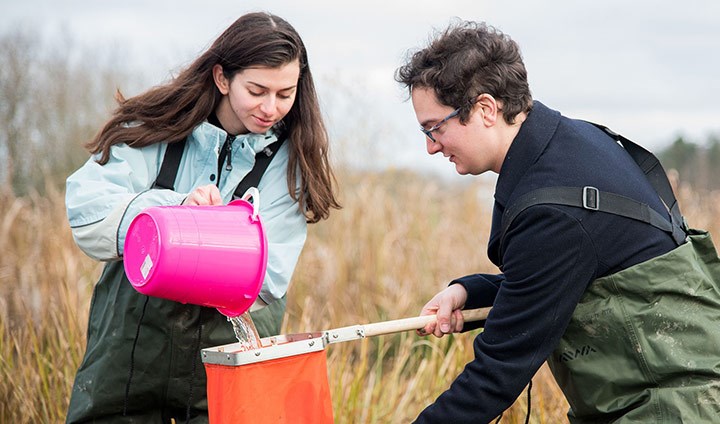 "I think I've learned more in the past two months in Örebro than the four years of university combined," says Stefania Rabasco reflecting on her first semester of the Master of Chemistry in Environmental Forensics programme at Örebro University.
Why Örebro University?
"Örebro has a good reputation and a high ranking among international universities," says Pascal Camoiras González from Germany, and continues, "and is the perfect fit after my Bachelor's in the Netherlands and project work at RIKILT, the Netherlands leading research institute within food safety." Örebro University's Master's programme in the Chemistry in Environmental Forensics, topped Pascal's shortlist of four Swedish universities: "Örebro is strong in both analytical chemistry and the environment. And as an EU citizen, not having to pay tuition fees is a nice bonus."
Stefania Rabasco, who is from Italy, came to a similar conclusion. "Since I had studied in England and wanted to continue living and studying abroad, it was very important to me that English was spoken in the country, not the least because I have my family with me."
She also praises the application process for being simple and straightforward, "almost everything was on one portal, which is quite effective." Pascal Camoiras agrees, "In the countries I considered, you had to visit each university's homepage to find programme information."
"The fact that the University helps find accommodation for its Master's students is very helpful. I just had to accept the room assignment. I've even got my own kitchen and bathroom," says Pascal. For Stefania's family of three, it was deal-maker, "Yes, for me it was actually a major point for choosing Örebro. None of the other universities I checked offered this help. Orebro University offers help to small families."
Fascinating and informal curriculum
The small class size of Örebro's Master's programme – limited to ten students – is something that Stefania Rabasco points out as a real advantage. "I like this approach, it's a different way to study. In a small study group, you're more active in your learning. Not just reading books and attending lectures, you're actively solving a problem, while learning from each other. I think everyone should experience this, it's really great!"
Pascal Camoiras is also fascinated by the problem-based learning (PBL) approach at Örebro University, "I think it is a much better way to learn. Plus taking one course at a time is very positive," and adds, "We make field trips and do labs too. Instead of just studying the subject, we actually do it."
The informal lifestyle in Örebro is something they both are quite satisfied with. Getting to know the other students on the programme is much easier. Along with the Swedish culture of calling teachers by their first name, which they feel helps create a positive relationship between students and teachers.

A friendly campus close to nature
Many things in Örebro were as anticipated, while others were pleasantly unexpected. "Since the city and the people are European, it wasn't that much of a cultural change for me. On the other hand, everything is so very well organised and the people I've met are so calm. It's quite relaxed here, which is something I really appreciate," says Stefania Rabasco.
Pascal Camoiras points out, "On campus there's a café and pub run by other students, which I've never seen before. It was a friendly surprise." Stefania add enthusiastically, "Oh, and there are microwaves in our building, so I can warm up my food, it's so great!"
Both enjoy being active at the University and in the close-by nature. Stefania says, "I bike everywhere, all the time. It's so green everywhere. Everyone is so mindful. Which is very relaxing." Pascal adds "Sweden's well known for its beautiful nature and its wonderful environment, things that are important to me too." Then Stefania reminds him, "We've both tried yoga! And visited a gym for the first time in our lives."
Text and photo: Jerry Gray