Exchange students compete in knowledge about Sweden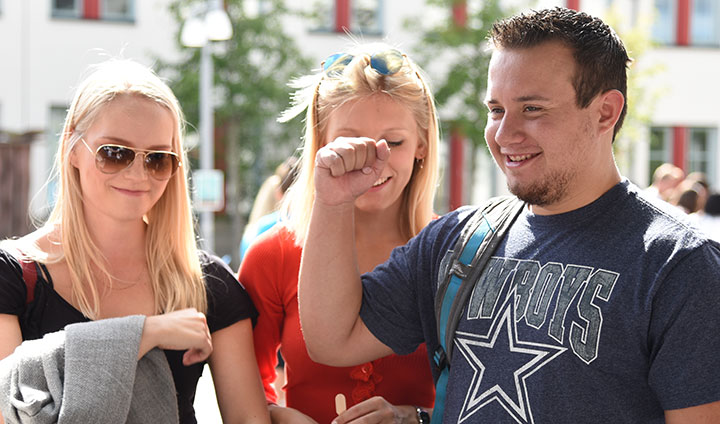 Exchange studies in Örebro was not something Austin Turner from Texas, USA had in mind. Instead he had set his sights on Italy or Australia. But when his study counsellor recommended Örebro University, he started reading about the school. "I simply fell in love with the country and the city. And I started thinking, I would really want to go there," says Austin.
During the autumn semester Austin will be studying criminology and political science. Back home he is studying law at Northern Arizona University. He has been in Sweden for a week now and is currently participating in the orientation programme for exchange students.
As part of the programme, students participate in different group competitions. The winning team will be announced at the concluding dinner at the end of orientation in mid September.
On Wednesday it was time for the contest "Sweden on Campus". Students displayed their knowledge about Sweden in ten different subjects. One of which meant tasting herring, salty liquorice, lingonberry jam and crispbread.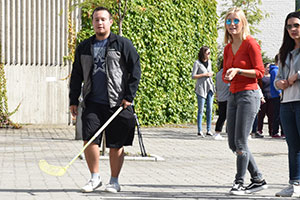 "We definetly do not eat this in America, it was just terrible," Austin exclaimed after tasting caviar. On the other hand, he liked both herring and salty liquorice.
Another task was to pair known Swedes with what they are best known for. Austin's team had no problem pairing Zlatan Ibrahimovic with football and Astrid Lindgren with Pippi Longstocking. They had more difficulty with the names of Peter Forsberg and Alexander Skarsgård, but did finally pair them with playing ice hockey and acting as a vampire.
It was not just their theoretical understanding of Sweden which the students displayed. The team also got a chance to score goals in floorball. Austin admits he learned a lot about Sweden during the day.
"For me, exchange studies at Örebro University is the chance of a lifetime," says Austin.

Text: Anna Asplund
Photo: Jasenka Dobric
Translation: Jerry Gray