Older men's health connected to music – unique research breaks new ground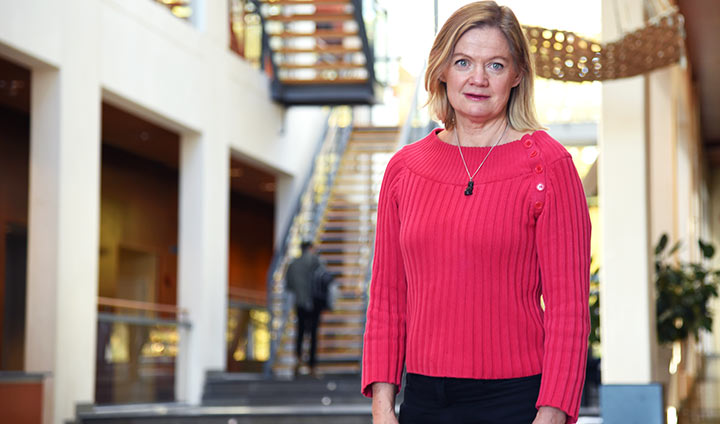 Masculinity, older men and health and their link to music. "It is an unresearched field," says Music Therapist Katarina Lindblad, who is breaking new ground with her study.
What importance does music have for older men's health? How can healthcare reach out to men who are in poor mental health? These are just a few of the questions that Katarina Lindblad poses in her study, in which she did in-depth interviews with 13 men between the ages of 66–76 about their relationship with music.
"No one has ever researched this connection before. That is why this is about basic research. I will not be starting a revolution and suggesting a set of measures. On the other hand, I can create a sort of basic understanding which others can continue working with," says Lindblad.
The background to her research is the difficulties of healthcare in offering help to men who are in poor mental health. This may be due to men seeking help to a lower degree for their problems than women do. Thus, the number of unreported cases for poor mental health are great.
"The masculine norms say that men are not to be weak or show their feelings. Instead, they bottle up their feelings, which among other things results in them committing suicide to a higher degree than women. And of those that take their lives, older men are the single largest group", says Katarina Lindblad.
Add to that the fact that research in the elderly often lacks a gender perspective, despite the great differences between the sexes.
"There is a great deal of research about the elderly, but it is very gender unaware, as I prefer to call it. Therefore, my research is concerned with masculinity, because we need to understand problems that older men have, based on their perspective. Healthcare must find safer, more trustworthy practices and a way of taking care of elderly men, so that they receive adequate care."
And the connection to music? Music-psychological research shows that persons involved in music – regardless if they play themselves or only listen – get positive feelings.
"And this is good for our health, since we know that depression is a risk factor for other diseases like cancer and heart disease," says Katarina Lindblad, and further emphasises:
"However, the focus in this study is not on physical health, but rather psychological well-being."
This is where the 13 men come into the picture. They all have a passionate relationship to music – many of them play in a band or in orchestras, while others have enormous record and song collections. In addition, the men all have something else in common – they are feel healthy and are able to show their emotions.
"That is the basis for my research, looking at men that are feel healthy. By seeing what works, perhaps we can see what does not work," says Katarina Lindblad.
These men grew up in the 40s and 50s, at a time when the ideal male image was mainly about being strong and keeping emotions inside. Many of those interviewed had very traditional and strict fathers. Nevertheless, these men had no problems at all displaying how moved they can be by music.
"Several have cried tears of joy when they shared their experience of a special music performance. Maybe these men can function as role models and show that there is more to being a man than a macho image?", ponders Katarina.
The interviews with the 13 men is a substudy of her thesis, and now she has reached the analysis stage. How she is to proceed with her research is unclear.
"Maybe I'll dive deeper into the material I have or gather together 13 new men – or maybe I will do something entirely different."
Text and photo: Mattias Frödén
Translation: Jerry Gray