Record number of students nominating teachers for the Excellent Teaching Award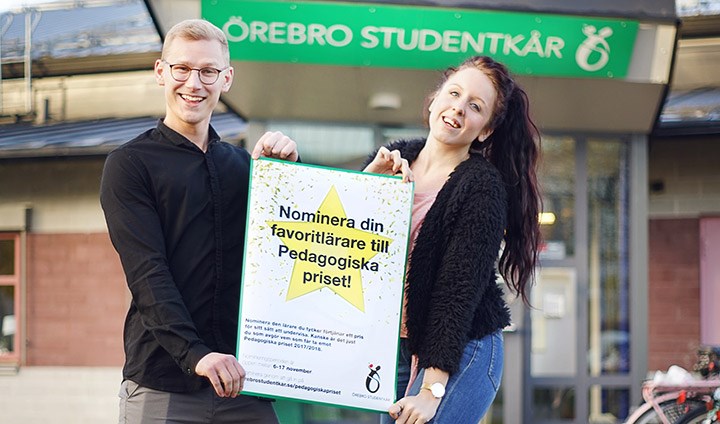 Never before have so many students nominated teachers at Örebro University for the Excellent Teaching Award. Previous years have seen around 70 nominations, this year the number was up to 241. All schools are represented among the nominations.
"This is an acknowledgement of the fact that Örebro University has good teachers and dedicated students. It has been particularly rewarding to read the grounds for the nominations, written by the student to promote their teachers," says Lizette Johansson, Vice President of Örebro Student Union.
"The nominations speak of dedicated and inspiring teachers who see the students and their needs," says Emil Kihlgård, Communications Officer at Örebro Student Union.
The Excellent Teaching Award has been presented by Örebro Student Union since 1999 when Örebro received its University status. Over the last few weeks, Lizette Johansson and Emil Kihlgård have been out on the University campuses to encourage students to nominate teachers.
"There has been a lot of interest, students have actively sought us out to find out more about the award and the nomination process," says Emil Kihlgård.
"We often tend to bring out the negative, things that are not working out. With this award, the student union looks to highlight teachers who do a great job," says Lizette Johansson.
The winners will be announced within two to three weeks. They will be selected by Örebro Student Union based on their rating in the different nomination criteria, free-text statements, and the number of nominations received.
Text: Anna Asplund
Photo: Örebro Student Union