Ikaria's sprightly 100-year-olds – Örebro researchers want to unravel the mystery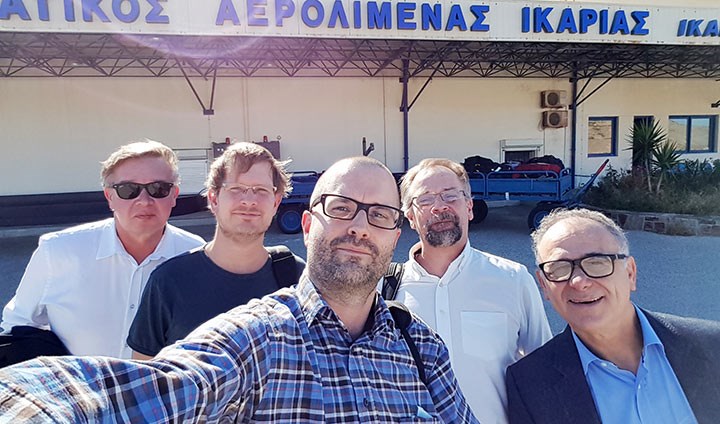 Five Örebro researchers want to unravel the mystery of why there are so many sprightly 100-year-olds on Ikaria. From left to right: Allan Sirsjö, Mikael Ivarsson, Alexander Persson, Magnus Grenegård and Nikolaos Venizelos.
Is their way of socialising, the stress-free lifestyle or genetics? No one knows for sure. But the fact is that those living on the Greek island of Ikaria live a very long time. Now researchers at Örebro University want to investigate why.
Ikaria lies in the Aegean Sea, close to the more famous tourist island of Samos. The 8,000 to 9,000 Ikarians are famous for one thing – they live a long life. The average life expectancy here is significantly higher than in the rest of Europe – and the world.
"On the island, there is an unusually high number of lively 90 to 100–year-olds that actually still work," says Nikolaos Venizelos, a Greek-born Professor Emeritus and Docent of Biomedicine at Örebro University.
He has taken the initiative for a planned research project where he, along with other Örebro University researchers, is looking to answer the obvious question: how do Ikarians do it, live so long while staying healthy even in old age?
The idea came to Nikolaos Venizelos last year, while visiting Athens to receive a research award. After Athens, he went on a shorter reconnaissance trip to Ikaria.
"The purpose of the visit was to participate in everyday life, and to see if there was an opportunity and support for a scientific study," he says.
Various theories
What he experienced there made him even more curious and so he returned to the island in October this year. This time, joining him was a group of colleagues from Örebro University: Magnus Grenegård, Allan Sirsjö, Alexander Persson and Mikael Ivarsson.
The quintet took the trip to the island after participating in a research conference in Athens, organised by the National Hellenic Research Foundation, a long-standing research partner of Örebro University.
There are various theories about why the island's inhabitants live so long and why, for example, cardiovascular disease, cancer, dementia and depression seem to be rare. Among the possible explanations presented are the stress-free environment, their diet and close-knitted family structure.
But no one really knows for sure why the islanders manage to stay so healthy and why so many people reach an advanced age.
"The New York Times and National Geographic have both reported on Ikaria, but there is very little published research about the island. This means that the area is basically unresearched," says Magnus Grenegård.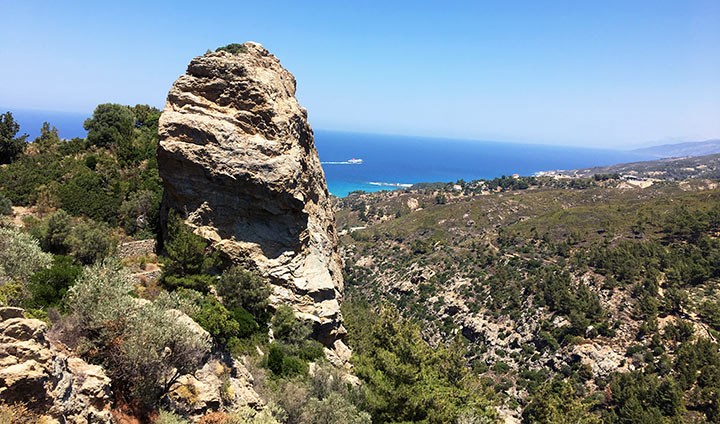 Few research articles
The few research articles available are almost exclusively about cardiovascular disease. Nothing is mentioned about genetics, infectious diseases, depression or diseases such as Alzheimer's.
"It seems that the most obvious reason is seldom brought up in the articles, namely the genetic component that influences life expectancy," says Magnus Grenegård.
The basis for the planned study is the fact that Sweden, like other Western countries, has a rapidly increasing elderly population. This ageing population poses major challenges for society, including higher healthcare costs.
"For example, type 2 diabetes and neurodegenerative diseases such as Alzheimer's disease are increasing drastically. Costs are rising and rising and if this trend continues, the costs to society will be unsustainable," says Magnus Grenegård.
"It would be extremely advantageous if we can find mechanisms that allow us to stay healthy and able to work despite older age. It can be of great benefit both economically and socially, but also from a human perspective. It is also in line with the University's initiative for Successful Ageing," explains Nikolaos Venizelos.
"In addition, in terms of strict science – it provides us with new knowledge," adds Magnus Grenegård.
Objective hard data
He and Nikolaos Venizelos say that the research project's first step is to identify objective hard data.
"How many are actually over 90 years old? What is the average life expectancy? What is the outcome of the major diseases? These are the type of questions that must be answered scientifically," they explain.
The next step could be to analyse, for example, the islanders' blood and faeces to gain more detailed knowledge. The results could then be compared with, among other things, a control group consisting of Ikarians that have moved from the island.
The Örebro researchers visited the island's medical centre, where they met with the chief physician Kalliopi Katté, with whom they now want to collaborate. Initially, she was somewhat doubtful about the arrangement, because as it turns out, the islanders have had bad experiences with journalists and other groups who have come to Ikaria to write about their sprightly senior citizens.
"But when they realised that there was no profit motive, and that we were serious researchers, they quickly changed their minds," explain Magnus Grenegård and Nikolaos Venizelos.
Want to collaborate with a Greek doctor
The involvement of Kalliopi Kattés and the Greek health care system is essential for the project to be realised. Getting access to patient records is crucial.
Equally crucial is of course the funding of the research project. Together with their research colleagues, Magnus Grenegård and Nikolaos Venizelos will now apply for research grants. The EU may be one of the possible research funding bodies.
"This is a big project and we are open to all potential investors. Fund raising could be an option," explains Nikolaos Venizelos.
Text: Mattias Frödén
Photo: Private
Translation: Jerry Gray