Conductor Thomas Dausgaard honorary doctor at Örebro University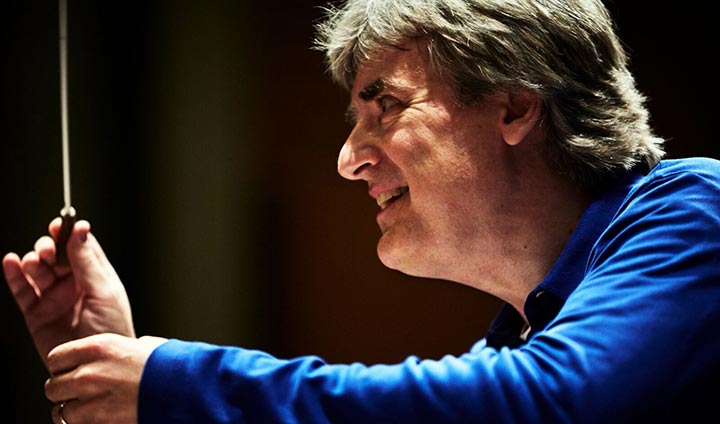 The conductor Thomas Dausgaard has been appointed honorary doctor at Örebro University, for "his creativity and innovation in programming, the excitement of his live performances, and his extensive catalogue of critically-acclaimed recordings".
"It is a real delight for me personally to accept this appointment as honorary doctor at Örebro University. At the same time, it strengthens the ties between the Swedish Chamber Orchestra and the University, a collaboration I hope will continue to grow," says Thomas Dausgaard, Chief Conductor of the Swedish Chamber Orchestra in Örebro since 1997.
'Enthusiastic' is the word Thomas Dausgaard uses to describe his feelings about the Concert Hall at the School of Music, which he and the Swedish Chamber Orchestra have been using for both performances and recordings. And he is just as enthusiastic about the contact with the students.
"There must be an organic dialogue between music research and the performing music scene, and I hope that my appointment will give it some real momentum," he says.
Since Thomas Dausgaard was appointed Chief Conductor of the Swedish Chamber Orchestra, they have taken the musical world by storm with their highly successful and critically acclaimed recordings of Beethoven's complete orchestral works among other projects. Under his direction, the Swedish Chamber Orchestra has regularly been invited to perform at the finest concert halls and the most prestigious music festivals like the Salzburg Festival, BBC Proms, Schleswig-Holstein Musik Festival and Mostly Mozart in New York.
Thomas Dausgaard is also Chief Conductor of the BBC Scottish Symphony Orchestra and as of next year, Music Director of the Seattle Symphony. He is also Honorary Conductor of the Orchestra della Toscana and the Danish National Symphony Orchestra, in addition to regular guest conducting assignments with leading orchestras around the world. As of the summer 2019, he will be Conductor Laureate of the Swedish Chamber Orchestra.
"Our collaboration with Thomas Dausgaard has been of particular importance for forging links between students and professional musicians. Students have been given the opportunity to participate in various professional contexts, both as musicians and composers," says Eva Georgii-Hemming, Professor of Musicology and Head of the School of Music, Theatre and Art at Örebro University.
Thomas Dausgaard has previously been awarded, among other things, the Danish Cross of Chivalry and is member of the Swedish Royal Academy of Music.
Other new honorary doctors at Örebro University:
John Andrews, Professor at University of Nottingham, is a leading researcher in system reliability. At Nottingham, he leads an international research group of 50 researchers. He contributes with his expertise to develop mechanical engineering at Örebro University. His research focuses on developing methods to predict reliability and availability of technical systems.
Jørgen Skov Jensen is a leading researcher in the area of sexually transmitted infections and is affiliated to Statens Serum Institut (SSI) in Denmark. He holds a number of assignments for international expert groups and is an often requested lecturer globally. His research includes, among other things, developing new diagnostic methods. Jørgen Skov Jensen has collaborated with Örebro University since the early 2000s to develop research and medical care practices.
William S Shaw is a leading researcher on pain linked to work. A professor at University of Connecticut, he studies ways in which chronic pain can be prevented and his work is used around the world to formulate research strategies and health policy. William S Shaw has been collaborating with Örebro University for more than 15 years, among other things serving as a visiting researcher, specialising in psychological factors behind pain and prevention.