Grace's research bridge between Sweden and Uganda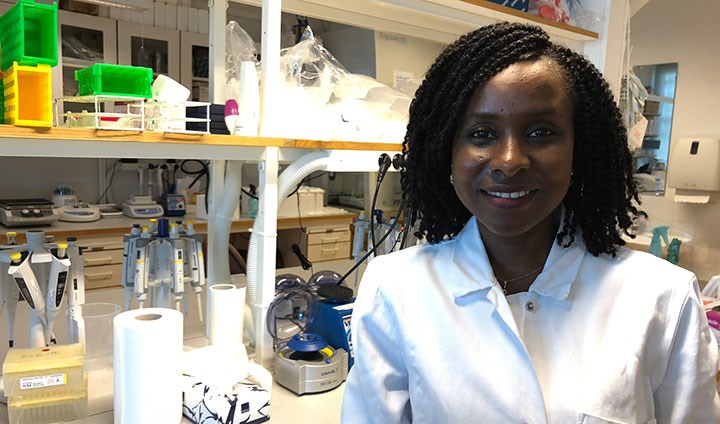 In the future Grace Turyasingura intends to establish research cooperation between Sweden and her home country Uganda. Her plan is to collect samples from people with different infectious diseases in Uganda and then analyse them with the technology and research expertise available here in Sweden.
In 2016, Grace came to Sweden for the Master's programme Innate Immunity in Health and Disease at Örebro University. After she completed her studies, she remained at the University as a research assistant.
During her studies, she distinguished herself as a dedicated student with good academic success and with her passion for life science. And it was on those grounds that she was nominated by the school for the Global Swede Award, which she received in May this year – along with some 20 other international students – at a ceremony organised by the Ministry for Foreign Affairs in cooperation with the Swedish Institute.
"This award could give me some great opportunities. In the future, I envision my role as being a research bridge between Uganda and Sweden."
As such, she wants to implement cooperation between the two countries on various projects for mutual benefit. Since there are more diseases present in Uganda than in Sweden, there is a broader base from which to collect samples. Sweden, on the other hand, has the technology and research expertise to analyse these collected sample materials. It is through such cooperative research results that she wants to contribute to designing better treatment methods to ultimately improve health conditions in Uganda.
Master's degree as a stepping stone
After completing her Bachelor's degree in biomedical laboratory technology in Uganda, it was a natural step for her to continue towards a Master's degree. Her goal was to study abroad – and at Örebro University she found the right programme.
"I had already decided my programme before I chose the university. Since I knew I wanted to study the innate immune system and Örebro University had a programme with the courses I wanted to study, so the choice wasn't difficult."
Once she found the right programme, she began searching for available scholarships and saw the Swedish Institute's scholarship programme.
"The Master's here was a stepping stone and I've really seen how many opportunities it has opened for me as well."
Differences in culture
Grace Turyasingura explains that there are major differences in culture between Uganda and Sweden. Uganda has a formal academic hierarchy; students address professors and PhDs by title and surname. Here in Sweden, she could be less formal with her teachers, which gave rise to good cooperation. Teachers both observed her knowledge as a student and considered her wellbeing as a human.
"In Uganda, students are expected to be able to cooperate with teachers. In Sweden, the view is that students should be comfortable in their working relationship with their supervisors."
Grace Turyasingura feels that a significant advantage with the programme in Örebro is its use of problem-based learning (PBL). Applying the PBL teaching method, students are presented with a question or assignment to reflect on and search for solutions.
"It's an excellent way of combining learning and critical thinking. When I have an assignment, it's good that I can also listen to my fellow students' take on the same problem. It helps me to see a solution from another point of view and allows me to think outside the box."
Text and photo: Anna Asplund
Translation: Jerry Gray
Innate Immunity in Health and Disease
Innate Immunity in Health and Disease is a Master's programme at Örebro University which gives specialised knowledge in microbiology, cell biology and molecular biology, as well as an understanding of the functions of the innate immune system. The programme focuses on specialised understanding of the role of the immune system in health and disease with a special focus question: why do some individuals get severe life-threatening disease, whereas others are only mildly affected?
The Global Swede award
The Global Swede award is presented by the Ministry for Foreign Affairs in cooperation with the Swedish Institute and is an initiative to help build relationships in the long term with international students in Sweden. The initiative builds bridges of transnational and multicultural networks which in the long term will contribute to Swedish trade and promote future solutions to the challenges ahead.