"I have learned so much."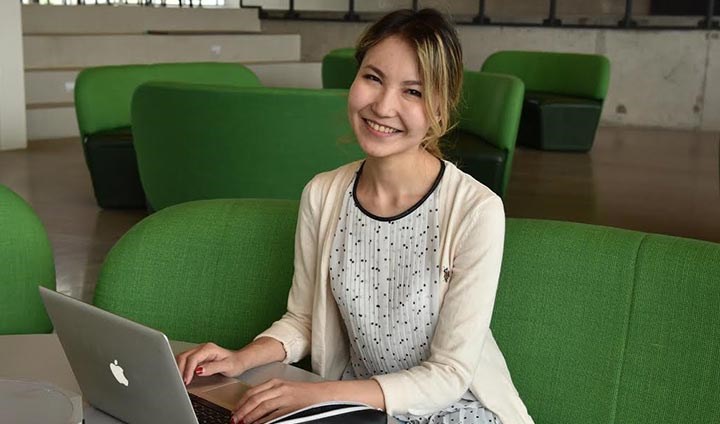 "It is perhaps the informality of the Swedish higher education combined with the familiar atmosphere at Örebro University, that has meant that I have learned so much," says Leila Sati from Kazakhstan, describing her experience as a Master's student in the Applied Statistics programme at Örebro University.
A unique study opportunity and the possibility of an internship
After completing her bachelor's degree in London, it was clear to Leila Sati that she wanted to continue her studies abroad in a Master's programme. "Örebro University has a high ranking among international universities and offers a unique possibility in Europe to study applied statistics from various approaches," explaining her university decision.
The possibility of doing an internship is something that Leila Sati points out as a real advantage. "Not only can you apply your knowledge gained in the first year of your Master's, but you also gain professional experience and are better prepared for your future career."
A particular motivation for Leila Sati is her two-and-a-half-year-old son Josh, who she plans to bring to Sweden this summer. She feels that a degree from Örebro University will enhance her future opportunities to find work and to be able to offer her son a better life.
Friendly and approachable teachers
A new experience for Leila Sati was the informality of studying in Sweden. Especially the relationship between teacher and student made a lasting impression on her. "I was surprised that there is such a small gap between teachers and students. The teachers are so helpful, consider personal concerns and are friendly and approachable".
Another aspect that she appreciates as a Master's student is how examinations are conducted in Sweden. "You always have sufficient time during your exam. On the spot performance is not the only focus, but on showing what you actually know".
Örebro – a cosy town and a welcoming culture
After living and studying for her bachelor's degree in the global city of London, Örebro was an entirely different experience for Leila Sati from the start. "Naturally, Örebro cannot keep up with the pace of London, but that's exactly what I appreciate about this town," she says thinking back on her time in England. In her eyes, Örebro is a cosy town, where everything is nearby and with the advantage that life is calm.
Also, the Swedish culture and especially meeting for "fika" fascinates Leila Sati. "The fact that Swedes come together so often for coffee and a bun helped me at the beginning to find friends and to feel more at home".
A degree that offers possibilities
Leila Sati is not yet sure what will await her after graduation, but she is considering the possibility of a PhD. She has experience as a teaching assistant in her home country and could imagine working in education in the future. "A degree from Örebro University offers me various possibilities. In my perfect future career, I hope to combine everything from researching to teaching".
Text and Photo: Katrin Wieder