Introduction Programme – getting prepared for what's to come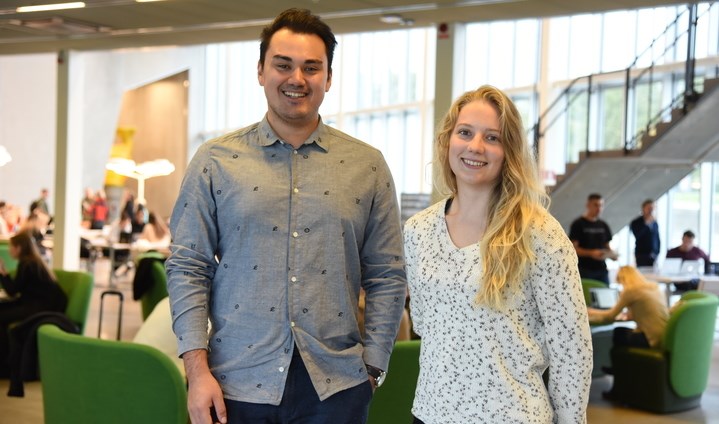 Kjell Hope, from Canada and Laura Järvinen, from Finland.
"The best part about the Introduction Programme was socializing with people from all these different countries and having the opportunity to make new friends," says Kjell Hope, from Canada, Master's student in the Chemistry in Environmental Forensics programme.
"The bonds that we've created during the Introduction Programme help us all get prepared for what's to come," adds Kjell Hope.
Laura Järvinen, from Finland, came to a similar conclusion:
"During the introduction you also get to know people from other classes which broadens the cultural exchange"
Starting the semester off right
Laura Järvinen, Master's student in the Sports Physiology and Medicine programme was involved as a student buddy (fadder in Swedish) during this year's Introduction Programme:
"As a buddy in the Introduction Programme, I've been a contact person for questions and coordinated various activities. I wanted to start the semester off right. Joining the buddy programme is a good opportunity to do that."
Already during his long-term stay as an intern at the MTM research centre and an exchange student at Örebro University, Kjell Hope was very engaged when it comes to extracurricular activities. In particular, he was a student buddy in ESN for two semesters and even vice president for one.
"As a new student, you neither know the language nor the culture. You don't even know where to buy groceries. It's very useful to have someone to guide you. I'll consider being a buddy next year, to share my experiences with others."
Everyone learns something new
"Sweden on Campus" is a fun Introduction Programme activity that tests international students' knowledge about Sweden. There is even the chance to taste Swedish food as well as to play the national sport here, floorball.
"Trying Swedish food was excellent. Since I'm half Norwegian, I adore caviar. Even if some students might already know a lot about Sweden, I am sure everyone learns something new," says Kjell Hope.
He sees these activities as a good opportunity to learn more about the host country.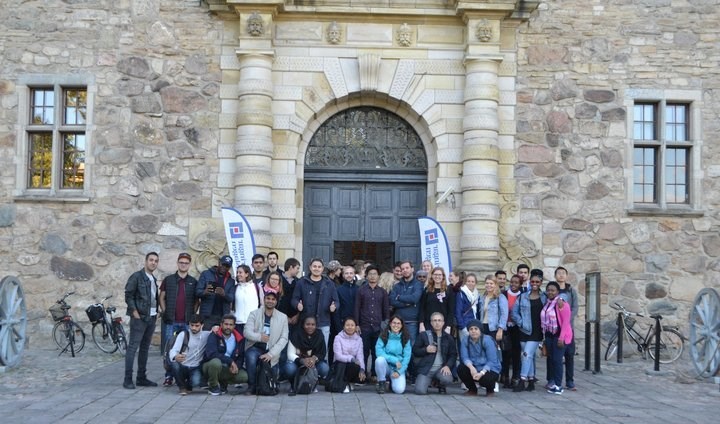 The castle tour was a highlight for Laura Järvinen:
"It was really interesting to learn more about Örebro's history. I understand that the castle is an important landmark for the town and I've heard some Swedes say it's one of Sweden's most beautiful castles."
The international students also played mini golf together, a really good social activity.
International Master's students team – the first ever
At this year's "Örebro Day", international Master's students were represented with a team for the first time. On this traditional whole day event, 14 different teams compete against each other in seven different disciplines ranging from brain-teaser games till sporting activities. Kjell Hope was one of the eight team members.
"Örebro Day was fantastic. Everyone enjoyed competing against the other sections. Even though we were the smallest group, we still beat a few of the bigger sections. We finished seventh out of fourteen teams, which was really nice!" says a jubilant Kjell Hope.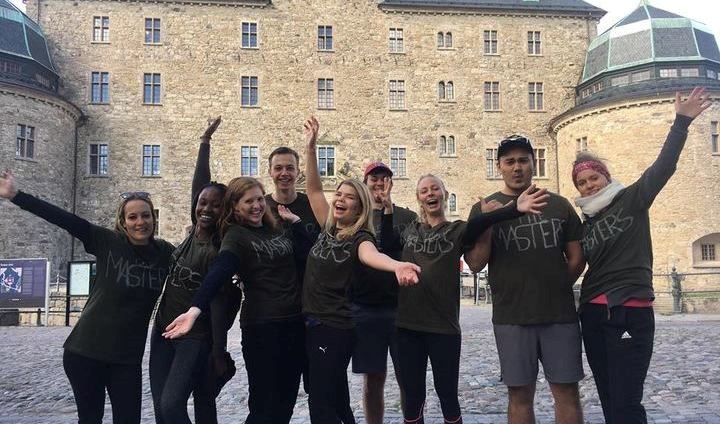 "I learn much better this way"
Focusing on one course at a time and class size is something that Kjell Hope points out as a real advantage when reflecting back on his first weeks of studies.
"The studying atmosphere is a lot better than I'm used to and I feel that I learn much better this way. The smaller class sizes means that the bond between teachers and students is very close. So, it isn't intimidating to go ask your teacher for help."
Laura Järvinen agrees:
"Here in Sweden, they really focus on independent work. I would advise future Master's students to be prepared for this and to stay on top of everything from the very start of the semester."
Text: Katrin Wieder
Photo: Anna Asplund, Katrin Wieder