Making robots take over heavy-duty work in boilers
High-velocity metal coating of power plant boilers is heavy-duty work, not to mention very hot. Robotics researchers at Örebro University are now, in collaboration with Alfred Nobel Science Park and MH Engineering, developing a method for tackling these challenging conditions.
– We want to make it possible for operators to perform these heavy industrial tasks by means of remote control, says researcher Andrey Kiselev.
The inside of a boiler is exposed to tremendous strain, requiring maintenance on a regular basis. For this, high-velocity metal coating – a form of thermal spraying – is used, which means that powder coating material is applied to the surface by means of spraying at high speed, often around 250 metres per second.
The problem is that this kind of work is very demanding.
– Operators need a fair amount of training to perform the task, and often there are extensive recovery programs which they need to undergo afterwards, says Andrey Kiselev, researcher at the Centre for Applied Autonomous Sensor Systems, AASS, at Örebro University.
– This is an environment with high noise levels, a lot of dust and fine particles that may be harmful if inhaled. The work is also physically exerting, since the tools are heavy and access to various spaces requires difficult working positions.
Long experience required
It is also a highly skilled job, requiring a great degree of experience. This creates another problem, since those who have been doing the job for a long time, knowing the ins and outs of the work involved, are finding it harder to cope physically.
However, a solution is in sight.
The Karlskoga-based company MH Engineering AB, working with thermal spraying, turned to Amy Loutfi, Head of Research at AASS at Örebro University and coordinator of Alfred Nobel Science Park's AI.MEE project. The AI.MEE project allows businesses to develop and test solutions within AI and autonomous systems, with the help of researchers at the University and with the financial support of stakeholders such as Region Örebro County and the European Regional Development Fund.
Together, AASS and MH Engineering launched the project Autohic, Automatic High Impact Cladding.
– With Autohic, we want to make it possible for operators to perform these heavy industrial tasks using remote control. Making the system fully autonomous is not possible due to the complexity of the work. Therefore, we are trying to bring about a solution where the operator can remote control a robot performing the work inside the boiler, says Andrey Kiselev.
Have created a semi-virtual world
One problem that needed solving was how to control the robot. A simple alternative would have been to use some kind of hand controller, like in a TV game, but its lack of sensitivity would not provide the operator with enough control. Therefore, researchers have now developed a semi-virtual world where the operator, by using VR glasses, can enter the environment and control the robot with their hands.
– We're attempting to create a smarter solution. We want the robot to be able to perform several of the tasks autonomously, so that the operator can focus on controlling exactly with what and how the robot should do the work. We're also working on something called 'adjustable autonomy'. With this feature, robots will be able to vary their autonomous properties as they go. The robot should understand when to work autonomously and when it's better to let the operator take more direct control, says Andrey Kiselev.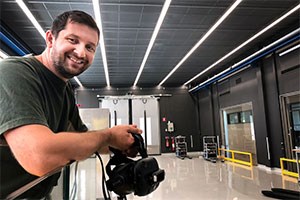 What are the advantages of Autohic?
– Firstly, we're able to remove the human operator from these challenging environments. Another advantage is that operators who today are not physically capable of performing this kind of heavy-duty work, could continue doing what they do by means of remote control.
Are there other fields in which this technology could be used?
– What we do in our research environment, is really developing a number of different technologies which we then apply in various projects. Autohic is one project, another example is Amici, which we co-run with Siemens. The latter is also about removing humans from hazardous environments, in this case, metal 3D printing. I would have thought that there are many similar projects where these technologies would be of use.
May stimulate company growth
Matti Huhtakangas at MH Engineering explains that to their company, this new technology could mean anything from increased growth to higher quality performance.
– Autohic would provide us with a considerably improved working environment – and effect higher quality. Today, performance is related to the length of time an operator is able to stay focused. The technology would also facilitate faster training of new operators and therefore give us scope to grow. Most likely, the work would also be quicker, which is of great significance to our end clients within the thermal energy and power generation industry, he concludes.
Text and photo: Jesper Eriksson
Translation: Charlotta Hambre-Knight
Film: Anna Lorentzon