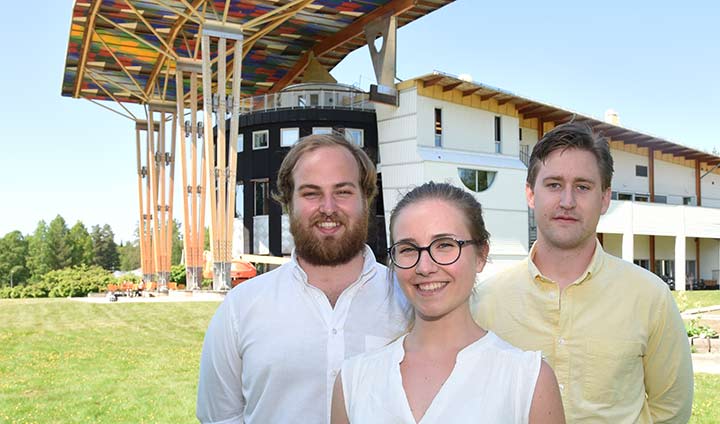 Markus Ekman, Amanda Olsson and Carl Klasén, students at the School of Hospitality, Culinary Arts and Meal Science, have been selected to attend a summer course at Cornell University.
One has been sure of his career choice since he was 12 years old. Another has long considered being a chef – and for the third, being a meal ecologist was the perfect combination of various interests. This summer they will be brought together for an international summer course at Cornell University, a four-hour drive from New York City.
Cornell University
Cornell University is one of the so-called Ivy League universities, along with Harvard, Yale and Princeton.
Cornell University was placed 19th on the latest Times Higher Education World Rankings.
"For me it's definitely a bull's eye, the opportunity to get to know people in the industry and to work with the same things as back home, on a larger scale," says Amanda Olsson, a meal ecology student at the School of Hospitality, Culinary Arts and Meal Science (RHS) in Grythyttan.
Together with Carl Klasén and Markus Ekman – both attend the Chef – Culinary Arts and Meal Science programme – Amanda Olsson have been selected to attend a ten-week summer training course in food production and food hygiene at world-renowned Cornell University.
A door opener for further exchange
The door opener for the students is Vice-Chancellor Johan Schnürer. Last autumn the Vice-Chancellor established contact with Cornell University in conjuction with the Sustainology Summit in New York, a meal and sustainability conference hosted by the Swedish-American Chamber of Commerce.
"I am very pleased that Professor Carmen Moraru at Cornell offered our students this unique opportunity. Something that should definitely lead to continued exchange and cooperation," says Johan Schnürer.
All three are second-year students with high expectations for what the summer course may bring. Amanda and Markus have chosen sensory analysis as their focus, while Carl will study listeria, a foodborne bacterium which can cause infections.
Added value for RHS
Carl and Markus plan on being a chefs, so they see this specialisation in food production, product development, hygiene and raw ingredients, as a way of broadening their knowledge.
"Their experience will be a positive contribution and important to other students at RHS. We are strong within gastronomy, but not as much so in food technology and food processing," says Stefan Wennström, Head of School at RHS.
Naturally, that kind of knowledge is also passed on at RHS. Markus Ekman has two years' experience as a professional chef in the Netherlands before beginning his training in Örebro:
"Here I've learned about raw ingredients and food hygiene. Looking back on things, I now realise how much could have gone wrong. We were lucky."
So much more that preparing meals
Stefan Wennström points out that training as a chef can mean much more that just preparing meals. It can involve everything from working with primary production and processing or as a wholesaler, innovator, entrepreneur or food columnist.
It is this breadth that attracted Amanda to choose to train as a meal ecologist.
"I've always been interested in food, but didn't want to be a cook. The meal ecologist programme was the perfect mix for me, it captures the entire farm-to-table chain."
She, Carl and Markus are now at Cornell, returning to Örebro in the middle of August.
Text and photo: Maria Elisson
Translation: Jerry Gray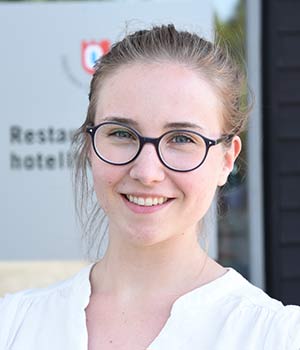 Amanda Olsson from Örebro
Completed the natural science programme in high school, but did not want to work as a chemist or biologist. Interested in food, but not in being a chef.
Felt a bit apprehensive before finding the meal ecology programme, which was, and is, the "perfect mix" in her opinion.
Aiming for work in food production and wants to reach out to the general public with knowledge of such things as environmental impact and global interconnection.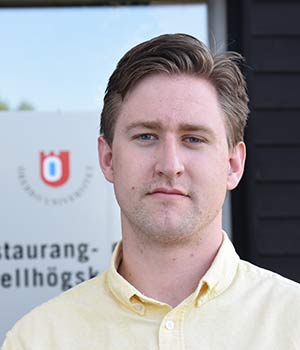 Carl Klasén from Vadstena
Completed the natural science programme in high school and took up the Master of Science in Engineering programme. But later discovered that he wanted to cook, an interest he has always had.
Grew up on a farm and has sheep of his own, who he always takes care of when at home.
Wants to be a chef for a few years, but is also looking forward to using his acquired skills in food production in the future.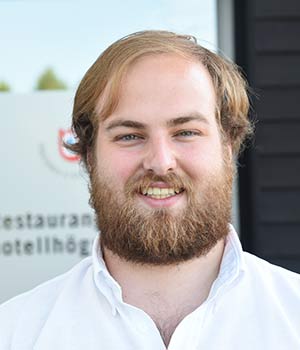 Markus Ekman from The Hague in the Netherlands
Already at the age of 12, he knew he wanted to be a chef and worked as one for two years right out of high school.
When his interest for further education developed, he chose RHS in Örebro over other competing schools in Switzerland. "The best choice I made in my life," he declares.
Wants to work as a chef, but sees a future as a teacher, training the next generation of professional chefs.