Global Swede Award to international Master's student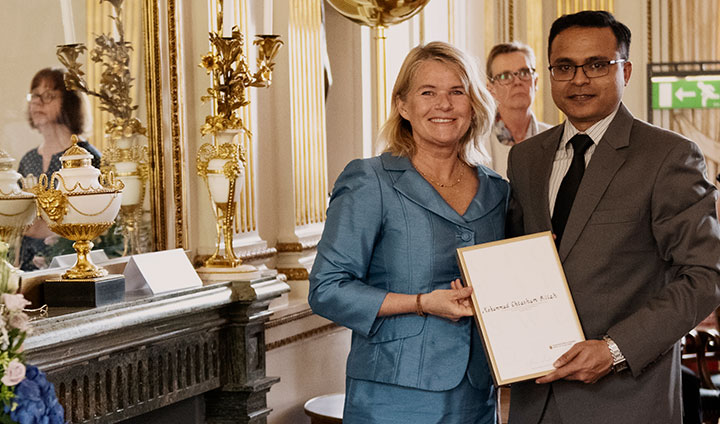 Mohammad Ehtasham Billah received the award from Gabriella Augustsson, Head of the Department for Promotion of Sweden, Trade and CSR at the Ministry for Foreign Affairs.
Mohammad Ehtasham Billah from Bangladesh has received the Swedish Institute's Global Swede Award. It was presented to him and 25 other students from around the world at the Swedish Ministry for Foreign Affairs.
The students who attended the ceremony have all distinguished themselves within areas related to innovation and entrepreneurship and proven themselves to be excellent representatives of both Sweden and their native countries.
"It's an honour to receive this award," says Mohammad Ehtasham Billah, a student on the international Master's programme in statistics at Örebro University.
During the ceremony, he had the chance to network with the other nominated students. He feels that the award encourages students to think more creatively and engage in innovative activities.
"It was a very good ceremony, and I'm pleased that I was given the opportunity to be a part of it – it's a unique event," says Mohammad Ehtasham Billah.
This year, the Swedish Ministry for Foreign Affairs and the Swedish Institute organised the Global Swede Award ceremony for the ninth year running. The award is a part of the Government's and the Swedish Institute's scheme to build long-term relationships with international students in Sweden. The initiative builds bridges of transnational and multicultural networks intended to inspire and engage students to maintain their relationship with Sweden and their university after graduation.
Text: Anna Asplund
Foto: Sofia Nahringbauer
Translation: Charlotta Hambre-Knight