This page in Swedish
University and Region Örebro investing strategically in AI – setting sights on leading role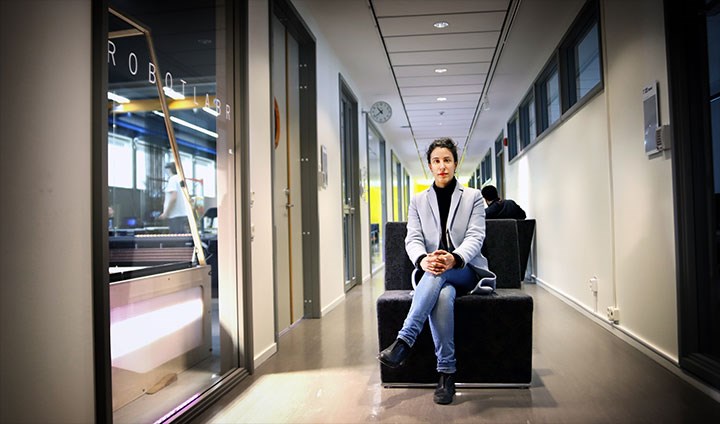 Amy Loutfi, Pro-Vice-Chancellor for Artificial Intelligence at Örebro University.
Örebro University and Region Örebro County are investing SEK 2.5 million for the startup of AI Impact Lab, an environment for knowledge transfer within artificial intelligence (AI).
"This is another step towards establishing Örebro as a high-quality AI hub," says Amy Loutfi, pro-vice-chancellor for Artificial Intelligence at Örebro University.
Örebro University has conducted research in AI since the 1990s, through the internationally recognised research environment AASS, Centre for Applied Autonomous Sensor Systems, where there are some 50 researchers working today.
To meet society's increasing need for knowledge within AI, the university has over the past few years offered competence development for professionals in the area of AI. Collaborating with Alfred Nobel Science Park, Örebro University is responsible for the regional development project AI.MEE, where companies can develop and test technical solutions within AI.
AI – a strategic initiative for the future
Örebro University has designated AI as a strategic initiative, and as part of this focus on the future, the university has recently appointed Amy Loutfi, professor of information technology, as pro-vice-chancellor for Artificial Intelligence.
It is now time to take the next step in this development.
The idea is that AI Impact Lab will function as a gateway to AI expertise at Örebro University. This initiative will make possible the transfer of knowledge to companies and the public sector throughout the region, and open the opportunity for them to benefit from AI research in their operations.
"We want to ensure that the public sector, along with small and medium-sized companies, all get access to AI expertise at Örebro University, to assist in implementing new methods and new technologies in their activities. Especially so for those players that perhaps need AI the most, but who do not possess the resources to develop the solutions themselves," says Amy Loutfi.
Region Örebro County is contributing SEK 1.5 million to this planned project, and Örebro University is contributing SEK 1 million. Amy Loutfi and Irén Lejegren, chairperson for the Committee for Regional Growth, both believe that this initiative will further strengthen Region Örebro's profile in AI.
"It will promote the development of new ideas, companies, collaborations and structures to facilitate the further positive development of Region Örebro Country's competitiveness and innovation capacity. Our region has a unique opportunity to play a leading role in the area of AI, and with that provide the prerequisites for both national and international companies and collaborative partners to establish a presence here," says Irén Lejegren.
Investing in students
In addition to AI Impact Lab functioning as a hub for research, companies and the public sector, the intention is to also focus on the future of innovation capacity – students.
"We want to provide students with the possibility of working with AI regardless of their subject area. They will get to work on various student challenges, which will stimulate our entire region," explains Amy Loutfi.
Startup of the AI Impact Lab at Campus Örebro will begin in autumn 2019. The lab itself will be housed in the new ORU Innovation Arena, where all innovation at the university will be gathered.
Translation: Jerry Gray