This page in Swedish
Vice-Chancellor's blog: University life in the age of corona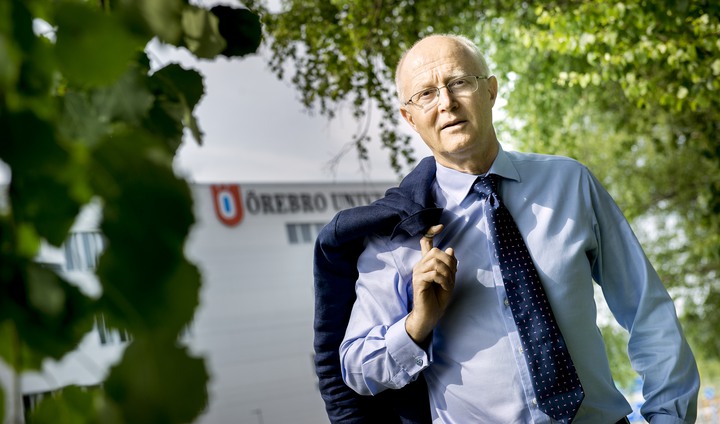 Our university was able to very quickly make the shift to home-working and online teaching. All of a sudden, campus was empty and quiet. We have taken to socialising almost exclusively online. You would be forgiven for thinking that normal university life has come to a halt. Luckily, that is not the case. New digital modes of teaching and learning are being enabled, and teachers and students alike seem to have coped relatively well with the transition. Moreover, there are a great deal of other positives which I would like to share:
Grants Office reports that our researchers have submitted a record number of applications to research councils, the EU and foundations. A welcome development and entirely in line with the university's strategic goals. Quite possibly it is a result of the current restrictions to travel, generating more time for the researchers. One can also assume that the famous "bottom-drawer manuscripts" have now actually been completed and submitted.
However, some research projects have hit harder times, for instance, when patient studies are rendered impossible due to the risk of infection, or when data collection that requires travelling cannot be undertaken. Here, the university must pay particularly close attention to the situation for our international doctoral students and postdoc researchers.
The vice-chancellor's research advisory board – with a mix of old and new members – has had its first meeting for this year. The dedication shown in presentations and discussions – this time all online – bodes well for the future. We also welcome the significant funding recently awarded by the Knowledge Foundation to Professor Eva Särndahl and her co-workers for the inflammation research project X-Hide. An important step as the university moves to establish long-term collaboration with the life sciences industry. The research profile X-Hide will also contribute greatly to our strategic initiatives into both ageing research and the focus area of Food and Health. The research profile Enforce, headed by Professor Magnus Engwall and his colleagues, has just been given a very positive mid-way assessment from the Knowledge Foundation's review panel. Enforce collaborates with businesses within the green sector and is a very active contributor to the university's sustainability profile.
The university board has two new external members – Professor Sari Ponzer (KI) and Secretary General Cissi Askwall (VA – Public and Science). Their appointment is a significant addition of academic expertise and research communication on the board. The three teacher representatives are also new and I am looking forward to their contributions to the work on the board. The outgoing, incoming and remaining external members of the board have all expressed a sense of pride of being part of Örebro University and its positive development.
Our new Innovation Arena is now taking shape as the Hub and the Lab – two long-term temporary buildings between the carpark and the Kraka restaurant. An opening is planned for the end of August. This is where our innovation support will be housed, alongside research spin-offs and activities such as the Social Impact Lab and the AI Impact Lab. Here, the Student Impact Lab will also be able to harness the innovation power of our students, ideally setting up project teams that bring together students from different programmes. My guess is that a lot will initially revolve around sustainability in society in relation to the corona outbreak. Of particular relevance is therefore that the Centre for Academic Development this autumn will open for teachers to take a course on sustainable development in teaching and learning. The course applies a broad perspective of the environmental, financial and social dimensions of sustainability. What is now happening in the wake of the virus pandemic clearly illustrates some of the challenges.
By all accounts, society will have to be prepared to handle the coronavirus for a long time to come. The virus is not likely to just magically disappear, but we will have to find sustainable ways of persevering –hopefully eventually outwitting it.
As a university, we are building bridges to the future via our research and education. Government and parliament are therefore allocating additional resources to enable an increase of the number of regular study places offered, but also for the foundation year programmes in technology and science. We will also receive funding to facilitate competence development for people who have lost their jobs as a result of the corona situation.
Of course, the university must live up to the expectations of politicians and the public also in other ways, and contribute to society's return to a more normal mode. Two of our professors, economist Lars Hultkrantz and AI specialist Amy Loutfi, have therefore been appointed to Omstartskommissionen, an advisory body set up to provide politicians with scientifically based advice on the best way forward for a new start for Sweden once the most acute corona phase has passed.
My assessment is that the Public Health Authority will ease the restrictions for higher education for the autumn. I have therefore made decisions to enable a gradual return to campus-based teaching as of the start of the autumn. To give new undergraduate students as good an introduction as possible to university life, their presence on campus will be given priority.
University management is closely monitoring the corona developments and have an ongoing dialogue with experts within virology, infectious disease control and epidemiology. Should our predictions of the Public Health Authority's recommendations fall short, we must naturally have a preparedness to continue with our remote teaching and learning efforts.
I for one am really looking forward to a time when we can return to a more normal university life. A time when spontaneous discussions between colleagues and students provide inspiration for future research projects and exciting new courses. And let's not forget how nice it actually is to see our fellow humans in real life – and not only as "zoomers".
Johan Schnürer
Vice-Chancellor