This page in Swedish
Alumnus from School of Music received Sweden's Wind Music Prize 2021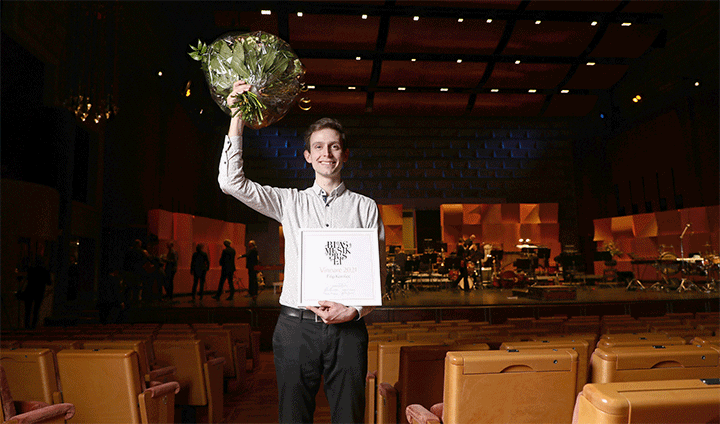 Filip Korošec received the Wind Music Prize 2021 in Crusellhallen in Linköping. Photo: Jeppe Gustafsson
Filip Korošec, percussionist and alumnus from the School of Music at Örebro University, has received the Wind Music Prize 2021, Sweden's most significant competition for wind and percussion soloists. "I feel gratitude and joy – and depleted after a long preparation."
The Wind Music Prize is Sweden's most significant competition for wind and percussion instrument soloists, which is arranged by the Network for Professional Wind Music in Sweden. This year's competition is part of Musikens år 2021 and the Royal Swedish Academy of Music's 250th anniversary.
Filip Korošec, who is from Slovenia, came to the School of Music at Örebro University as an exchange student within the framework of Erasmus+ in autumn 2018.
"Coming to the School of Music at Örebro University was like stepping into every percussionist's pipe dream. We had access to instruments in primo condition, open facilities 24 hours a day, and teachers who were absolutely wonderful. My fabulous class was full of all amazing musicians and the best friends imaginable," he says.
His studies in Örebro gave him an appetite for more, so Filip Korošec chose to stay in Sweden.
"I would never have come to Sweden if it hadn't been for Erasmus. It gave me a glimpse into the Swedish percussion scene – which altogether was a magnificent experience. The camaraderie within the Erasmus-circle in Örebro is very welcoming and supportive."
Filip Korošec is described as one of the most exciting, up and coming percussionists in Sweden at present. He has performed all over Europe, both as a soloist and in a variety of chamber ensembles. He is currently studying his Master's at the Royal Swedish Academy of Music for among other Daniel Berg, who also teaches at the School of Music at Örebro University.
What does receiving the Wind Music Prize 2021 mean to you?
"Above all, it's proof that what I'm doing is meaningful, which confirms my decision to leave my homeland to follow my dreams. In the immediate future, it means that I'll get a chance to perform and play in settings that I wouldn't have had access to otherwise. This prize also provides me with the opportunity to build my network and to help promote percussion as an instrument, which hopefully will make things easier for those that follow."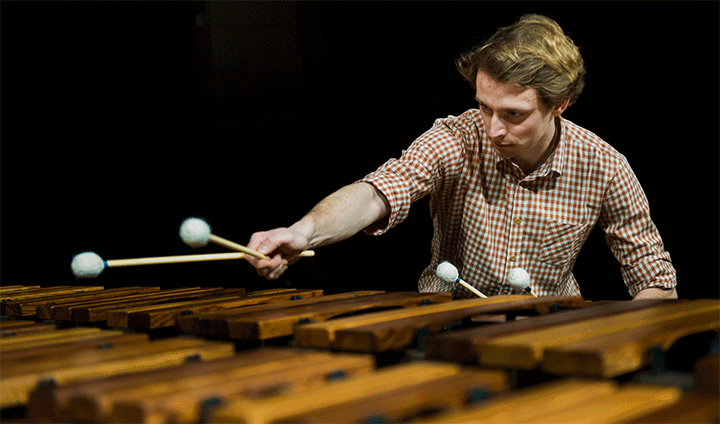 Winning competitions as a percussionist is not common, especially when other instruments are in the competition. Filip Korošec believes that this may be because there exist prejudices that percussion is pretty loud and hurried – and that there is no actual composition to what is played.
"Perhaps that was once true, but a lot has happened in the last hundred years. Sometimes I'm still denied interviews because of my instrument. Receiving the Wind Music Prize as a percussionist is definitely a step in the right direction," he says.
Now Filip Korošec hopes that the restrictions due to the pandemic will be relaxed so that he can begin to perform again. Perhaps the Wind Music Prize will lead to more musical collaborations with professional wind orchestras. Another dream is teaching percussion.
Would you recommend other musicians to apply to Örebro University's School of Music?
"Absolutely! Everything at this school of music is fantastic… the premises, the teachers and community. I couldn't have chosen a better place to study! The friends I've made during my time at Örebro University are today my colleagues in chamber music," says Filip Korošec.
See and listen to Filip Korošec's performance during the final.
Text: Anna Lorentzon
Translation: Jerry Gray