This page in Swedish
International master's students: "We will miss "the Swedish way"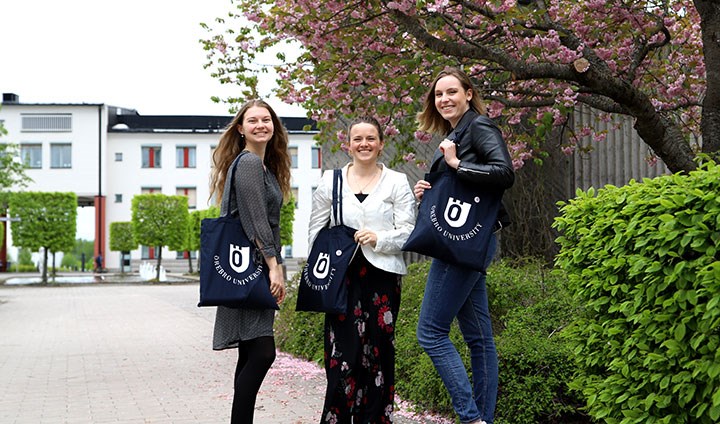 Sophie Falke (to the left) and Rita Gebert (in the middle) will go home to Germany and Austria once they have finished their master's studies at Örebro University. Maëva Letessier (to the right) has been offered a job in Stockholm and will stay in Sweden.
It has been a year like no other for the international students doing a master's degree at Örebro University during the pandemic.
"I think that perhaps we've got closer to those we've actually got to know," says Sophie Falke from Germany, who has studied strategic communication.
Usually, a festive ceremony marks the international master's students' graduation at Örebro University. This year, both studies and graduation have taken different formats, with most of it being online and off campus.
"Instead of a ceremony, we have put together a "farewell package" with party accessories, speeches and memorabilia from the university and from Örebro. We have sent the package to student in South Africa, Latvia and Iceland, to name a few, and the students who are in Örebro have been able to pick up their gifts here on campus," says Katrin Wieder, international student assistant at Örebro University.
Three of the students celebrating their graduation in Örebro in person are Maëva Letessier from France and Sophie Falke from Germany, who have both studied strategic communication, and Rita Gebert from Austria, who has studied nutritional molecular medicine and bioinformatics.
"We've not had the chance to enjoy much student life in Örebro, but I still think we've made the best of things, meeting up to the extent we've been allowed to under the circumstances," says Sophie Falke.
Creative ways of getting to know people
Unlike the other two, Rita Gebert has spent two years in Örebro, so she had the opportunity to experience the town and student life also before the pandemic.
"It's been easier for me to get to know people. If you only meet online, perhaps you don't invite people round. Those things are so much easier when you've actually met in real life before the pandemic started. Once teaching and learning went online, the dorms were pretty empty," she says.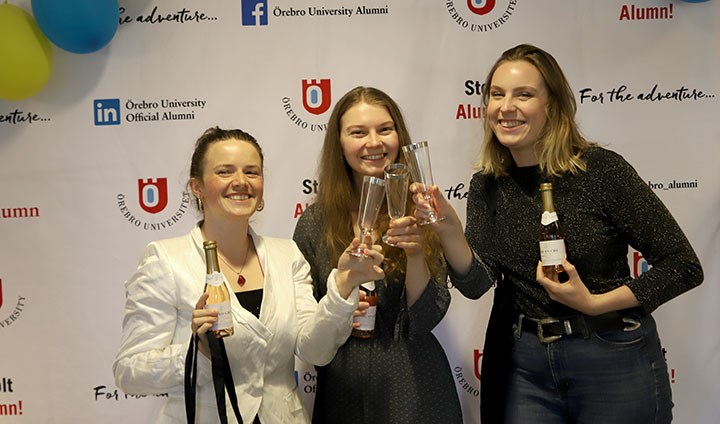 But they have found ways to hang out, not least through the International Master's Association at Örebro University.
"We've had to be creative. We set up a WhatsApp group and hosted online coffee get-togethers. It's been a good way to get to know each other and support each other in our studies," says Maëva Letessier.
They think that perhaps they have got closer to those they have actually got to know, since you hang out more frequently in smaller groups. All three emphasise "the Swedish way" as something they will remember and take with them.
"It's about the way you talk to each other and how you give feedback, it is somehow more toned down and not as harsh. That is something nice, something I'll definitely miss," says Rita Gebert.
Appreciating informal student-teacher contact
Also the more informal contacts with teachers and professors have been different from what they are used to back home.
"In Sweden, I can go up to a professor, address them with their first name and ask questions. It does not mean that I have less respect, but it does give a sense of equality," says Rita Gebert.
"In France, things are completely different. There, teachers tell you that you are wrong, while in Sweden they would perhaps say 'that's interesting, and that's one way of looking at it, but you could also consider this…'. There's more of a reflective approach, which is hard at first, but much more interesting," says Maëva Letessier.
What are your tips to other students coming to Örebro University to study?
"You definitely have to get a bike, that's the best way to get around Örebro. And take the opportunity to go places and see more of Sweden. We drove to Lapland, it was a long journey but definitely worth it," says Sophie Falke.
"Travelling by train in Sweden also works great. And with a Mecenat card you get a student discount. And remember that Systembolaget – the only store that sells alcohol – closes early and is not open on Sundays or public holidays," says Maëva Letessier.
"Swedes can be difficult to get to know and if you ask them if they want to do something, they will tell you they need to go home and do their laundry. Try inviting the people you like over for coffee, that will get them there," says Rita Gebert.
Text and photo: Anna Lorentzon
Translation: Charlotta Hambre-Knight
In the spring, 178 students from different parts of the world have studied on one of Örebro University's international master's programmes. Örebro University offers ten international master's programmes in areas ranging from sustainable development via experimental medicine to AI and robotics. Learn more about our programmes here.
You can also study at Örebro University as a freemover, or via an exchange – for instance through the Erasmus programme. Learn more about international studies here.