Örebro–Wien chemistry lab collaboration resulted in 40 training videos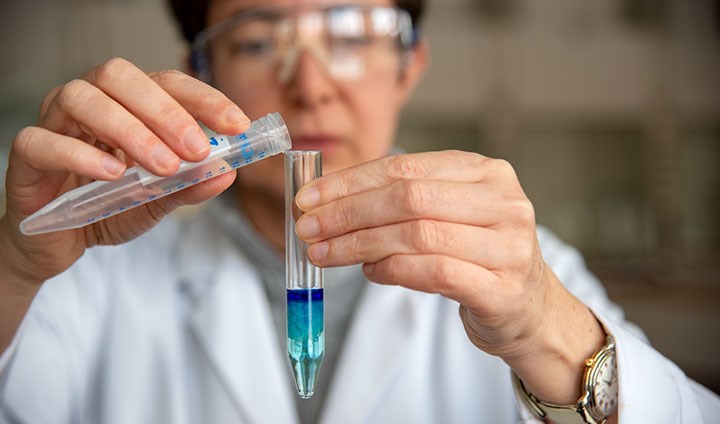 Michaela Zeiner demonstrates a chemistry lab module.
Gathering students, together with their teacher in a lab, is the norm for new chemistry students.
The pandemic, however, forced Michaela Zeiner to rethink her teaching methods. In collaboration with a Vienna colleague, they quickly put together some forty videos to carry out the necessary laboratory work.

"It's not possible to learn how to use lab instruments in theory. It's an acquired skill and require hands-on practice," says Michaela Zeiner, senior lecturer in chemistry.
She and her colleague Petra Viehauser at the Fachhochschule Campus Wien came up with a solution to a critical problem: videos about handling instruments in the lab. Instead of on-site, with the teacher instructing students in a group, this essential knowledge would now be divided into short videos.
"The pandemic meant that we had to decrease the time and could only gather smaller groups in the lab. In Austria, the rules were stricter than in Sweden. We also have the challenge that we already have a relatively short time in the lab."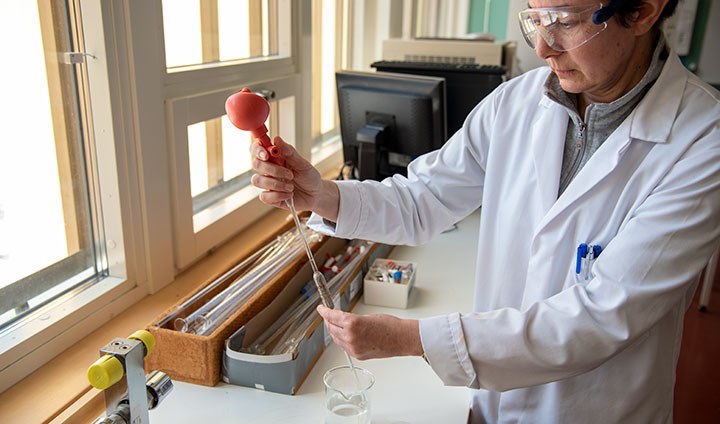 Michaela Zeiner got the green light and support from management. The instructional videos would make it possible for laboratory work to be carried out, unlike other universities that chose to cancel courses altogether.
This summer, she was in Vienna to record for a few days with Petra Viehauser. The equipment used was modest:
"We used our mobiles and a camera. The mobiles actually proved better at reproducing colours than the camera."
The videos are without sound. Instead, instruments and procedures are presented, and subtitles containing only keywords in English. For example, demonstrating how to use a pipette or burette. Which is essential to a chemist's craftsmanship, according to Michaela Zeiner
"Some students completed quicker"
Örebro students prepared for their laboratory work using the instructional videos. In September, they gathered for the first time in the lab, divided into small groups.
"And it worked!" says Michaela Zeiner. She also noted variances in the students' results compared to the usual way of introducing work in the lab.
"Some of the students using the videos to prepare actually completed the laboratory work in half the allotted time."
Michaela Zeiner is not aware of any similar initiative at the university.
"Although there's a lot of information available online, you can't just say to a student to google it themselves. It may take a long time to find the correct methods, and it's complicated for them to judge things like quality and safety."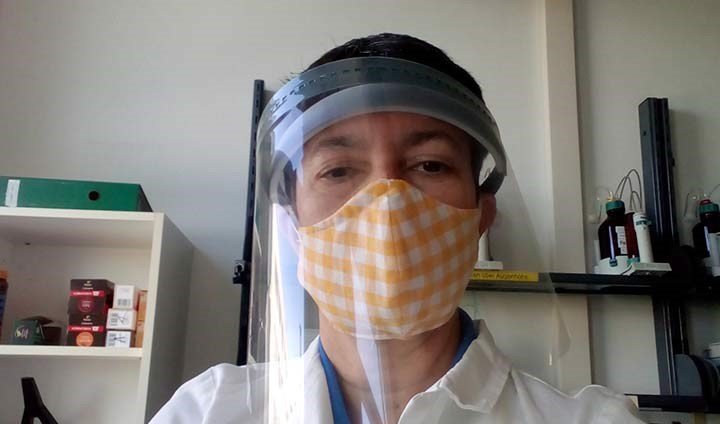 It is believed that this collaboration for a constructive, contingency plan also has a future in post-pandemic teaching:
"I'm convinced we could have done this without the corona restrictions, but not as quickly," concludes Michaela Zeiner.
The project budget was SEK 10,000. Almost the entire sum was set aside for a tablet intended as a whiteboard replacement to show laboratory work computations step by step. Frustratingly, the tablet arrived first in November and never appeared in the videos. However, all the appropriate conditions are in place to take the next step in this Örebro–Vienna collaboration.
Text and photo: Maria Elisson
Translation: Jerry Gray