This page in Swedish
Vice-Chancellor's blog: Record number of applications, increased research funding and spring optimism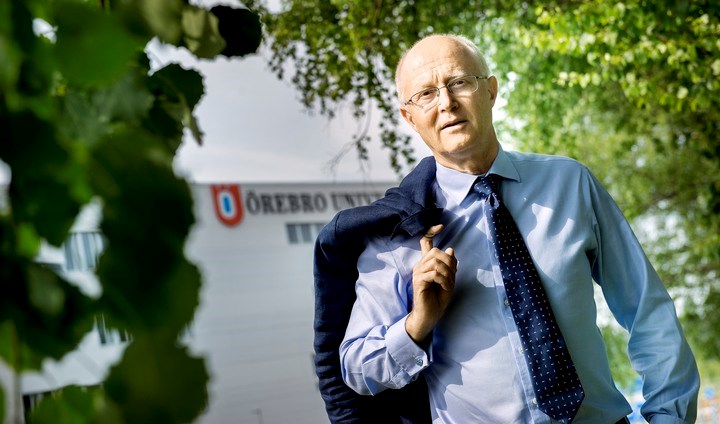 Vice-Chancellor Johan Schnürer
The prolonged pandemic has affected us all, both personally and professionally. Our employees and students are very tired of living under infection control restrictions still in effect. Still, I am hopeful that corona vaccines – developed in close collaboration between academia, the life science industry, government and healthcare – will provide us with a much freer lifestyle this summer.
Spring has already brought with it many positive developments. One is Sweden's economic situation, which is much better than has been portrayed by the media and politicians. At least according to Nordea's top economist, Annika Winsth, one of the esteemed speakers in our seminar series, Trending Opinions (Röster om samtiden).
Even the university has some positive developments as of late. In 2020, Örebro University received new training programme funding for both temporary and permanent increases in the number of students. When the application period for the autumn semester 2021 concluded, as many as 47,000 persons had applied for a course or programme here at the university. 2020's increase is ten per cent, compared with three per cent nationally, a good sign that our study programmes have a strong appeal.
Applications to the university's nursing programme and the chemistry and biology programmes are among those that increased the most. An educated guess would say that the pandemic has influenced more young people to realise the significance of quality education in science and health care.
With just over 16,000 first choice applicants, Örebro University is now ranked seventh among Swedish universities and colleges. Greater numbers of first choice applicants mean increased competition for the available seats, which implies a higher degree of motivation and better qualifications among those admitted. A good indicator for a promising future.
Last Thursday, the government announced that our basic funding for research will increase by 30 million annually from 2021, which is gratifying news. This ten per cent increase provides us even better possibilities to develop as a research university. It also increases the opportunity to continue providing our students with science-based education of the highest quality.
This increase is part of the initiatives in the December 2020 research and innovation policy bill. The government and the coalition partiess have now especially prioritised strengthening research at smaller universities. At the same time, even the new universities have faired quite well – with Örebro University succeeding best among them. For almost two years, the vice-chancellors at the five new universities have had a continued dialogue with both the Committee on Education and our various local politicians in Parliament about our need for increased direct government funding for research. Perhaps this has had some effect – but you can never be to sure of what will come out of the labyrinths of politics.
We do know that our focus must always be on quality research; otherwise, we will be quickly overtaken. One element of quality assurance is the periodic evaluation of the research. This week, all planned assessment meetings are to take place in our research evaluation, ORU 2020. Some 30 external assessors will review the supporting documents and meet our researchers in a digital dialogue on the best possible developments in the future. The idea is that these assessors should be the university's well-informed "critical friends", evaluate the research conditions and provide guidance based on the research environment's own development plans. Together with others in executive management, I look forward to hearing the conclusions of the external assessors. Even more important is how the research environments being assessed will receive these evaluations.
So, we now have more applicants to our programmes than ever before while the university till receive a significant increase in its basic funding for research. Scientific articles in Web of Science have almost doubled since 2016, and we are climbing in the international rankings. Activities in the new Innovation Arena are increasing our students' and researchers' direct contribution to the development of society.
What is needed is to be even better at securing external funding for research in competition with others. The university has several environments and individual researchers who are very successful in obtaining external funding. Going forward, many more should be able to contribute. I have every reason to believe that we will accomplish this too.
Naturally, spring's sunshine has contributed to my optimism. We will hopefully meet again soon in real life – and not just virtual as each other's zoom buddies and teammates. On our way to this summer's real meetings, we can take the opportunity to enjoy the beautiful song of our student singers in our digital Walpurgis Night celebration.
Johan
Vice-Chancellor
PS. Our university and other higher education institutions all work proactively with research communication, but it is not enough. The media needs to also step up its game. A major morning newspaper is now prioritising – and admirably so – the recruitment within science journalism to increase their coverage of science and technology. Their work can facilitate the public's understanding of a complex ongoing learning process – a complexity that has been evident in the coronavirus debate in Sweden.