This page in Swedish
High demand for drop-in vaccination on campus – new date on Wednesday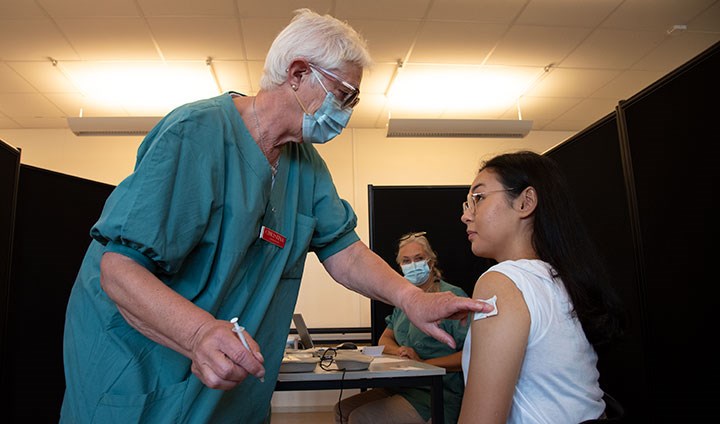 During the autumn and winter, Region Örebro County and Örebro University have offered students and staff COVID-19 vaccination on Campus Örebro and Campus Grythyttan. The picture was taken on a previous occasion.
There were long, winding queues to the drop-in COVID-19 vaccination centre at Örebro University on Wednesday. Already next Wednesday, on 26 January, Region Örebro County will be back to offer a new vaccination opportunity on campus.
"We are pleased to see that so many are taking the opportunity to get vaccinated," says University Director Louise Pålsson.
The demand for getting the COVID-19 jab on campus hit a record high on Wednesday. Nearly 240 doses were administered and at times, the queues were long to the temporary vaccination facility in Långhuset.
"We very much appreciate the excellent cooperation we have with Region Örebro County. It is important that many get vaccinated as it will enable as speedy a return as possible to normal teaching activities," says Louise Pålsson, University Director at Örebro University.
Region Örebro County staff will therefore be back at Örebro University already next week.
First, second or third jab
On Wednesday 26 January between 09:00 and 17:00, those who want their first, second or third dose can visit the vaccination centre in L159 in Långhuset on Campus Örebro. Appointments cannot be made in advance.
Both students and staff are welcome to get vaccinated.
This temporary vaccination facility is open also to students and members of staff who are not Swedish citizens.
Students and staff unable to get their jabs on this day are referred to Region Örebro County's regular vaccination centres. Learn more about these here.
Text: Anna Lorentzon
Photo: Jesper Mattsson
Translation: Charlotta Hambre-Knight
Finding the temporary vaccination centre
L159 is located in the part of Långhuset that faces Gymnastikhuset (G) and the Library.
If you want a detailed map, download the Mazemap app to your phone and enter 'Örebro universitet' and 'L159'