Örebro University wins – again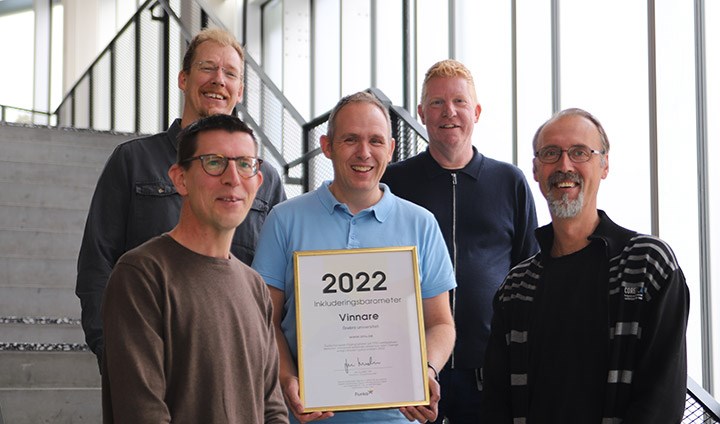 Daniel Dagernäs – web editor, Kristian Ledung – systems developer, Fredrik Eklund – web coordinator and behind them, Anders Bergqvist – web coordinator and Johan Lott – systems developer.
Örebro University is again the winner of the yearly Inclusive Design Barometer, a national ranking examining websites from an accessibility perspective.

"It's gratifying that we're still at the top. However, it's sad that less than seven per cent of websites meet the accessibility requirements," says Fredrik Eklund, web coordinator at Örebro University.
A total of 1,785 websites throughout the country were reviewed by Funka, a private company working with accessibility in digital interfaces. This year's results show that 130 websites passed the selected tests, an improvement from 2021 when only seven websites passed the tests.
"Although the results are better, I'd still say it's sub-standard as 1,655 websites were rejected. To keep up with the progress of digitalisation, we need to pick up the pace of development towards improved inclusion in our digital infrastructure. This is crucial if all citizens, regardless of ability, are to have the opportunity to use public services," says Jan Lundin, CEO of Funka.
The inclusive design barometer was conducted during week 38, beginning on 19 September 2022. This also marks two years since the law on access to digital public services came into force. Every year, Funka measures how well official public websites – municipalities, public authorities and other agencies governed by the accessibility legislation – comply with the law.
Text and photo: Anna Asplund
Translation: Jerry Gray
Funka tests websites based on ten legal requirements to indicate how well the user interface performs for persons with visual, motor, reading, writing, and cognitive impairments – with or without technical helping aids. The inclusive design barometer weighs the type of errors with their occurrence on the website. Tested sites are then ranked based on the weighted result.