This page in Swedish
Robot competition the finale of summer school in robotics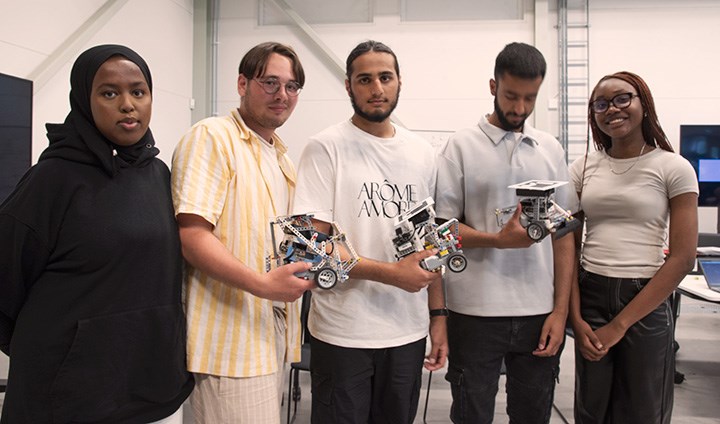 The winning team The Cheeky Nandos: Aisha Wausame, Simon Franssén, Nazar Islam, Rami Hassan and Adesope Adisa.
There was plenty of laughter and emotions were running high as the summer school's robot football tournament was battled out. In total, six matches were played and the robots of "The Cheeky Nandos" won the final with a score of 3–0.
"Behind our success is good teamwork and a lot of commitment," says electrical engineering student Nazar Islam, one of the participants from Aston University.

Curious about studying at Örebro University? Read more here.
Örebro University has a strategic partnership with Aston University. The agreement was entered into in 2016 and covers education, research and collaboration. Many students, researchers and other members of staff have since taken the opportunity to study, work and job shadow – at both Örebro University and Aston University.
For three weeks, engineering students from Aston University, England, and students from Örebro University have been building and tweaking their robots. Come the day of the tournament, it was finally time for the robots to demonstrate their football skills.
Students have built the robots in Lego and in terms of design, they were given free rein.
"The brief was to build autonomous robots that make their own decisions. They should be able to play football without the students controlling them," says Andreas Persson, a computer scientist at Örebro University.
Together with postdoctoral researcher Pedro Zuidberg dos Martires and doctoral student David Caceres Dominguez, Andreas Persson is in charge of the summer school in robotics where some 20 students from Aston University and Örebro University take part. All of the participants are second-year students on various engineering programmes, but for many, this was the first time they came in close contact with the field of robotics.
"Back home in England, I study product development and design, so for me, this has been a fun and rewarding experience," says Adesope Adisa.
"I'm happy with the work they have done, especially considering that far from everyone has studied computer science," says Andreas Persson.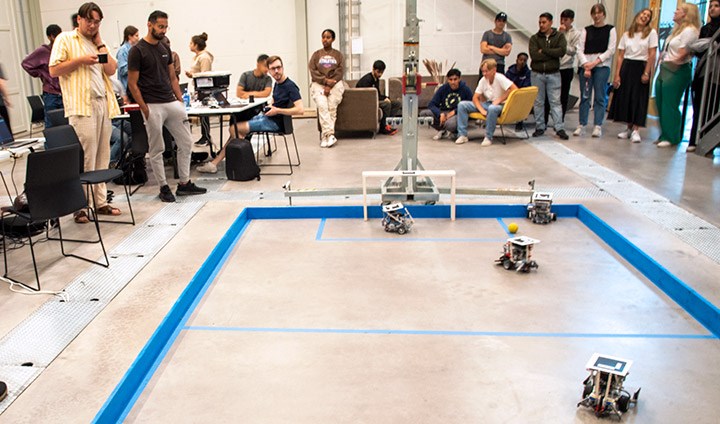 Nature, peace and quiet are appealing
Apart from having spent quite a lot of time in the robot lab, the students have also had time for a number of social events, such as a visit to Örebro Castle and to the open-air art exhibition OpenArt. In their spare time, they have also explored Örebro and its surroundings.
"I really like the outdoors here. It's nice and quiet – a complete contrast to the hectic pace in Birmingham," says Nazar Islam.
And for Simon Franssén, who is doing a Master of Science in Computer Science at Örebro University, summer school has provided a chance to practise his English and make many new friends from Aston University.
"I've really enjoyed myself, I've made new friends, and I've also spent time with computer scientists. It's been inspiring," he says.
Developing the partnership with Aston University
This is the first time that Örebro University is organising an international summer school. In the last week of the school, the idea is for students to learn more about what it is like to study at Örebro University, about various career opportunities, and to reflect on their time in Örebro.
"We have an ongoing dialogue with Aston University, and we work continuously to develop our partnership. A summer school is one way of enabling shorter exchanges and increasing student mobility between the two universities," says Ida Andersson-Norrie, international strategy officer at Örebro University.
Text and photo: Jasenka Dobric
Translation: Charlotta Hambre-Knight