This page in Swedish
Student Jan from Germany contributing to research on cardiovascular disease: "Have gained new perspectives"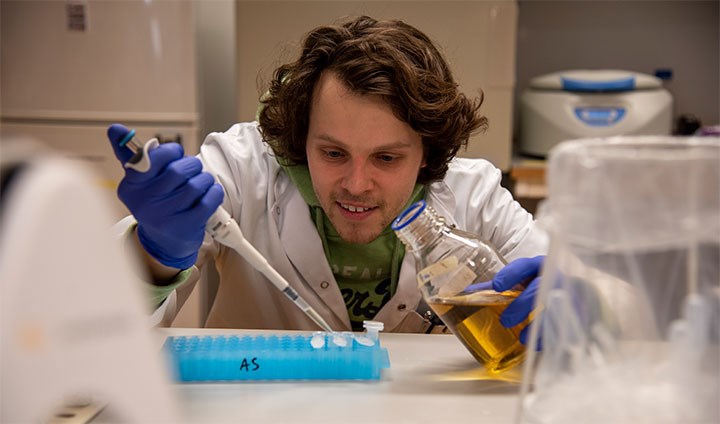 In the laboratory on Campus USÖ, Jan Bobrowski has studied drugs intended to be used in the future to reduce inflammation – and in the long term reduce cardiovascular mortality.
Since early November, biomedical student Jan Bobrowski from Germany have worked alongside researchers at Örebro University's Cardiovascular Research Centre to identify new drugs to treat cardiovascular disease.
"I've learnt new methods, gained new perspectives, and I've had an amazing time in Örebro," he says.
Jan Bobrowski has spent four months at the university's Cardiovascular Research Centre (CVRC) on Örebro University Medical Campus, or Campus USÖ, where research is conducted into diseases of the heart, blood and blood vessels. He has been part of an international research collaboration on future anti-inflammatory drugs. Atherosclerosis is one of the underlying factors of cardiovascular diseases like heart attack and stroke. Previous studies have shown that inflammation is central in atherosclerosis. Drugs that inhibit inflammation may therefore in the future be used to prevent cardiovascular diseases.
"The study includes seven different drugs developed by researchers in Greece. I've helped performing tests on one of the candidate drugs to see if it reduces inflammation. We have also ensured that the substance is non-toxic and doesn't affect cells adversely," says Jan Bobrowski.
"Contributing to society feels good"
Cardiovascular disease, including the major common diseases heart attack and stroke, is the most common killer in Sweden as well as globally. Jan Bobrowski points out that all research is important – also that which at first sight may not contribute to solving a concrete problem. But being part of a project aiming to create a drug for treating some of our major common diseases is of course both important and meaningful.
"Knowing that there's a concrete goal motivates me to give it my best in the lab every day. It's a good feeling when you know you can contribute to society," he says.
Searched for research projects online
Jan Bobrowski studies biology and molecular biomedicine at the master's level at the Carl von Ossietzky University of Oldenburg in north-western Germany. Spending a semester in Sweden is something he has long dreamed of – he has even taken Swedish classes to learn the language.
"My university has no partnerships with Swedish higher education institutions in my field of study, so I listed all Swedish universities and surfed their webpages to find interesting projects within biology and biomedicine," he says.
Jan contacted the five universities with, to his mind, the most interesting projects. This resulted in two invitations – and following an interview via Zoom, Jan decided to give Örebro University a chance.
"Karin H Franzén, heading up a research team at the CVRC, gave the best presentation. It also happened to be the topic that interested me the most."
Time-consuming paperwork
Finding funding and applying for scholarships, among others via Erasmus+, sorting out accommodation, insurance and other practicalities are a bit more complicated when travelling abroad as a free mover student, rather than via an exchange programme.
"It was a time-consuming challenge, but Örebro University helped me find accommodation – and it was definitely worth it," says Jan Bobrowski.
"Everyone is helpful and kind"
The four months in Sweden have been both fun and educational. Madelene Lindkvist has been Jan's supervisor at the laboratory and Jan says he has learnt to use several new methods that will be of great use in his future career.
"Not many students get the chance to do so much hands-on work, it really has been useful. I also feel that the researchers in Örebro are very helpful and kind – I've had an amazing time in Örebro, and I really appreciate the friendly atmosphere and attitudes in Sweden. Everyone smiles, they are kind and have an open mind. Madelene was a really good supervisor who was supportive in every way."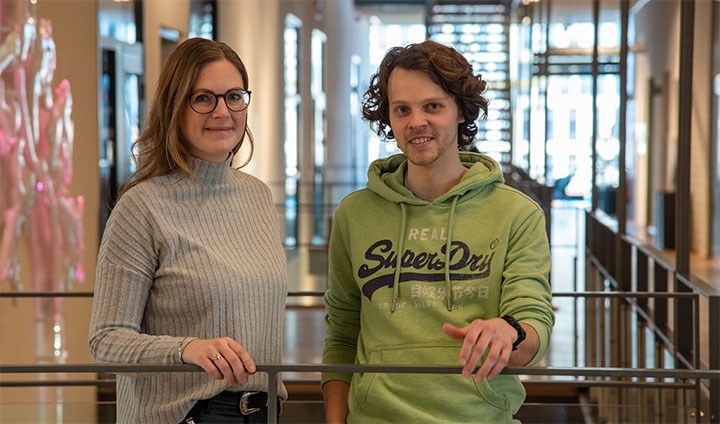 Similarly, Jan's contributions in the team has brought great value to the researchers at Örebro University.
"For our research team and for the Cardiovascular Research Centre to have this opportunity to form new relationships with universities abroad is great and hopefully it will lead to new partnerships. From the start, Jan Bobrowski made a very good and serious impression, and he has contributed substantially to our research," says Karin H Franzén and Madelene Lindkvist.
Would you recommend Örebro University to other students looking to go abroad?
"Without a doubt! Experiencing another country and seeing how they do things is a good opportunity and an experience that will broaden your mind and give you new perspectives. Do it, it's the best thing," says Bobrowski.
Text: Anna Lorentzon
Foto: Jesper Mattsson
Översättning: Charlotta Hambre Knight
Cardiovascular disease is the biggest killer in Sweden and globally. This includes the major common diseases heart attack and stroke.
The Cardiovascular Research Centre, CVRC, on Örebro University Medical Campus, also known as Campus USÖ, is one of Örebro University's strong research environments, where some forty scientists conduct research into diseases of the heart, blood and blood vessels.
The study Jan Bobrowski has been involved in is a collaborative project with National Hellenic Research Foundation in Athens, aiming to identify novel therapies for cardiovascular disease. Learn more about the research project here.