This page in Swedish
On the road with innovation from Örebro University – patients test their fitness to drive with AI and eye tracking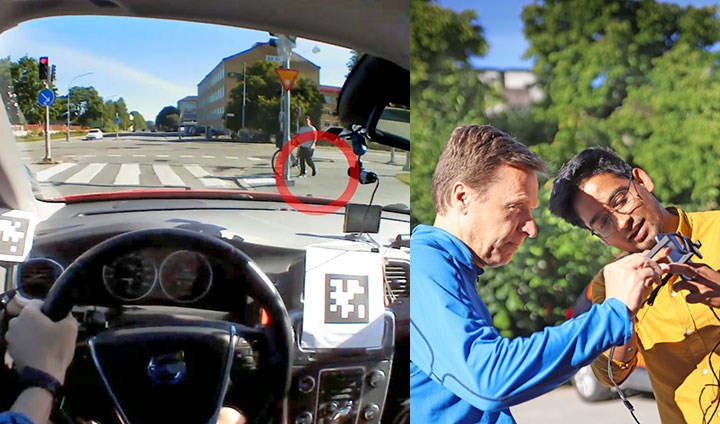 Doctoral student Ravi Chadalavada, on the right, explains to Peter Gullman how eye-tracking glasses work. While driving, the glasses record how the driver performs in traffic.
Can AI and eye tracking help doctors assess patients' fitness to drive? Ravi Chadalavada thinks so. And collaboration with Örebro University Hospital on testing his innovation with patients is in full swing.
"We hope to have a finished product in about a year," says Ravi Chadalavada, a doctoral student at Örebro University.
The regional development project AI.ALL is coordinated by Örebro University and has collaborative partners in the public sector and industry. The project is funded by the European Regional Development Fund and Region Örebro County.

There are many reasons why the ability to drive a car may decrease, such as illness, age or cognitive impairment. If a doctor suspects their patient is deemed unfit to drive, they are obligated to report this to the Swedish Transport Agency.
It is a problematic assessment. Last autumn, Örebro University launched the pilot project, Dash – Driving Assessment in Healthcare, which aims to facilitate a doctor's assessment by collecting data on a patient's driving using artificial intelligence and eye-tracking technology.
The project is based on the innovation QT-PIE, which Ravi Chadalavada and a research team have developed. Via Dash, Ravi has the opportunity to take the technological development of QT-PIE to the next level, by testing it in real life and with real users.
In collaboration with the Geriatric Clinic at Örebro University Hospital (USÖ), the Swedish Transport Administration, the Swedish National Road and Traffic Research Institute (VTI), the Örebro Traffic School and a traffic school in Umeå, the project has now progressed to testing the technology in practice.
Assessed by both a driving school instructor and by the AI system
"Based on our interviews of experts at the Swedish Transport Administration and driving school instructors, we developed a number of rules on which we then trained our AI system. The idea is to see if the patients taking the driver assessment test can follow these rules when driving," explains Ravi Chadalavada, a doctoral student in computer science at Örebro University's School of Science and Technology. He continues:
"The driver wears eye-tracking glasses and drives on a course using a car borrowed from VTI. Next to the driver is a traffic school instructor. So, while we're collecting data, the instructor is also conducting their driver evaluation."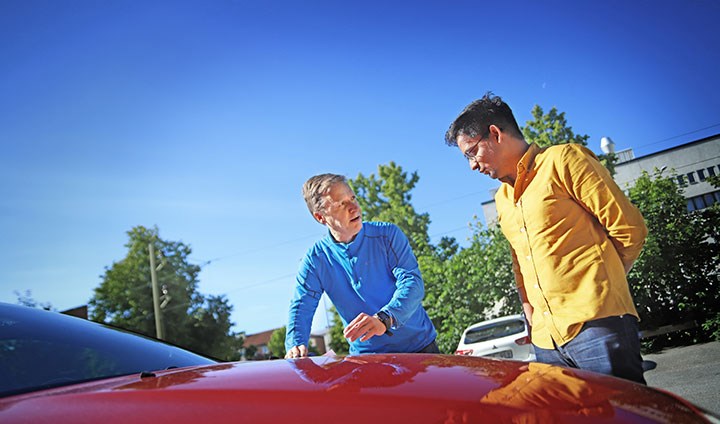 One of those who had the opportunity to test the innovative solution was Peter Gullman. He has been diagnosed with dementia and is no longer allowed to drive a car in traffic.
"It's upsetting, but I'm hoping I'll get to drive again. As it is, I ride a bike and walk, or my daughter has to drive me if I need a ride somewhere," says Peter Gullman and continues:
"I've heard that at the dementia clinic, they have a simulator where you can test your driving. But when I was offered to try this solution, I believed it could be better because it's more like real driving. So, I'm very interested to learn more about what this could mean for me in terms of driving again."
"Good that you can drive a car even if you have a diagnosis"
After the test drive, Peter Gullman explains that it was a bit odd, sitting in a car packed with technology, wearing eye-tracking glasses, a traffic school instructor sitting next to him, and an AI researcher watching from behind. Apart from the fact that he felt that the glasses did not sit properly, he thought the driving went well, and was satisfied afterwards.
"It's a good thing that you can still have the opportunity to drive even if you have a diagnosis. There are a lot of people who're interested in this, so I understand that it's appealing for research purposes too. For those who want to drive but aren't allowed to due to a diagnosis, this might be a way to show that they still can. At the same time, it's important always to have someone who makes an assessment beforehand," says Peter Gullman.
Ravi Chadalavada was also pleased with the quality of the data collected during the test runs. The next step is to analyse the data and evaluate and further develop the system.
Next: comparison of the doctor's, traffic school instructors' and AI's evaluations
"We will now sit down with the experts from the Swedish Transport Administration, VTI, USÖ and the driving schools. Together we'll compare the AI system's evaluations with the traffic school instructors' evaluations and follow up on how they correlate with the doctor's subsequent assessment. It'll be interesting to consider the case from a holistic perspective and see how the various evaluation methods may differ. Depending on how it goes, we can also learn from any flaws in our system might have, so we can focus on solving them," explains Ravi Chadalavada.
How might this solution be used in the future?
"For example, when a doctor is undecided whether a particular health condition affects the patient's fitness to drive. The doctor could ask the patient to use QT-PIE, conduct a test drive and then get a report from the system on how the patient performed while driving. Our focus is not on making decisions but on supporting doctors in making their decisions. I believe this could benefit health care in the future."
Alongside the Dash project testing, Ravi Chadalavada is also looking into forming a company to offer the QT-PIE innovation as a service or product.
"While this is a short pilot project, I see it as a big and important step along the greater journey. We're very pleased with the progress so far. We need capital to take this solution from the research stage and benefit society. We're currently in talks with several interested investors. When we've received funding, we'll put together a team that can complete the solution. Our hope is a finished product in about a year."
Text and photo: Jesper Eriksson
Translation: Jerry Gray