This page in Swedish
Traditional Walpurgis Night celebrations by Örebro Castle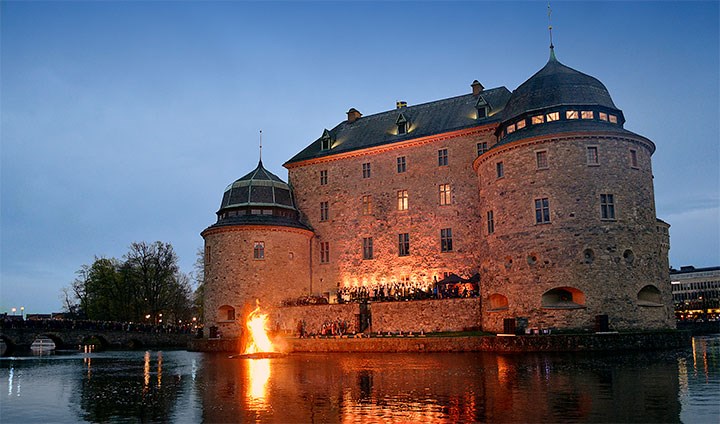 Finally, the public is once again invited to join the Walpurgis Night celebrations by Örebro Castle.
This year, after a two-year pandemic pause, a traditional Walpurgis Night celebration will again take place by Örebro Castle, with a bonfire, speeches, singing and music.
"I'm really looking forward to welcoming the large crowds back to the celebrations by Örebro Castle," says Anna-Karin Andershed, deputy vice-chancellor at Örebro University.
For the past two years, the celebrations of Walpurgis Night, when Sweden traditionally celebrates the arrival of spring, have been held online. But this year, Örebro University, in collaboration with Örebro Municipality, is finally able to invite the public back to the traditional celebrations by Örebro Castle.
"There are so many reasons why these celebrations are a cherished tradition. Community and a sense of fellowship are created when we meet, and right now, there is a pent-up need for meeting up, and for really seeing one another," says Anna-Karin Andershed, deputy vice-chancellor at Örebro University.
Singing to welcome spring
Örebro University Choir provides the music together with staff and students from Örebro University, musicians from the School of Music and the Salvation Army Band – all under the direction of Choral Director Fredrik Berglund.
"Welcoming spring and celebrating Walpurgis night together by Örebro Castle means so much to all of us. When the traditional choral pieces echo across town and we come together to the sound of "Bridge over troubled water" – the way music binds us together is difficult to put into words. And it's something that we need more than ever in these uncertain times," says Fredrik Berglund.
Speech by the County Governor
Also Maria Larsson, county governor of Region Örebro County, is looking forward to finally welcoming spring together with the people of Örebro by their castle again.
"In these troubled times, it's a privilege that we in our country – and county – are able to assemble in peace and freedom, celebrating our democracy as well as the arrival of spring," she says.
The programme will start on Saturday 30 April at 21:00. With respect to the situation in the world and the war in Ukraine, there will be no fireworks.
Text: Anna Lorentzon
Photo: Sakher Alattar
Translation: Charlotta Hambre-Knight