Örebro University and Epiroc enter new strategic collaboration agreement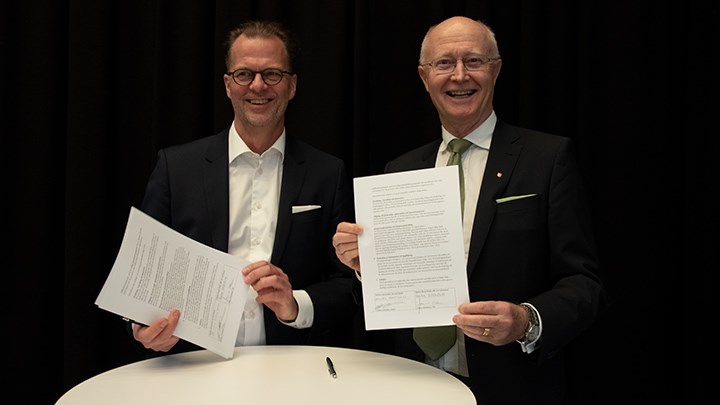 Jonas Albertson (left) and Johan Schnürer .
Örebro University and Epiroc Rock Drills AB strengthen their partnership in a new strategic collaboration agreement. The goal is to boost the quality of selected study programmes, research, and innovation, ultimately leading to sustainable growth.
"Increasing our collaboration with Epiroc provides new opportunities to strengthen the university's research in key areas while also developing our programmes through improved industry relations," says Johan Schnürer, Vice-Chancellor of Örebro University.
Jonas Albertson, CEO at Epiroc Rock Drills AB, can see many benefits of increased collaboration with Örebro University:
"At Epiroc, working sustainably provides a sound foundation for developing safer and more productive equipment. Increased collaboration with Örebro University will provide us with valuable knowledge and access to cutting-edge research, which we believe will benefit both partners," says Jonas Albertson.
A new framework for specific collaboration
Signed on 21 February, the collaboration agreement establishes a new framework for future specific collaboration projects between Örebro University and Epiroc.
The collaboration aims to further competitiveness and attractiveness for both partners. For Epiroc, this includes securing access to research results, forging closer ties between industry and academia, and crafting an attractive regional recruitment base.
"The world around us changes quickly, requiring new skills. In addition to participating in boosting the quality of study programmes, we will also be able to find targeted initiatives for further training of our staff," says Jonas Albertson. He points out that Epiroc's proximity to Örebro University will facilitate the continued professional development of employees at Epiroc's units in Örebro.
To stay one step ahead, the university and Epiroc will also collaborate on student recruitment efforts, such as encouraging students to apply for relevant study programmes in Örebro. Graduates may then place Epiroc high on their list of attractive employers.
Teaching in the engineering programmes
Regarding education, the goal is to contribute to the development of teaching in the long term. One example is that Epiroc personnel can, to a greater extent, contribute to teaching in the engineering programmes at Örebro University.
Increasing collaboration in research and innovation is a goal also covered by the new framework agreement. Format specifics will be determined in future talks between the partners.
"Research collaboration and innovation efforts may encompass not only technology research but also research within the natural, medical and social sciences," says Johan Schnürer, naming studies of new circular business models as examples of relevant social science research.
Up and running this spring of 2023
With the new framework agreement in place, talks and negotiations are underway for new concrete projects. The goal is to be up and running already this spring of 2023.
Epiroc is already collaborating with study programmes in behavioural science, economics and business administration, statistics, law, mathematics, and science and technology. One example of collaboration is Swedish Mining Innovation, which includes self-driving underground vehicles, a technological advancement necessitated by mining at ever-increasing depths. Another project concerns the development of digital twins using AI technology.
Text: Maria Elisson
Translation: Jerry Gray
Photo: Jesper Mattsson
Epiroc is a Swedish company operating in over 150 countries, manufacturing drill rigs and construction equipment for the mining industry. The company also offers service, other aftermarket support, and solutions for automation, digitalisation, and electrification. Epiroc has 17,000 employees, of which 2,800 are based in Örebro. In 2022, Epiroc's revenues were SEK 50 billion. More information is found at www.epirocgroup.com/en.
Örebro University has 16,000 students, many in professional degree programmes, 490 doctoral students and 1,600 employees, and is among the top 500 of the world's 20,000 universities according to the Times Higher Education ranking. Örebro University conducts leading research in AI and robotics, environmental chemistry, medicine, and health.