This page in Swedish
Our partner Aston University named 'University of the Year' in the UK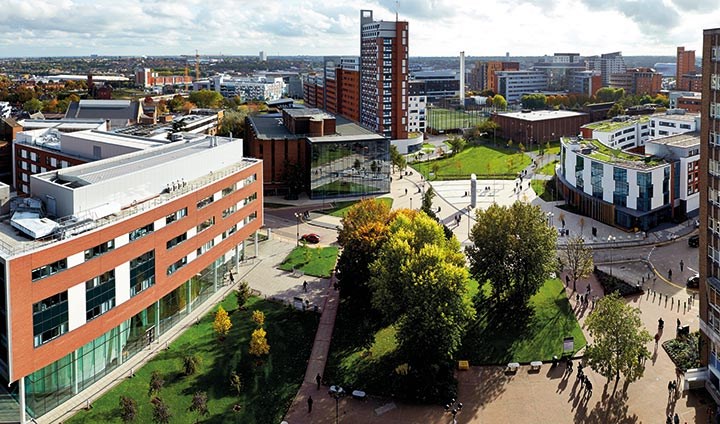 Aston University is located in Birmingham, UK.
In their annual awards, British newspaper The Guardian crowns the 'University of the Year' in the UK. This year, the award went to our strategic partner Aston University – for its work with outstanding student support, sustainability, graduate employability and earnings, and quality of teaching.
"The award is proof of the very high quality maintained by Aston University within education and research. This is something our students can benefit from through exchange studies, and our researchers and staff through the various collaboration projects made possible by our partnership," says Åke Strid, pro-vice-chancellor for internationalisation at Örebro University.
The prestigious accolade was given to Aston University following their rise to number 30 in the rankings of the Guardian University Guide 2021. This league table focuses on a number of criteria such as student satisfaction, graduate employment, and quality of teaching. Aston University also distinguishes itself in its commitment to social mobility, diversity, and sustainability.
"The award shows that Aston University is exceptionally good at including students from non-academic backgrounds. This is also on Örebro University's agenda, expressed by our scheme Linje 14. No doubt there is a lot we can learn from Aston University within this field and we look forward to learning more about their methods and approach," says Åke Strid.
Five-year partnership
Örebro University entered a strategic partnership with Aston University just under five years ago. Since then, many students, researchers and staff have taken the opportunity to work, job shadow and study both at Örebro University and Aston University. The two universities have also partnered around and learnt from one another in a number of other areas, such as research funding, gender equality, communication, and administrative processes.
"During 2020, mobility for students, research, and teaching staff, as well as other personnel has not been possible to the extent as in previous years. We now have virtual meetings to swap ideas regarding student exchange and joint programmes in a post-corona world. And our researchers continue their collaborative projects," says Åke Strid.
Why Aston University was named 'University of the Year'
It is mainly five factors that helped Aston University secure the university of the year award. In addition to Aston University offering excellent student support and high graduate employability, the university is also top-rated for their sustainability efforts. In addition, Aston University is very active in attracting students from a non-academic background to higher education and in advancing women's opportunities in science, technology, engineering, mathematics, and medicine (STEMM) in both higher education and research.
"Being named 'University of the Year' by The Guardian is a fantastic testament to the hard work of all our staff and students here at Aston. I am incredibly proud of our diverse, creative and dynamic community," says Alec Cameron, vice-chancellor of Aston University.
Text: Jasenka Dobric
Translation: Charlotta Hambre-Knight
Photo: Aston University